Attribution
•
12 min read
3 Ways Corvidae Helps Recession-Proof Your Digital Marketing Spend
As the spectre of recession cast a shadow over marketers who are still recovering from the effects of both the pandemic and the cost of living crisis we want to take a look at how our Corvidae platform can help marketers recession-proof their digital marketing spend.
In this blog, I'll take you through:
Why it's important to focus on marketing spend efficiency during a recession
So, why does focusing on the efficiency of your spending matter right now? There are a number of reasons, as follows:
Your finance department is going to expect it
As I write this, finance teams across the land will be revising revenue and cost projections in light of what is a deteriorating economic and financial outlook.
Like every other part of the business, marketing is likely to be affected and asked to justify their current and future budget position.
So, if they haven't already done so, you can place a fairly safe bet that your FD is going to be beating a path to your door. And you probably want to be ahead of any potential discussions.
This means having a strong analysis of where you are from an efficiency of media spend perspective – along with some recommendations for where you go next in the changed environment.
Related: How to Justify Your Marketing Spend to Your CFO
The pressure is on to do more with less
As things tighten up, the focus will inevitably turn to efficiency of spend and ROI.
Prior to the recession, it was clear that marketers were already feeling the pressure in this area. As research by eConsultancy uncovered the fact that 60% of marketers face pressure to prove ROI on their activity.
This is a trend that is likely to accelerate in the coming months.
But delivering ROI right now is a challenge for a whole host of reasons, not least the fact that many marketers are seeing a marked increase in CPAs eating into their budgets right now.
In fact, our own research has identified that as many as 53% of marketers are concerned about rising paid media costs.
It's an opportunity to position yourself for the upturn
This might sound counterintuitive, as we head into recession, but it is also a valid point.
What tends to happen when things are good is that your marketing activity grows arms and legs as you try and push spend into more and more channels in search of growth and revenue. With less of a focus on efficiency than when times are tough.
The onset of recession gives you the chance to unravel what is more than likely a complex jigsaw puzzle – and drill into what is really generating conversions and revenue. Then take this leaner model to position yourself for accelerated growth when things pick up again.
High quality, unbiased attribution data is pivotal to all of this
And the central requirement in all of this is access to accurate and unbiased data to base your decision-making on at what is likely to be a fairly fluid time.
However, there is strong evidence to suggest that not all marketers are able to access the kind of high quality data they need to be both credible and effective in assessing performance. Research by IDG points to the fact that 9 out of 10 marketers said they were effectively leaving money on the table because they aren't able to harness the type of web analytics needed to properly assess the effectiveness of their marketing activity.
It is also something we see in our own research, as our recent survey uncovered the fact that 60% of marketers think that data to support cross-channel decision-making is broken.
Related: Why Unbiased Marketing Data is Key to Surviving the Recession
How effective attribution helps
At QueryClick, we are a challenger performance marketing agency and we have been on a mission to improve the quality of attribution data for our clients as long as we can remember.
The reasons for poor attribution data are myriad, and outside the scope of this blog post, but include issues with the quality of cookie/pixel tracking in solutions like Google Analytics and concerns around bias in the data that platform providers like Facebook and Google share with us.
All of this has driven us to research, develop and provide a better attribution platform solution. One that isn't impacted by the limitations of cookie-based measurement and is able to leverage AI and machine learning to deliver attribution that is now +95% accurate.
We call it Corvidae – and the best way to explain how it works is to show you some examples of what it can do.
Take the instance below where QueryClick worked with leading UK food and clothing retailer Tesco.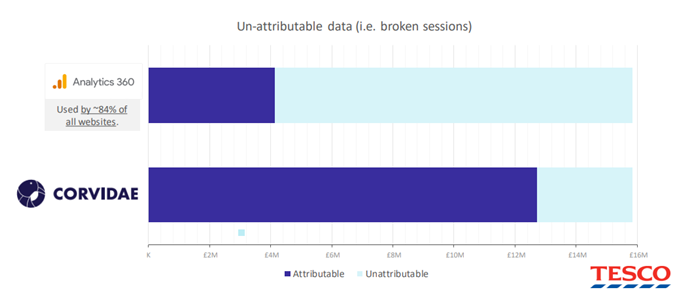 This analytics data was generated from the client's instance of GA360. However, the GA approach to collecting the vast majority of digital marketing data is based on a pixel-plus-cookie based approach. This session-based approach is based on tracking a device accessing a specific website or other web property. Not around identifying an individual – who just happens to be on a complex, multi-device customer journey.
Which means it does a very poor job of attribution. By using Corvidae, we were able to create a much more accurate view by effectively rebuilding the data – which uncovered the fact that around 80% of data was incorrectly attributed as shown above (that figure is now nearer to 95% with attribution improvements since then).
In this case, we were also able to adjust the level of attributable spend from £4.1m to £13.6m in the process.
Related: Why Effective Attribution Matters During a Recession
3 ways Corvidae can impact your attribution and revenue during a recession
So that's the high level. But let's get more specific around the impact that Corvidae can have on your revenue funnel.
1. Removing the bias from channel level reporting
Marketers are increasingly having to ask themselves the extent to which then can really trust the data that channels like Facebook are putting in front of them.
In this client example, online clothing retailer, QUIZ, saw revenue being reported of £450,000 by Facebook analytics for a specific campaign. While Google Analytics was showing only £20,000 attributable revenue for the same campaign (so 20x less).
By using Corvidae we were able to rebuild the underlying client data and establish the true revenue generation figure- which was just under £250,000.
An attribution view that simply wasn't possible in either GA or Facebook platform analytics.
2. Maximise your opportunities for top of funnel spend
Being able to understand the impact that top of funnel activity like Paid Social is having can transform your ROI.
Corvidae can also transform your Paid Social activity by enabling you to understand the impact of 'hard to measure' top of funnel activity which is often very much cheaper in CPA terms and is targeting prospects at an earlier stage in their journey.
The Corvidae analysis below is for Facebook spend for a bricks and mortar digital retailer.
It shows the difference in the attribution analysis provided by Corvidae and Facebook where:
Facebook is over-reporting revenue from the campaigns to the tune of 250%
Corvidae was able to identify that re-allocating £2,000 of spend could deliver 14 times more ROI elsewhere
3. Re-allocating underperforming spend in Google Ads for increased ROI
And in this final example we were able to use Corvidae to reallocate Google Ads media spend from poor performing campaigns to the best performing campaign in this set.
Taking 22% of media spend that was wasted and using it to generate an extra £1.4 million a year of revenue in the process.
The sort of analysis it would be handy to have in your locker when your FD comes for a conversation around ROI and doing less with more.
Can we help?
It is clear that marketers are going to need to review their marketing approach in light of the current economic climate. And data is going to play a pivotal role in that process.
Finding the right type of attribution solution is key. One that:
Overcomes the issues with traditional cookie/pixel type tracking
Helps you remove the inherent bias in channel analytics reporting
Enables you to drill down into what is, and what isn't working, right across your paid marketing activity
Drive real ROI and marketing in difficult times
If QueryClick and Corvidae can help. Don't hesitate to get in touch.
The only cookieless attribution solution.
Own your marketing data & simplify your tech stack.