Attribution
•
16 min read
Why Unbiased Marketing Data is Key to Surviving the Recession
The news that the UK economy has gone into recession and the there are signs that the US may well follow suit will have put marketers on high alert for another external shock to their environment.
Coming hot on the heels of the recent pandemic and the cost-of-living crisis it is the next big challenge facing marketers who are already grappling with the impending death of 3rd party cookies and market changes like iOS14.
As ever, data is going to be key for marketers to be able to weather the storm – and we believe that access to unbiased data is going to make the real difference.
In this blog, we consider how:
Plus 3 ways to recession proof your marketing attribution.
How marketing efficiency and ROI take centre stage during recession
At times like this there is always a danger that the knee-jerk reaction of FDs and CFOs is to rein in expense and cut budgets from their current levels.
However, there is empirical research going back for decades that indicates that brands who continue to invest in marketing during times of recession create valuable brand awareness that positions them well for the upturn.
In fact, a study by the International Journal of Business and Social Science points to the fact that businesses who keep advertising in the tough times saw an almost 5% increase in their share of the market for their efforts.
So, protecting and ringfencing your spend by building a strong, data-driven business case for it becomes one of the most important tasks you will work on in the next few months.
And one thing we learned from the last recession was that the downturn doesn't necessarily mean that people stop spending. More that they are likely to change the way they spend.
So, what are the likely impacts of the recession for UK marketers?
In broad terms, this is likely to be felt at two levels:
1. An urgent review of overall marketing spend and budgets
At this level, there is a high degree of probability that you will find yourself in a fairly lengthy discussion with your CFO.
As businesses recalibrate, to take account of revised expectations around consumer buying behaviour and likely impact on revenues, the entire business is going to be asked to justify what they are spending and how they are doing it. And marketing is no different.
Like it or not, marketing is seen as a cost-centre within the business and there is every possibility that there will be discussions around your marketing model, headcount, in-house headcount vs outsourced support etc.
2. More detailed scrutiny of channel and campaign performance
And once the discussion above starts to take shape, in terms of focus and budget levels, a more detailed analysis of the actual impact of your channel and media costs isn't going to be far behind. So effective attribution really matters during times like these.
Related: Why Effective Attribution Matters During a Recession
For many marketers this will be run of the mill activity. But the difference in a downturn is likely to be the level of scrutiny that you get from your financial teams.
So, marketing and attribution data that you can trust with your life needs to become your stock-in-trade. If it isn't already.
And digging deep into the data is important.
Take the example below from Wordstream/Statista, which shows the average CPC and CPM across some of the key social platforms. And which indicates the variety of costs you are likely to encounter per channel – from a CPC of $5.26 on LinkedIn to $0.38.
And, as we know from our own research, even prior to the recession kicking, in marketers were worried about these costs with 53% identifying rising costs as an area of concern.
As the recession bites, marketers are going to be under increasing pressure to capture, understand and analyse the impact of these costs – and tie that analysis through to impact on revenue.
In our own work with clients, this deeper level of analysis is going to look something like the graph below.
In this case it is not Paid Social we are looking at but Google Ad spend. Analysing which campaigns:
are driving ROI
are loss making
could perform even better by re-allocating spend to them.
Why data bias is potentially your biggest enemy
That all sounds straightforward then.
However, there is a bit of nuance to all of this that can really impact the success or failure of your marketing efforts, and there are a couple of points worth picking up on here:
1. Marketers are struggling to access data that helps them be effective
The first point is that there is evidence to suggest that many marketers are struggling to access the type of analytics and attribution tools they need to be effective in assessing their efforts.
Independent research by IDG pointed to the fact that 9 out of 10 marketers said they were effectively leaving money on the table because they aren't able to harness the type of web analytics needed to properly assess the effectiveness of their marketing activity. And pivot activity accordingly.
This is something that is echoed in our own research, with over 60% of marketers indicating that data to support cross-channel decision-making is broken.
So, as we slide into recession, the problem for many marketers isn't going to be that they lack the will to improve the effectiveness of their marketing. It is simply going to be that they lack the right tools for the scale of the job.
Can you really trust the data that is being put in front of you?
But it is this second point that is pivotal for brands as they embark on the journey to justify and optimise marketing spend. Particularly in light of the new economic environment.
Can you really trust your data – and the data that media platform providers like Meta and Google are putting in front of you?
In the diagram in the section above, which looked at optimising Google Ad spend, we purposefully skipped over one of the most salient facts on the diagram. Which was the fact that the there are actually two assessments of revenue generated for each campaign:
In yellow – the revenue being attributed per campaign being reported by Google Ads
In blue – the revenue ACTUALLY generated per campaign when we took the raw clickstream data from Google and rebuilt it using our own Corvidae platform to provide a 95% accurate picture of conversion and revenue
And the differentials between the two is really marked in some instances. Which has huge implications for both your analysis and the decisions you are going to make off the back of it.
So, while the quality of the analysis of the impact your existing marketing activity is important, what is really pivotal is the extent to which you can trust your data. And working to remove potential bias in your data is key to this.
Did you also know your Google Analytics data is 80% incorrect?
One of the biggest limitations that marketers face as they set out to try and improve the effectiveness of their marketing is the constraints that are placed on them by using solutions that are based on outdated single touch attribution models. Like First or Last-Click – which treat every individual event in a siloed way.
Let's take a practical example of a retailer of Smart TVs:
A potential customer performs a web search on "Smart TVs" and comes across an informational video with tips on buying a Smart TV on the retailer's website
They then download a PDF guide
In the coming days, they interact with a combination of emails (following the download), paid and organic social and retargeting ads
And finally clicks through a PPC ad to make the purchase
In the model above, analytics packages like GA which are based on Last-Click analysis give 100% credit to the PPC ad which is clearly a gross over-simplification on what actually happened during the user journey. Not the kind of analysis you want to be putting in front of your CFO as scrutiny around media spend increases!
And a deeper dig into the accuracy of the data that GA generates gives even more cause for concern.
Take the example below, where QueryClick worked with leading UK food and clothing retailer Tesco: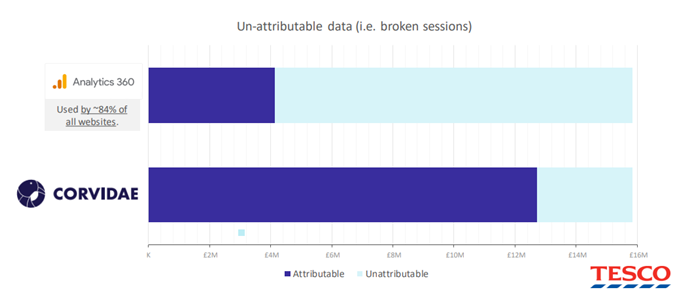 The analytics data was generated from the client's instance of GA360. However, the GA approach to collecting the vast majority of digital marketing data is based on a pixel-plus-cookie based approach.
This session-based approach is based on tracking a device accessing a specific website or other web property. Not around identifying an individual – who just happens to be on a complex, multi-device customer journey.
And as you might expect, it does a poor job of attribution.
By using our own AI-enabled attribution platform, we were able to effectively rebuild that data – which uncovered the fact that around 80% of data was incorrectly attributed (as shown above).
In this case, we were also able to adjust the level of attributable spend from £4.1m to £13.6m in the process. Game changing insight that could have a huge impact in times of recession.
Related: Poor Quality Data is Hurting Your Attribution. Here's Why…
Marketers also have concerns around bias in paid social data
It is also clear that many marketers have concerns over the veracity of the data in the AdTech channel reporting that is being put in front of them.
In a recent QueryClick survey, an incredible 80% of marketers indicated that they were concerned about bias in AdTech reporting on channels like Google, Amazon and Facebook.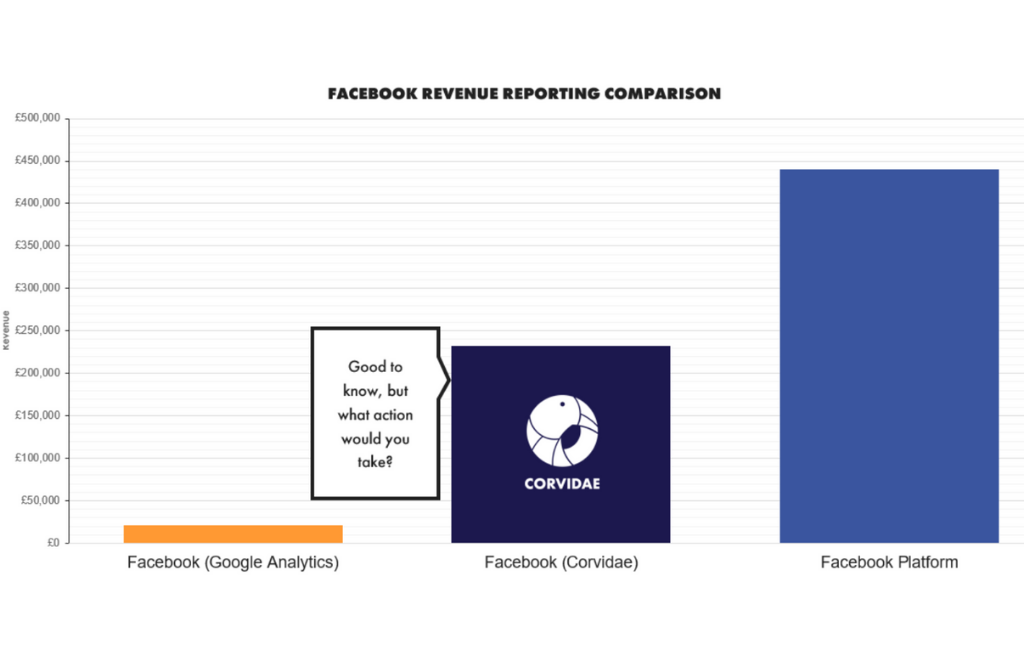 Consider the client example on the right. In this case, online clothing retailer QUIZ was struggling to reconcile competing data they were receiving from Google and Facebook for the same campaign.
As you can see, Facebook reporting campaign revenue at just under £450k. However, Google Analytics had the figure at £20,000 for the same campaign (that is an incredible factor of over x20).
By using the same approach we sued above and our own attribution platform we were able to unbundle the underlying data and identify true revenue generated of just under £250,000.
This may well be a problem that you recognise. On our webinar on the topic Haroun Saleemi (Head of Ecommerce at QUIZ) expressed the frustration that many clients feel at this type of discrepancy when he said:
"If you were to go by what Facebook tells you, then you wouldn't stop spending. And if you were to go on last click attribution [via Google Analytics] then you wouldn't spend at all."
The key thing is that recession is going to ramp up the pressure to understand how your spend is contributing across not only Paid Social but other channels including display, programmatic etc. And accurate data and a non-siloed data view of things is crucial.
3 ways to recession-proof your marketing attribution
Get ahead of the discussion with your FD – if the discussion with your financial team about potential changes to spend and budgets hasn't happened yet it is highly likely that it is coming. So, ensure you are a position to clearly articulate the impact that your current marketing is having on revenue and ROI. And be ready to defend what you have.
Ask some difficult questions of your existing analytics – give some thought to exactly what your existing analytics packages are telling you. The quality of the underlying data that is being fed into them from various different sources including AdTech platform data is as key to the quality of the analysis they are providing as the dashboards themselves.
Find an approach that removes channel bias from your analysis – try and find a solution that moves past the inherent limitations of cookie/pixel based approaches to data collection and that leverages the power of AI and machine learning to improve the accuracy of your analysis
Want to learn more? Download a copy of our Complete Guide to Marketing Attribution and find out why:
Why effective attribution matters
Attribution models and why they're broken
How to collect and integrate accurate data
Effective models for today's marketing ecosystem
How to drive ROI with visit-level attribution
The Complete Guide to Marketing Attribution
Own your marketing data & simplify your tech stack.