Attribution
•
16 min read
Why Effective Attribution Matters During a Recession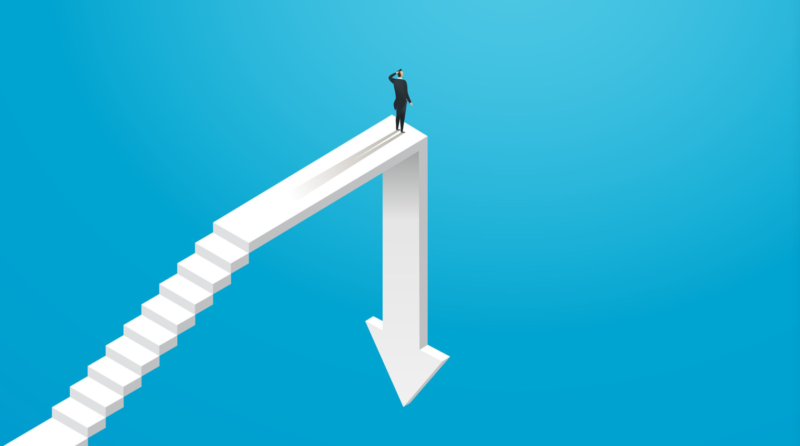 As the signs would suggest that the UK has entered recession, marketers are braced for the impact on budgets and business targets and plans.
But what are the likely impacts of recession on the marketing community? And what role can more effective attribution play in helping marketers to successfully navigate the storm?
In this post, I'll discuss:
How recession impacts marketing
Here are just some of the ways that marketing is directly impacted by the effects of recession:
The whole business pivots with knock-on effects for marketing
Leaving aside marketing consideration for a moment, the reality is that the whole business is likely to pivot during a recession.
As the impact of the recession is felt in the economy, the behaviour of consumers and companies changes drastically.
In the same way you might need to make some difficult personal choices around household expenditure, businesses will very quickly reassess their spending levels and ROI projections in a downturn. And marketing gets caught up in the process, competing with other departments in the business for what is likely to be a decreasing level of spend.
As things are recalibrated to reflect the new external environment the business is working in.
The pressure to show marketing ROI will only increase
The reality is that marketers should always be on the hook for being able to prove the effectiveness of their marketing efforts.
But sometimes that is not always the case.
In better times, very often there is less pressure on the effective assessment of marketing ROI and the need to justify your marketing spend to the CFO. But what a recession – and potential budget constraints – does is bring proving effectiveness sharply back into focus right across the marketing mix.
Prior to recession, there was already evidence of an increased level of scrutiny on marketing spend and internal pressure from key stakeholders on this.
In fact, our own research points to the fact that almost 68% of Marketing Directors report internal stakeholder pressure is actively restricting the option to employ marketing activity with longer term payback. And research by eConsultancy highlights the fact that 60% of marketers face pressure to prove ROI on their activity.
That pressure is only going to increase as we slip further into recession.
There is a stronger focus on marketing optimisation
As the focus turns to doing more with less – or, if you are lucky, doing more for the current level of spend – optimisation becomes the name of the game for marketers.
This is likely to happen at a number of levels:
More holistic marketing optimisation – but to be effective, marketing efficiency and optimisation needs to be driven centrally. And this is the issue.

Part of the challenge with the activity above is that typically marketing teams are split along channel lines. With dedicated teams per channel effectively marking their own homework. Based on their own data view and with all of the inherent bias, intended or otherwise, that goes with that.
Good marketers see recession as an opportunity
One of the unintended consequences of recession is that it opens the door to opportunity.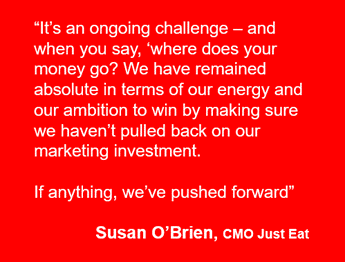 For marketers, it creates an external jolt to their world that offers the chance to take a step back and assess where they can really up their game. In the face of lower budgets and a tougher external environment. Everything from channel selection to media choice and – of course – the quality of the attribution analytics you have in place to measure it all.
Being data driven is key to all of this. Being able to quickly calculate marketing ROI and shift spend to where it is going to have the best level of impact. With attribution at the heart of this.
Before we move on to look at why attribution matters in a recession, it is also worth stating that a huge body of research points to the benefits of continuing to invest in marketing during recession so that you are well positioned for the upturn. And it is something that Susan O'Brien, CMO at Just Eat, reflected on at the Festival of Marketing.
So, recession and reduction in budgets should not necessarily follow hand-in-hand.
How effective attribution can change the game
Here are just some of the ways that effective attribution can transform you marketing performance during a recession.
Giving you the data to justify and potentially ringfence budget
In an environment where digital makes up 55% of overall ad spend – the pressure to connect spend with revenue and ROI is non-negotiable.
So, marketers who are ahead of the recessionary curve with clear, detailed ROI analysis across channels, campaigns and tactics are better placed to protect their budget. Through the use of highly accurate attribution data.
Unfortunately, however, our own research points to the fact that marketers are struggling to prove the value in spend. With our own research uncovering that only 16% of marketers were able to show ROI improvement for increased investment in Paid Social in particular.
Assessing ROI right down to individual creative level
The sheer complexity of the customer journey with its multiple touchpoints, across a wide range of devices from desktop to mobile phones, provides marketers with the challenge of identifying what is actually driving conversion and contributing to revenue.
Frustrations with the inherent limitations in existing analytics solutions like Adobe and GA have led to the development of AI driven attribution platforms which overcome the data quality issues that are caused by reliance on 3rd party cookies.
And that enable you to create a direct link between marketing spend and revenue and the ability to assess ROI at a Channel, Campaign and Impression level.
Enabling you to find cheaper CPAs further up the funnel
One of the key challenges around existing marketing spend is that a huge percentage of it is focused around the bottom end of the funnel – in media channels like PPC. Partly because existing analytics solutions like GA use a last-click approach that over-emphasises the conversion impact of these channels. In what is an increasingly complex customer journey that is also influenced much further up the funnel.
The side effect of this has been to create inflated CPAs at lower end of the funnel. With advertisers experiencing an increase in CPA of upwards of 44% in some cases.
Effective, AI driven attribution solutions like our own attribution platform, Corvidae, enable you to move targeting further up the funnel where prospects are making choices about brands and products and where CPAs are up to 87.5% cheaper. Which is gold dust in the face of falling budgets and increased scrutiny on spend.
Removing the bias from channel level reporting
Part of the challenge with reporting from channels like Facebook and Google is the extent to which you can really trust the data they are putting in front of you.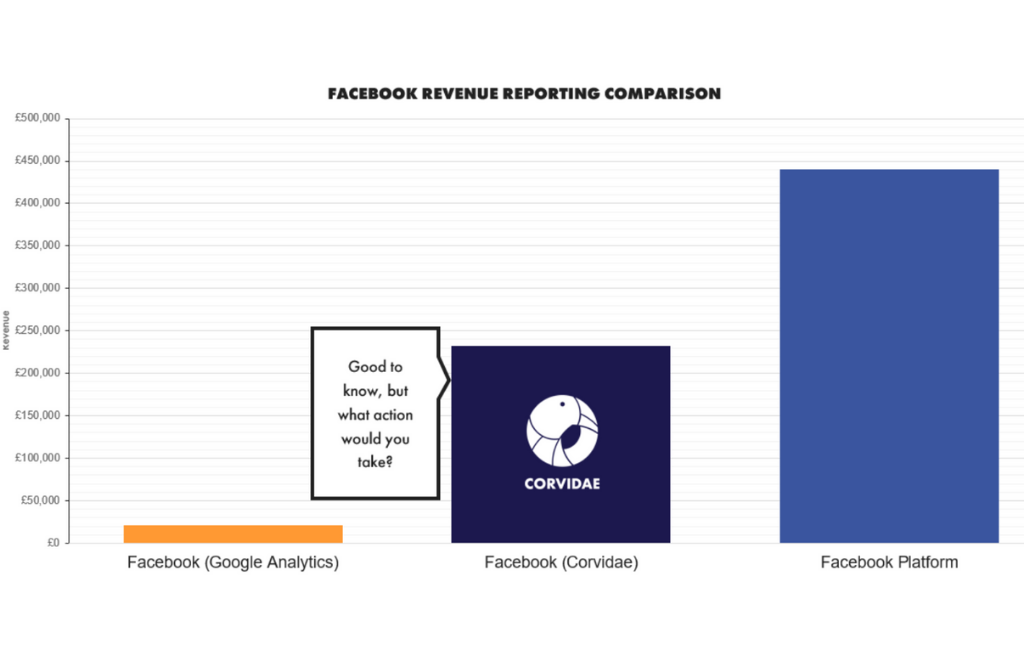 Take the example of our client, online clothing retailer QUIZ, where the revenue being reported for a specific campaign by Facebook was just under £450k. Whilst Google Analytics was reporting only £20,000 for the same campaign (that is a factor of over x20).
The true figure? By using our own attribution platform we were able to unbundle the underlying data and identify true revenue generated of just under £250,000.
On our webinar, Haroun Saleemi (Head of Ecommerce at QUIZ) expressed the frustration that many clients feel when he said:
"If you were to go by what Facebook tells you, then you wouldn't stop spending. And if you were to go on last click, attribution (via Google Analytics) then you wouldn't spend at all".
This is one example only on paid social but effective attribution is key to unravelling the true picture on ROI across other channels including display, programmatic etc. And this type of insight becomes even more important as the pressure to do more with less hits home.
Before we close, with a look at 3 ways more effective attribution can impact your ROI during a recession, it is worth pointing out that recession is not the only looming storm on the horizon for marketers – with the death of 3rd party cookies and the continuing impact of iOS14 just two of the other issues that are combining to create a perfect storm for marketers right now.
All of these factors mean, if you aren't already reviewing the suitability of your current attribution solutions, now might be the time.
3 ways effective attribution can impact ROI
So, it is clear that highly effective attribution can help you weather recession and associated storms, But what does that look like in practice?
Here are 3 practical examples from our work with clients that illustrate the point (you can find more use cases here too).
Paid Social – maximising opportunities for top of funnel spend
Being able to understand the impact that top of funnel activity like Paid Social is having can transform your ROI.
Consider the example below, which is for a bricks and mortar and digital retailer which shows data for Facebook spend.
It shows the difference in the attribution analysis provided by Facebook and our own Corvidae attribution platform where:
Facebook is over-reporting revenue from the campaigns to the tune of 250%
Corvidae was able to identify that re-allocating £2,000 of spend could deliver 14 times more ROI
Paid Search – opening up huge CPA opportunities
And finding slightly cheaper channels can have a huge impact on your marketing ROI.
It is inherently cheaper to be spending at the top of the funnel wherever possible at the 'see' phase. Before someone is making a conscious decision about who they want to buy from, and perhaps even what particular product they want to buy.
This is the type of approach we took with the following clients:
Firstly, with an electrical retailer in EMEA, working across five different countries and where QueryClick was able to reduce CPA by 87.5% just by taking inefficient Paid Search spend and moving it to programmatic video.
And, secondly, work with retailer New Look where we were able to save 12% on their cost of sale through similar optimization by moving away from these highly competitive auction spaces.
Google Ads – re-allocating underperforming spend for increased ROI
And in this final example one of our retail clients was able to reallocate Google Ads media spend from poor performing campaigns to the best performing campaign in this set – taking 22% of media spend that was wasted and using it to generate an extra £1.4 million a year of revenue.
The Complete Guide to Marketing Attribution
As the impact of recession bites the need to have an effective answer to the marketing attribution puzzle becomes increasingly important.
Need to learn more? Download a copy of our Complete Guide to Marketing Attribution and find out why:
Why effective attribution matters
Attribution models and why they're broken
How to collect and integrate accurate data
Effective models for today's marketing ecosystem
How to drive ROI with visit-level attribution
The Complete Guide to Marketing Attribution
Own your marketing data & simplify your tech stack.