CEO Blog
•
12 min read
Navigating a Fragmented AdTech Ecosystem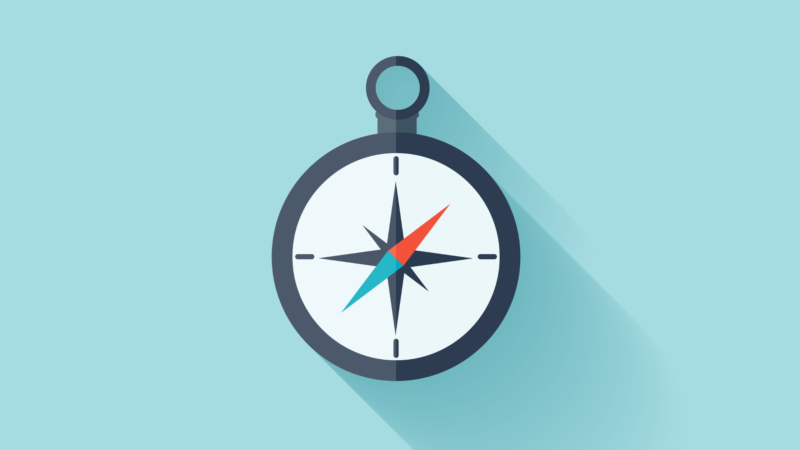 I've written about the state of global digital media spend for a while now – we all know that it continues to dwarf traditional marketing.
But one trend that is of note – Display is becoming a much more dominant format over Search.
Now, I've been in the industry for long enough to remember the days when, if you were looking to spend your marketing budget online, Search was the only place readily available for significant spend.
And with Display becoming far more predominant in the modern marketing mix, there are a few interesting developments I wanted to share that likeminded digital marketers may find useful.
The growth of Display advertising
So, as I mentioned, digital marketing has increased rapidly and is dominant over traditional advertising. This is a crucial fact to keep in mind as I discuss the next few parts.
The vast majority of all media spend is being spent in digital. And you can see from the chart below, it's increasingly being spent in Display.
What exactly has changed over the last year that makes Display such a huge part of the mix these days?
One word: Apple.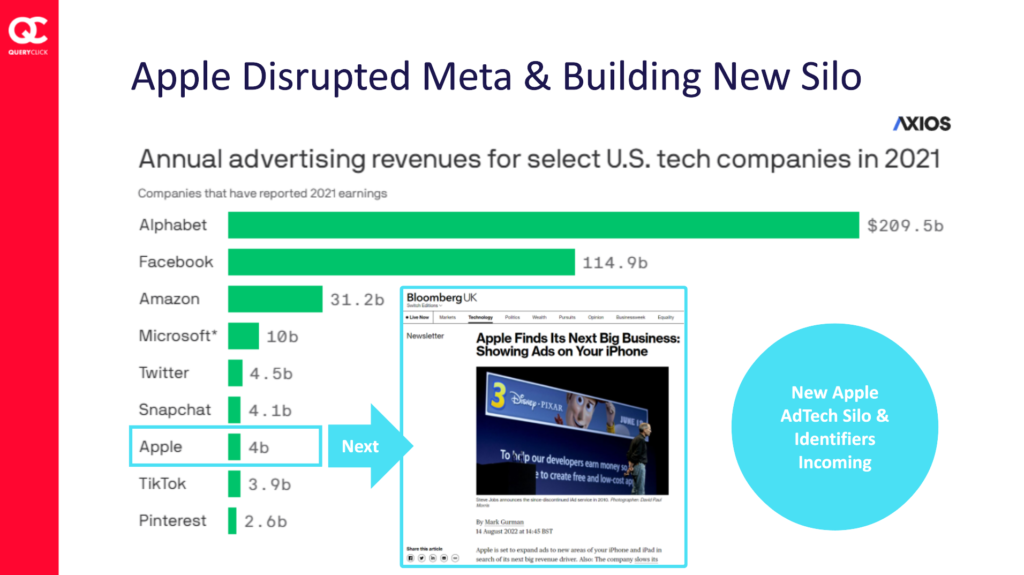 There's no escaping the influence Apple has on us as digital marketers.
Their iOS 14.5 update created massive shockwaves across the industry, and in turn crippled many digital marketing strategies that relied heavily on Facebook for advertising purposes.
As such, the data sharing component that was introduced as part of the iOS update received less than a 0.2% opt-in from users. Which meant suddenly, the entire Apple ecosystem (bear in mind that 45% of the UK population are iPhone users) was no long sharing data with companies like Meta.
So, with targeting across Facebook becoming far less effective, budgets have had to be shifted to different platforms – some which may have never been such a predominant part of the marketing mix previously for marketers (such as Display).
But Apple's sphere of influence doesn't stop there.
They're beginning to become a far more serious part of the ad mix too.
There have been whispers of it throughout the industry for a good few years now, but they've since made signals that they are making a definitive move into this space.
For example, they are looking to ramp up the use of their own Apple identifier to use within their own AdTech system.
For marketers, that means yet another siloed channel to add into their mix. And one which is going to make an already fragmented ecosystem even harder to accurately and effectively measure.
Google follows in Apple's footsteps
We all know that the other behemoth of digital marketing is Google.
And it's important to note here that the privacy changes that were made by Apple are also being replicated by Google in the form of its Privacy Sandbox Initiative.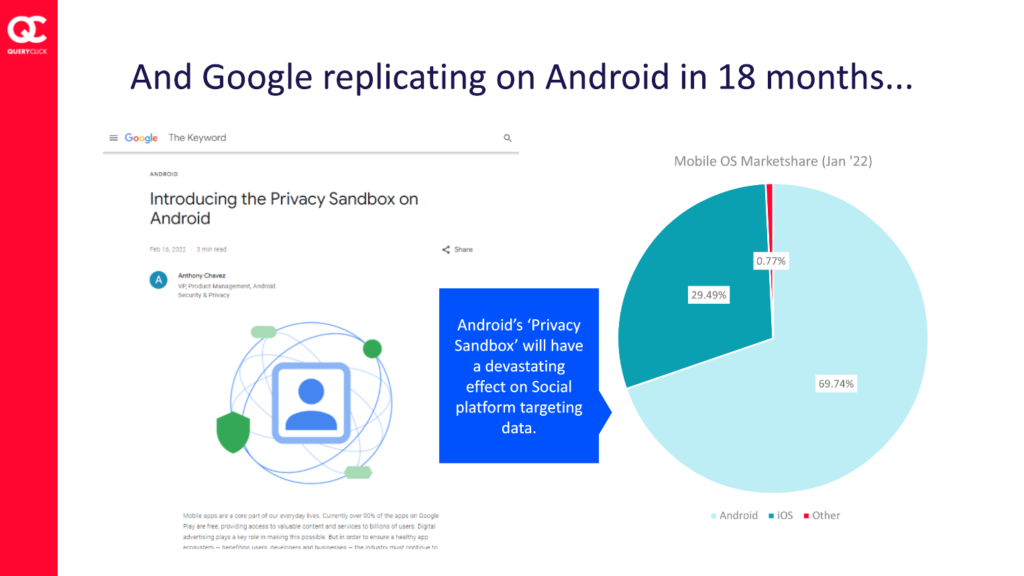 The first moves began around four or five months ago and they have set a two-year horizon on the project. So, we can expect to see the ramifications from this take effect from Q3 2023 onwards.
While Apple's update was detrimental for a lot of marketers, the Android equivalent is likely to create an even stronger shockwave.
Apple undeniably corners a huge section of the market, but Android is still very much the top dog of mobile devices.
More AdTech players are entering the arena
So, we have Facebook and Google, and now even Amazon, as the giants of the AdTech industry (having announced revenues of $31.2 billion in 2021).
But those are really only the tip of the iceberg.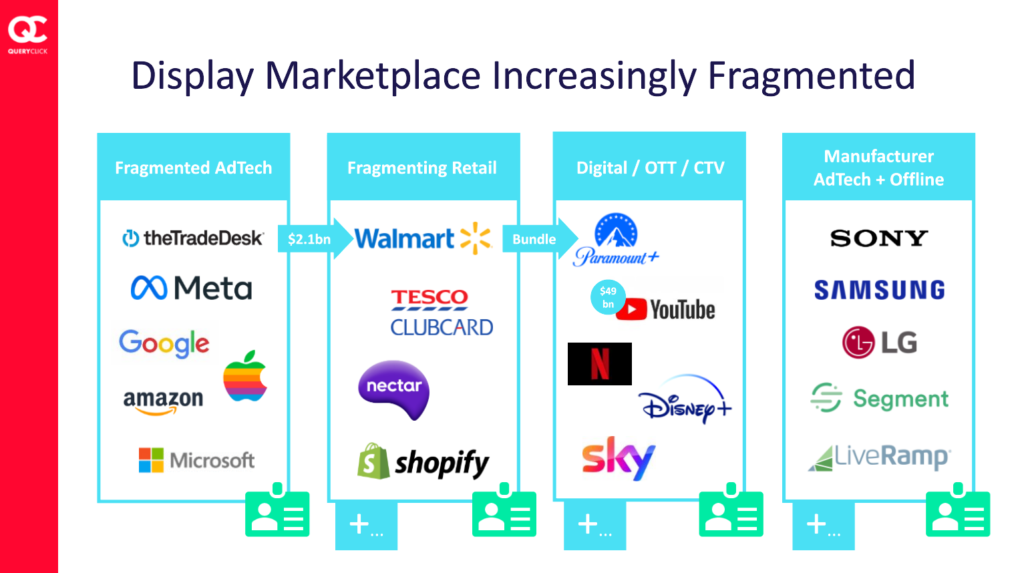 More and more independents are becoming predominant in this arena.
The Trade Desk, for example, are beginning to do a lot more with measurement, in particular helping retailers and the retail segment build their own ad platforms.
So, it's not even just these technology giants we need to be concerned with; retailers are soon to have their own AdTech systems (if not already).
In fact, Walmart recently disclosed that they've done $2.1 billion in the last year alone, exclusively using The Trade Desk to run ads on Walmart properties.
And that's something that's being replicated by the majority of the very large US retailer websites.
Essentially, they're all becoming additional silos that have additional AdTech which continue to add to the fragmentation problem.
And clearly this is not just something that's exclusive to the US. Similarly in the UK we have similar brands who are looking to advertise – the likes of Tesco Clubcard and Nectar.
So, this is another area of AdTech to keep an eye on.
The rise of digital TV
Okay, so retail is presenting a huge challenge in itself.
But then we've got the exponential growth of Digital TV on top of that to consider as well.
You've got the obvious giant in this area – YouTube, who had around $49 billion of revenue going through its platform in 2021.
But there are an increasing number of suppliers in this space too:
Again, Walmart have agreed to bundle their Walmart ID into Paramount+ – Paramount's digital proposition
Netflix announced that they will begin showing ads on their streaming site – partnering with Microsoft to build their own ad platform
Disney+ are introducing their own ad platform
Sky have their own platform
So, yet more fragmentation to add into the mix (can you see the running theme here?).
And as if that wasn't enough for us marketers, there's a final extra layer of complexity over the top of all that.
The manufacturers for digital TV, and traditional TV, are also setting themselves up as data providers, and we are seeing them increasingly make some strides in this area as well.
The likes of Sony, Samsung and LG are offering data back to the advertiser about what's actually being viewed and when.
And then one final consideration: the businesses that live just on the outskirts of this ecosystem – but are equally relevant for advertisers.
Businesses like LiveRamp, for example, who look at trying to provide something called entity resolution, which is where they're trying to do a little bit of that dotting the i's and crossing the t's across each different silo by creating their own IDs and trying to associate them with existing IDs on these various different ad platforms.
So, clearly a lot for us to consider as digital marketers and advertisers.
So, what's the solution for advertisers?
Before I go into how we can solve this Rubik's cube of an ecosystem, be sure to let what I've discussed here really sink in for a moment.
The marketing ecosystem is already incredibly vast and complex. But it's soon to grow exponentially.
How can you really understand where you should be spending your budget? While also being able to measure accurately across all these varying channels and ecosystems?
The fundamental thing marketers need to do is get a base line for measurement in place. One that can accurately see across this ever-growing ecosystem and more importantly, one which doesn't rely on cookies for tracking users.
Why? Again, this is an area I've written a lot about in the past. But for a quick recap, cookies – that's both first and third-party – are not fit for purpose.
They fail to see the entire picture when it comes to the modern customer journey. We know users are flitting between channels and devices, but cookies can't keep up with this level of activity.
So, imagine when we add this sea of new AdTech providers into the mix. It's only going to get worse.
Having a robust, reliable and accurate attribution solution in place will allow digital marketers to look across those silos to really understand performance. As well as allowing you to manage your media allocation across the differing platforms to optimise results.
It really is the only way to navigate this fragmented and ever-growing ecosystem.
I hope this little snapshot of the future has provided you with some food for thought.
It is an incredibly exciting time to be a digital marketer. The opportunities available to us now are a cut above what the industry was like even just a few years ago.
But the only way we can take advantage of these new opportunities, without wasting valuable budget, is to ensure we have robust measurement in place.
So, if you haven't already begun to look into futureproofing tools, I suggest you start now!
Futureproofing Analytics for the Cookieless World
I recently hosted a QC webinar where I discussed this topic further. So, if you'd like to find out more about futureproofing your analytics for the cookieless world, you can access the on-demand recording here.
The only cookieless attribution solution.
Own your marketing data & simplify your tech stack.