Attribution
•
16 min read
How to Futureproof Your Marketing Analytics for the Cookieless World
Google made an announcement very recently about their decision to push back their changes to Chrome and the removal of third-party cookies for another 12 months.
This is the second time they have done that. And although the timelines are changed the need to put in place a solution for the removal of third-party cookies is as pressing as ever.
In our recent webinar, Futureproofing Analytics for the Cookieless World, our CEO Chris Liversidge considered:
How the removal of cookies will impact on key channels like display, paid social and paid search
What Google is suggesting as potential replacements for third-party cookies
How AI has a key role to play in optimising spend in a cookieless world
What you can do about it now
The webinar recording is available to watch on demand here. But here's a summary of what Chris had to say.
Digital is now really outpacing traditional media spend
First, Chris set the scene for the webinar by noting that the pandemic and the adoption of new upstarts in the AdTech world like Amazon as a channel has really pushed the dial on digital spending.
So, digital is really significantly outpacing traditional media spends. For many of us, it's the dominant channel as our chart below shows quite markedly with digital spend moving beyond traditional spend to be by far the largest segment of spend now.
And that trend looks set to continue, despite a relative return to normality for most of us post-pandemic.
Within that growth, however – and what many people perhaps don't realise, particularly when you look at how media spends are deployed normally – is that significant channels like Paid Search and Paid Social are often actually outweighed by spend on display. As you can see in the chart below.
This spending does include social to give an idea of the total reach of display activity. And social is a rich medium that allows us to capture attention earlier in the customer journey, get across our brand positioning and start to influence customer behaviour – before potential customers they move into their consideration phase.
Which is why it captures such a large volume of our advertising spend.
However, Google's proposal to eliminate third-party cookies entirely from Chrome which is the dominant browser, is obviously significant due to its impact on display advertising.
In fact, all of our activity is, broadly speaking, done either on a prospecting point of view or a retargeting point of view. Prospecting, when we haven't seen that person and retargeting, once they have hit our site at some stage. So, how are both of those types of activity really catered for by the proposals that Google has put forward to replace cookies in Chrome?
What options for the removal of cookies are Google proposing?
The reality is that Google has been working on different options for cookie replacements for some time now as part of their Sandbox Initiative, with increasing privacy being a key driver in their approach.
For some time, FLoC was the leading replacement for a good period before it was pointed out that it didn't prevent any invasion of privacy at all, in any meaningful way – and so really wasn't fit for purpose as a replacement for third-party cookies.
So, as the below timeline shows, the plan originally was to have a replacement in place for cookies in Q4 2022 but things have been pushed back another 12 months.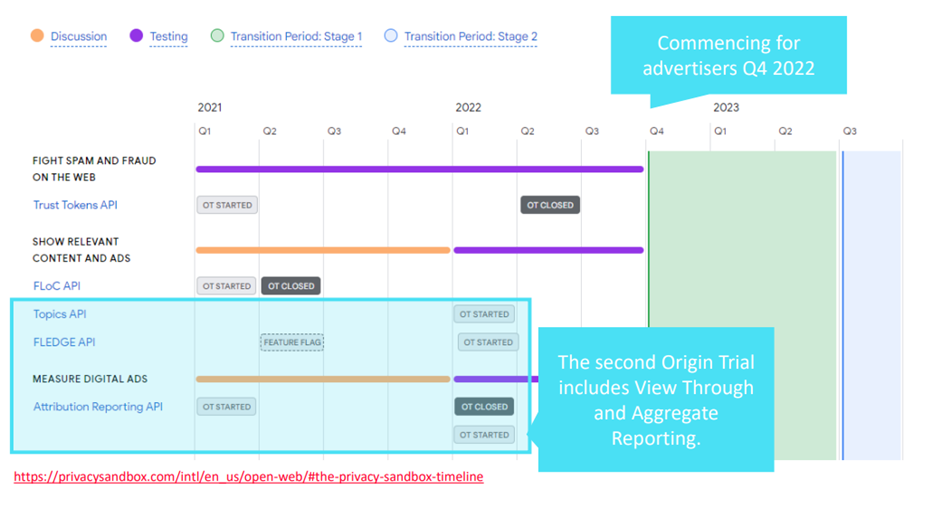 Although, we are quite close to the point where trials of the technologies can be put out into the wild and can actually start having significant amounts of media spend allocated to them.
In fact, there are 3 that we are going to take a closer look at:
Topics API
FLEDGE API
Attribution Reporting API
Those are all out in trial already and are currently in the testing phase.
The challenge for marketers is that we don't really have total clarity about when we can start ramping things up. Chris argued on the webinar that the middle of 2023 is the point when we should all be ready to move away from cookies.
Data degradation is an issue too
Before we turn to the various replacement choices that Google is suggesting it is also worth highlighting the issue around data degradation.
As our chart below shows, Chrome has nearly 60% browser market share – and when we're running display advertising, we're running it to browsers or user agents using third-party cookies.
At present, the other 40% of the marketplace essentially already blocks third-party cookies.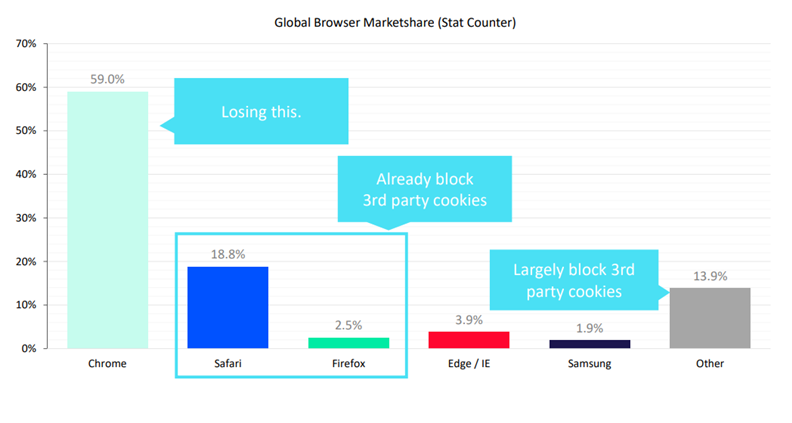 But as Google's changes eventually kick-in, the other 60% will be affected too which is a seismic change.
So, what do Google's replacement solutions really look like?
This is something we will return to in a follow up blog that looks specifically at third-party cookie replacement options in more detail.
But here are the headlines for now:
Cookie replacement proposal #1 – Google Topics API
Google Topics is probably the most straightforward proposal on offer and is sort of designed for prospecting.
It allows very broad brush targeting, essentially on an interest or topic level basis. In Google's terminology, there are are 350 categories available to us as advertisers to place ads against. Which is a very low number of topics which isn't going to match the granularity currently on offer.

The challenge with the model is that it effectively means placing ads at a more generic level where there will be a greater volume of competing ads for that slot. As such, it means we will all end up paying more for generic traffic.
Cookies replacement proposal #2 – FLEDGE (and Google Signals)
FLEDGE is what Chrome and the Google group is proposing to replace retargeting.
It works using the concept of advertisers, publishers and ad-tech providers adding users to interest groups based on browsing or behaviour.
Effectively you have user interactions. Those user interactions, however, are purely on a browser-level basis on the individual chrome instance basis where the user is be able to join an ad interest group. And those sites that user visits may be able to display ads associated with that interest group.
The challenge with the model is that it requires the user to opt-in. Which is likely to run into low opt-in rates like the ones experienced during the change to iOS 14.5.
Also connected to any sort of element of retargeting on Google ecosystem is Google Signals. Signals is another type of third-party cookie really which relies on individuals being logged into their Google accounts. If you are considering using Google Signals, it is worth noting that user segments have been replaced with audiences in GA4 and audiences are based on these aggregate Google Signals. And you also need to consider the need for giving and requesting consent for the use of Google Signals data.
Finally, it is worth calling out that Google owns 69% of the app ecosystem due to the larger number of Android devices that are out in the market. And they have indicated they would essentially copy the iOS 14.5 changes to move its default from opt in to requiring opt in.
With all of the implications that this has for trackability on individual customer journeys that cross app ecosystems.
Cookies replacement proposal #3 – Attribution API
So, what about the data that will receive? What reporting opportunities are going to be made available to us?
As it stands, the Chrome Attribution API is available to access and you can interact with it and understand the data shared to a relatively deep degree. The two areas that are being made available under the trials of the new Attribution API at the moment are event-level reports and aggregate reports.
The two other components which have not been progressed are app to web, so that's trying to measure through into an Android app. And cross device, so, looking at cross device clicks and views.
At the moment, neither of those last two are in origin trials so they're unlikely to progress. And as mentioned earlier, cross device would also require an opt-in which is likely therefore to have under 2% uptake. So, it's also really unlikely to progress as part of the origin trials.
The data for event-level and aggregated reports is collected in the same way. So, this API is trying to offer on-device attribution, meaning your Chrome instance is the only instance that's supplying data. And all processing is done within the Chrome instance itself on device in the browser.
We know, due to being heavily invested in the world of attribution, that single browser conversion paths are less than 20% of all conversion paths. And so, it's only that 20% of data that we're going to be getting meaningful data on.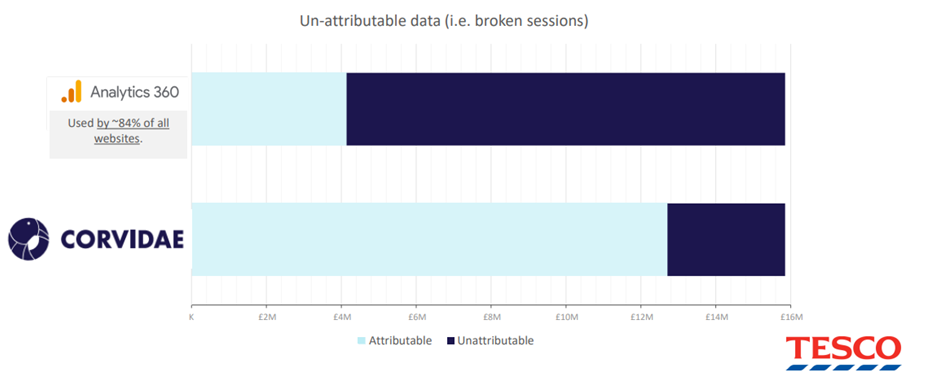 You can see here that by moving to AI-based measurement, and completely ignoring all cookie data, in these early trials, we were able to move that 20% accuracy rate up to beyond 85%. And actually, these days, we are well beyond 97% accuracy for zero cookie-based systems. So, AI modelling is a path that helps you move away from this device-based siloing.
And in truth, the API being proposed does not support any level of attribution beyond Last-Click, despite the name of it.
So, these 3 are the Chrome based components that are available in API for us to test and play with at the moment. And we should be building our strategies around their use or looking for alternatives to understand the true performance of our marketing efforts.
There are concerns around the current legality of GA
One last point also worth making here is that Google is tying very tightly into its Google Analytics Suite – partly through use of Signals to try and improve on that siloing.
But it is important to note that there is a challenge to the legality of the GA suite at the moment, which we covered in a previous webinar. As it stands under GDPR, and the GDPR for Europe is the same as UK. Google Analytics is currently being deemed illegal. The issue is that they are they are unable to prevent data being passed through their US servers which contravenes GDPR rules. It's a significant engineering challenge for them to have enough data processing power outside of the US to operate these services. So, I think it is unlikely that Google will get into a position where its' Analytics solutions do in fact become legal under GDPR.
Related: Are Your Webinar Analytics Illegal in the EU? [Webinar]
What can you do about the issue?
We know today that third-party cookies are profoundly inaccurate. We know also that the proposed Chrome replacements are in fact even more inaccurate.
And today, there are alternatives to that approach to measurement. So, the use of AI to accurately create conversion paths compliantly and anonymously exists and we have been using this approach for a number of years now.
Here at QueryClick, we launched a product to market called Corvidae, which is an entirely standalone measurement system. And it uses AI that moves you to +95% data accuracy – at campaign, adset and impression level. It also allows you to unify and join offline and online data.
And it is this type of approach that enables you to find new areas of opportunity within your existing spend.
The use of AI enables you to move further up the funnel in search of new, more cost-effective opportunities. By providing you with data on the effectiveness of search terms which occur earlier in conversion paths. And identify individual campaigns which have high levels of ROAS from siloed data sources – such as social campaigns.
So, the likes of Meta and TikTok activity which might have higher ROAS than your other shopping campaigns can actually be accurately measured and reported on. And display, which is where we started the discussion today – and which quite often actually has the highest of all ROAS opportunities – can be measured on a cookie-free basis.
Meaning you no longer need to be too concerned about the loss of third-party cookies at all.
Learn more
If cookie-free attribution sounds like an approach worth exploring right now. Why not download a copy of our ebook, Is Cookie Free Attribution a Myth, and discover:
The main reason cookies are flawed
How to fix your 80% broken data
Our unique patented technology – and how it completely replaces the cookie
Is Cookie Free Attribution a Myth?
Own your marketing data & simplify your tech stack.