Event
•
12 min read
Webinar Round Up: Is Cookie-Free Attribution a Myth?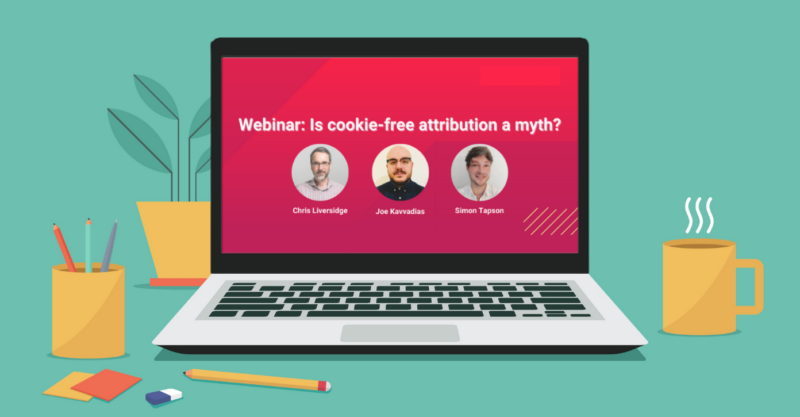 The impending removal of 3rd party cookies is a burning issue for performance marketers right now and one that we have covered previously in our guide to achieving marketing success in a cookieless world and our big fat cookie 'survival' checklist.
However, as the date for third-party removal fast approaches what are the prospects for attribution after that point? And is cookie-free attribution a myth?
It was a topic that we delved into more deeply in our first QueryClick webinar, where our CEO Chris Liversidge and Joe and Simon from our client and product teams took a closer look at:
In this blog we give a short overview of the webinar – which is also available to watch here.
Some background on cookies – and the issue with third-party ones
Chris opened the webinar with an interesting headline stat – that was taken from a recent survey that QueryClick ran in partnership with Censuswide across 154 marketers with more than £5 million digital media spend under management – which indicated that 77% of respondents agreed that effective attribution will become a key part of their MarTech stack as third-party cookies are removed.
In fact, the survey itself uncovered a strong focus on the role of attribution in particular.
So, in the webinar Chris and the team wanted to dig a little deeper into why attribution is seen as a solution for the loss of third-party cookies.
Some quick context on cookies themselves – and the changes taking place.
First, let's cover exactly what a cookie (both first- and third-party) is.
A cookie is a text file that sits in your user agent – which is the application you're using to access the internet – and it stores an ID. And that ID is used to identify you, if you return to a site. A third-party cookie is one that is set by a website, other than the one that you are currently on.
Cookies of this nature have been part of the fabric of digital marketing as long as most marketers care to remember and they have been used to track prospective journeys across the web, with marketers then using the data collected to better personalise user experiences. While all of this helps relevancy, they also have issues around privacy and also potential security issues.
Chrome, which is owned by Google, is phasing out third-party cookies entirely through the course of 2022.
Their proposed replacement for cookies is what they call 'topics', an API which includes about 300 topics but removes granular bidding for advertisers. For example, if you are a specialist coffee provider, you won't be able to bid on niche terms like "specialty coffee".
Instead, you'll only have a more generic topic like "food and drink" to bid on. Not terribly granular data I am sure you will agree.
Add into the mix the fact that Chrome is 60% of the browser market –and you begin to see that today, your ability to target effectively is already pretty severely hampered. Leaving aside any discussion around the 'actual' effectiveness of third-party advertising anyway which is a whole other discussion.
So, you could argue that moving away from third-party data is a good thing that we should all be embracing regardless of privacy considerations.
Why attribution is increasingly important in a cookieless world
So, coming to back to the main focus of our webinar, why is attribution seen as a solution to the removal of third-party cookies? Why did we get such a strong result in our recent survey?
As Chris points out, most of the marketers that QueryClick speak to describe attribution as a key baseline against which individual ad campaigns can be measured – for example for A/B, multi-variate or even media mix modeling testing. But let's park that and come back to it later.
We also know that, at some point, the majority of marketers have tried to apply some level of attribution beyond standard last click defaults that are provided in many analytics packages or ad tech reports, and have struggled to get the quality of insight needed.
In addition, media saturation is a key issue for the majority of paid media marketers with effective attribution sitting right at the heart of the problem.
So, attribution really matters. And, perhaps just as importantly, a good solution to attribution typically requires a good baseline of data.
However, the insight that we came to at QueryClick nearly eight years ago now was that the analytics data our clients get from Google Analytics or Adobe Analytics – or pretty much all analytics packages that are using a first-party cookie – is only correctly attributed about 20% of the time.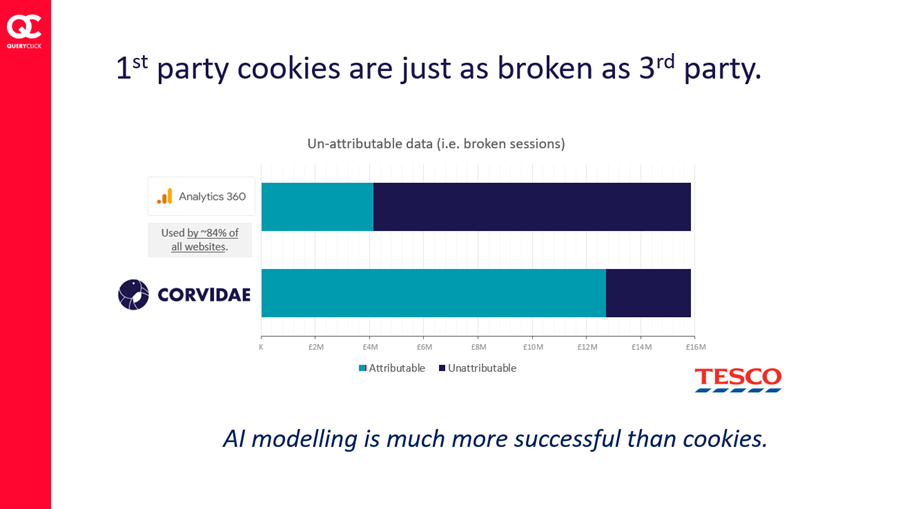 However, by experimenting with the use of Machine Learning and AI, we were able to significantly improve on this and achieve an incredible 85% accuracy – at that point in time. A figure that is up closer to 95% now.
All without the use of cookies. And effectively replacing them with an AI-driven solution in our attribution solution, Corvidae.
Achieving predictive accuracy through AI – using Corvidae
So, how does it work?
Well, as Simon explained on the webinar as follows:
our Corvidae platform includes a central piece of logic, in place of cookies, that collects pixel and clickstream data where a customer either visits your website or views your advertising
this hub connects together the multitude of devices and locations you would expect to see in a normal research and purchasing experience
we are then able to rebuild that journey to solve potential issues with cross-device and cross-location problems (something cookies are particularly poor at doing)
we then use these comprehensive paths, containing all of the touch points for all of the devices in a user journey which are processed by our proprietary AI model – tracing every route through the complicated network of touchpoints to either purchase or to 'fall off'
it then uses the intersection between journeys to generate a weighting which is translated as how much an event has influenced the outcomes – establishing how effective a marketing touch point has been in driving users towards conversion
This is obviously in contrast to traditional heuristic models, which set values to the entire journey before you even have usage data. Such as standard first click last click or U-shaped models, which provide very limited outcomes.
And because of that, we can accurately generate insight at a very granular level for things like a campaign, ad creative or keyword. Which are either not available or not accurate using aggregated approaches.
At the heart of the solution is a neural network that effectively 'learns' and is able to predict the outcome of a user journey – and is able to understand the specifics and nuances of customers. And continually refines that and 'learns' – and improves – over time.
And all of this data is aggregated and made available to support marketing planning and prioritisation, which is where the commercial value lies.
The commercial impact of cookieless attribution
So how do you harness the power of this more effective level of attribution in your marketing activity?
As Joe explained, for QueryClick, the major focus with clients is looking at the effectiveness of spend on Facebook and Google.
The report below shows some of the growth opportunities, that we were able to identify on a recent project by reallocating budget from underperforming campaigns – and placing that spend elsewhere to produce much stronger growth opportunities.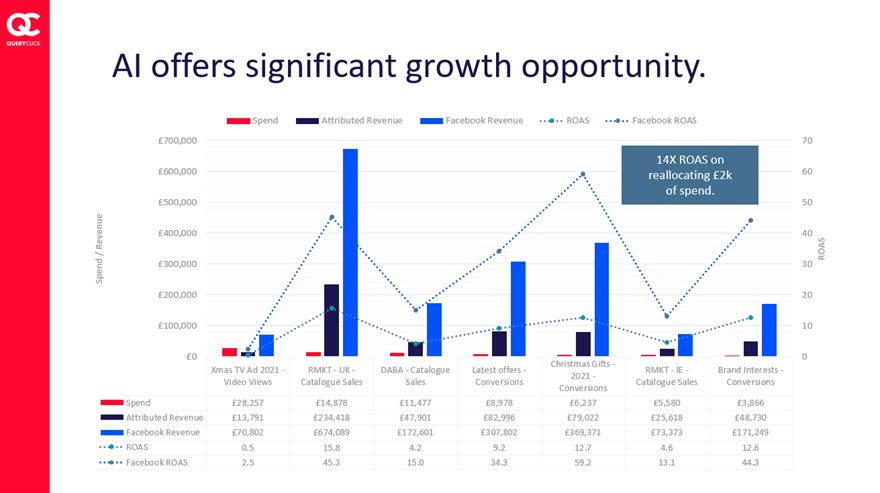 Some key points to note here are:
by reallocating £2000 worth of spend we were able to very quickly produced 14 times ROAS on that. And that was just by identifying wasted spend, identifying areas where we could reallocate budget to drive much higher ROAS and ultimately growth
through more accurate attribution we were able to show that Facebook is over-reporting revenue by about 250%. Which is drastically inaccurate. And it's something that I imagine a lot of you have seen before. But when you look at the impacts across time, it has a very big impact on revenue. And obviously the way that ad spend is being allocated into the right areas.
This is really what we look to do with Corvidae is to provide that time to value swiftly as possible. Providing very accurate, actionable insights that everyone can interpret quite easily through the dashboarding.
So, the reality – to return quickly to our original question posed in our webinar – is that cookie-free attribution isn't a myth. At QueryClick, we have actually been making it happen for quite some time.
The power of AI and Machine Learning as tools to rebuild your broken data are key to this process – and effective attribution in a world without cookies. Click the banner below to discover Corvidae today.
Cookie-free attribution that works.
Own your marketing data & simplify your tech stack.