Organic Search
•
9 min read
A Guide to eCommerce SEO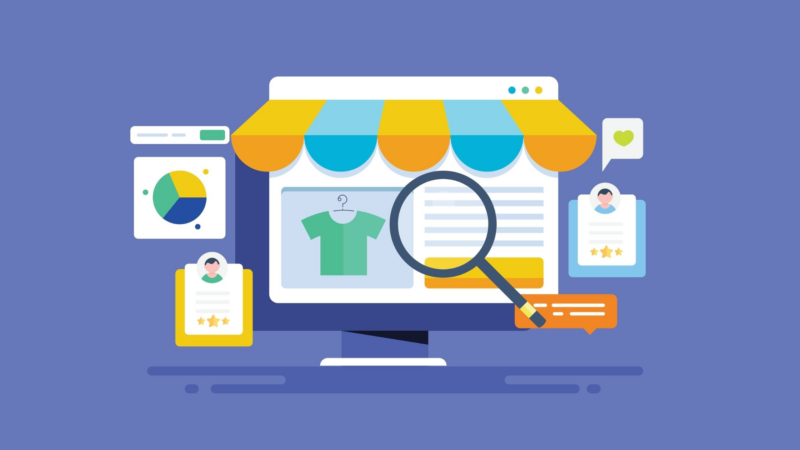 Good SEO is a non-negotiable for eCommerce brands.
Ensuring your site has been optimised, and has the right to rank well, will lead to better search engine rankings, increased traffic and a boost in revenue.
But what types of SEO should eCommerce retailers consider?
Our guide will walk you through everything you need to know for optimising your site.
Why SEO is important for eCommerce websites
Did you know that around 44% of people begin their online shopping trips with a search engine query?
This leads to over 39% of traffic to eCommerce sites coming from search engines.
So, having a site that is properly optimised for relevant query terms is essential if you want a share of that traffic and the revenue it drives.
Free download: A Complete Guide to SEO Audits
What is eCommerce SEO?
There are a couple of different branches of search engine optimisation (SEO), each playing an important role in improving traffic to your site.
Let's take a look at the main areas and the benefits they present for eCommerce sites:
Organic SEO
Organic optimisation covers a lot of different areas but one that is pivotal and informs pretty much every other SEO task is keyword research.
Properly researched keywords are also the foundation of a great eCommerce campaign.
It's important that as part of your research, you make sure that keywords have the right intent behind them.
For example, "lucky charm" is likely a query for information about objects that bring luck.
Whereas the term "lucky charms" is more likely to be a query about the popular breakfast cereal.
Some other things to keep in mind when doing your keyword research are:
Search volume – choosing keywords with good monthly search volume is imperative, if no one is searching for a term it won't drive traffic to your site.
Accuracy – make sure you use keywords that accurately reflect the products you sell. There's nothing more frustrating as a shopper than to follow a result from a search engine query only to find it's not the product you were looking for.
Competition – the world of eCommerce is undoubtedly competitive, and this applies to keywords too. We call this competition keyword difficulty, and it is a measure of how much competition you'll have in ranking in the first position on the search engine results page (SERP).
Organic SEO also includes on-page optimisation.
This is all about making sure your category and product pages have all the relevant information a shopper needs to find the product they are looking for.
You should pay particular attention to metadata (title and description tags) and your product description.
These should contain a relevant, targeted keyword within your helpful and well-written text.
It is also recommended to include a call to action (CTA) or "click magnet" words in your description tag.
These can be phrases like:
"Check out…"
"… today"
"Find out more"
"X% off"
"Free shipping"
"Sale"
"Limited offer"
These phrases are likely to increase the click-through rate (CTR), driving sales.
Technical SEO
Good technical SEO is vital for eCommerce sites.
This is because they tend to have a lot of pages, increasing the chance of technical issues arising.
Technical optimisations can also be the difference between being just outside the top 3 or ranking in the 1st position on the SERP for an eCommerce site.
This can be because most eCommerce sites don't have lots of backlinks from other reputable websites pointing to them.
So, if you and a competitor are in level-pegging, keeping on top of technical issues can make all the difference.
Running a technical audit is a great way of finding any issues that might be affecting your site.
Although plenty of tools can run these audits and give you an overview of your site, it is often worth getting an expert opinion.
Some of the main issues a technical SEO audit can pick up are:
Duplicate content – this is one of the most common SEO issues on eCommerce sites and it can have a real detrimental effect on your ranking. Duplicate content can happen for a number of reasons but one that is common on eCommerce sites is the use of copied product descriptions. The use of this duplicated content for similar products is not something Google wants to see, and you'll pay for it in rankings.
Thin content – this can be a big problem for eCommerce sites, after all, it's no mean feat to write lots of unique content for a range of similar products. However, it's important to try and aim for between 500 and 1000 words of helpful content on each page.
Too many pages – having too many pages on your site can cause a multitude of issues but one of the biggest problems you're likely to encounter is accidental duplication of content.
Site speed – this is one of the Google has stated they use as part of their algorithm. This is an important metric for an eCommerce site, a slow site can have a detrimental effect on revenue, with people leaving before purchase.
Link Building for eCommerce
Link building (or digital PR) is all about getting other reputable websites to link back to yours, these are also known as backlinks.
This increases your site's ranking on the SERP as each backlink is like a vote of confidence telling Google that another site vouches for you.
This helps to build your domain authority, improving your likelihood of ranking highly, increasing traffic to your site and increasing sales.
There are lots of different ways to build links but a few that work best for eCommerce sites are:
Publishing high-quality, relevant blog content – high-quality, optimised blog content has long been shown to improve rankings. However, it's also a great way to gain backlinks over time.
Creative PR campaigns – product PR can be great for building backlinks, improving traffic, and boosting sales.
Ask your partners to link to your website – if you're a reseller for example you could ask your suppliers to feature a link to your site in their online partners or vendor list section of their site.
Reach out to reputable resource pages within your industry – These are pages that produce articles with roundups of "best products" in your industry. These are really useful articles for shoppers at the beginning of their journey and having your product with a backlink included can be great for driving traffic.
Looking for help with your eCommerce SEO?
At QueryClick, we take pride in being an eCommerce SEO agency that truly partners with your business to achieve your goals.
We work with a range of well-known brands to create SEO strategies that work to drive growth.
If you'd like to see how QueryClick can improve SEO for your eCommerce site, get in touch today or download our services brochure below.
What makes QueryClick different?
Download our services guide to find out.
Own your marketing data & simplify your tech stack.