Organic Search
•
13 min read
6 Tips for Choosing the Right SEO Agency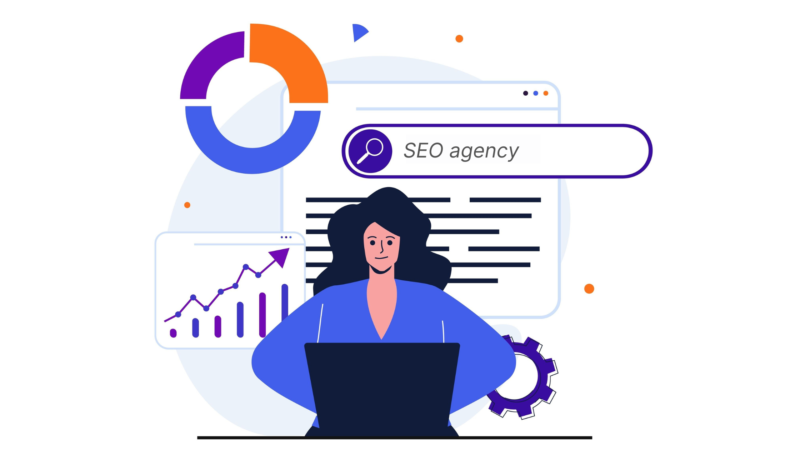 The opportunity and upside around SEO make it a key part of any digital marketing strategy these days.
In fact, according to eMarketer, 73% of in-house marketers agree that SEO provided them with an excellent return on their investment.
And choosing an expert and highly collaborative SEO agency from the outset can very often mean the difference between a steady and sustained rise up the Google rankings versus being penalised for taking the wrong approach to optimisation.
Which can have huge implications in terms of the knock-on effect on conversion and revenues.
But how do you ensure you select the right agency straight off the bat?
6 key things to bear in mind in your search
We think there are 6 key considerations as you go about your search as follows:
1. Make your initial research count
Getting the right SEO agency in place takes a bit of time and effort.
And time spent qualifying agencies OUT upfront can really pay dividends in terms of which agencies you choose to have a discussion with.
A quick review of a prospective agency's website and their social channels will allow you to answer some key questions including:
Do they look big enough (or small enough) to meet my needs?
What is the broad make-up of their team in terms of roles and experience (a quick review on LinkedIn of team profiles provides added depth to team listings on the site itself)
What is their ethos around SEO – what matters to them?
Are they a pure SEO outfit or do they offer additional services around content strategy, CRO etc?
What sectoral SEO experience do they have?
Is there evidence of the work they have done for other clients in the form of case studies or testimonials?
Quickly assessing potential candidates against these types of questions allows you to create a shortlist. But don't limit your activity at this point to web searches alone.
With SEO, like any other agency service, personal recommendations carry additional weight as you embark on your search. Cutting down the time involved in the process.
So, dig into your marketing network for personal referrals. And also leverage your existing agency contacts in other areas, who may already be working in partnership with a good SEO provider.
Related: How to Find the Right SEO Agency for You
2. Take a broader perspective than just SEO
This may sound obvious, but thinking about SEO agency selection in isolation is the wrong decision-making lens to apply to things.
The reality is that, despite the fact that SEO needs niche and dedicated expertise, it isn't a standalone activity in your overall marketing approach.
So, make sure as you put together your requirements spec that you include other specialisations you are going to need.
Successful SEO is going to consider the entire user journey from finding you in search results, to visiting your site and converting to being a customer (and beyond). And ensuring the best user experience on that journey is going to require access to specialist expertise in areas like content creation, CRO and site speed optimisation.
If your prospective agency is able to provide these as a service – or partner with another specialist agency to deliver on it – this can really help the effectiveness of your SEO efforts.
And, if they are partnering on SEO and have specific client examples of where it has worked well, even better.
3. Ask for client case studies – and data to back them up
Finding, and stress-testing, good client SEO case studies are an essential part of the vetting and selection process.
Good SEO companies are laser focused on delivering results that delight their clients and they tend not to keep their success a secret.
There are probably 3 stages to evaluating this side of things as follows:
Assess their website – make a quick SEO evaluation of the agency website itself. If they aren't ranking for they type of keywords you might expect for their own business then they will be unlikely to do it for you
Review their case studies – Next, take a look at client case studies on their website. What sort of SEO problems and issues are they solving for existing customers? How does that map to what you need from them? Is the data there to back their claims up?
Ask for referrals – Very often the acid test is asking to speak to some of the clients they have listed on their site. Happy clients are often willing to share their experience of an agency and can give validation on the claims on the agency website
Evidence of independent awards might also be an indication that the agency is getting things right for clients and can do a similar job for you.
4. Look for a business partner – not just another SEO agency
It is also important to remember that, on the SEO side of things, you are ideally looking for a partnership that brings inhouse and agency expertise together in a winning formula.
This is something that came out strongly in our recent webinar where Joe Griffin, Senior SEO Manager at BT (and QueryClick client) stressed the importance of trust and a collaborative approach in the client/agency relationship.
A truly partnership driven approach from an agency is likely to manifest itself in a number of ways including:
Full transparency – be wary of any agency that tells you "it just works" when you ask how they achieve results. The reality is there are no secret formulas when it comes to moving your company up the rankings. So, a good SEO agency will be happy to share their approach and regularly report back on process. Any reluctance to do this should be a red flag up front
Evidence of shared success – as Joe Griffin points out there is no room for stepping on toes between client and agency in an SEO context. So, look for agencies that are showcasing not only the results they were able to generate for clients but that highlight how clients were pivotal in that success
Highly collaborative approach – ask how the agency intends to work with the wider business on SEO. A good agency is going to have a collaborative approach to projects whether they are working with the core internal SEO team or other key stakeholders like web dev and CRO teams
Most importantly talk about YOU. Tell them about what your company does, what it does that's different and how you need SEO to support your business objectives. If they don't latch on to that and continue to talk about THEM they might not be right fit for you.
Related: Why You Need In-House and Agency Expertise to Drive SEO Success [webinar]
5. Don't believe overblown SEO hype
The reality is that there is a lot of hot air out there around SEO.
If an agency begins to use phrases like "we can guarantee to get you on page 1 of Google in a few weeks", it should set alarm bells ringing in your head.
As our own Digital Strategy Director, Scott Donnelly pointed out recently:
"The big challenge you have with SEO is that it isn't an exact science. It's not quite as easy as 'do X, get Y'."

Scott Donnelly, QueryClick
So making discrete promises around performance is problematic.
The reality is that the environment for SEO is constantly in a state of flux with Google's algorithms changing all the time.
There is no magic formula to staying ahead of that and anyone who says they have it is leading you up the garden path. And any agency that tries to short-circuit the process by using dubious techniques is likely to cause your company or brand more damage than good.
So, try and get an agency onboard that is going to take a planned, structured and consistent approach to improving your search visibility that is built for the long term. And that won't burn out overnight.
Possibly even one that under promises and over delivers!
6. Kick the tyres a bit before a final decision
Finally, don't be afraid to ask questions and dig around a bit as you get towards your final selection.
As part of the final evaluation, you are going to want to probe in some key areas including:
Depth of expertise – who exactly are you going to be working with if you sign off on the project? Who is going to make up your account team and what specific expertise do they bring individually and collectively in key areas like search strategy, technical optimisation and content
Explore their processes – what does the overall process look like? How will you be onboarded? What do they need from you? And what are the key steps they typically work through to deliver SEO success for their clients
Assess 'fit' with your needs and plan – at this stage you will be getting practical around the 'ask'. Make sure they are aware of your SEO and business objectives and assess the appropriateness of their response to your brief
Ask for their input – Don't be afraid to ask them for some initial thoughts and an assessment on what they can see from the "outside". Get the balance right here between them being able to assess the quality of their thinking and pushing too hard for free consultancy though if you want their buy-in long term
Looking for a new SEO partner?
If you are reviewing your SEO options why not talk to QueryClick?
We are a performance marketing agency which is dedicated to supporting your business growth. We have well over 10 years' experience of driving measurable SEO improvements in partnership with our clients with a data-led approach.
Discover what makes QueryClick different
Download our performance marketing services brochure.
Own your marketing data & simplify your tech stack.