SEO
KRAWL | SEO News | January 2023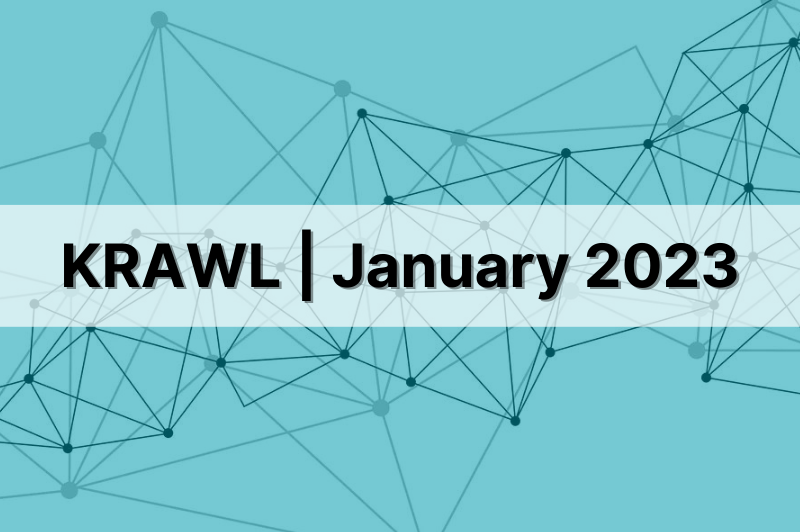 Welcome back to another edition of KRAWL (Keywords, Rankings, Algorithms, Websites & Links)!
This month, we're looking into what's to come for SEO in 2023 and some tips to get set up for success. So, without further ado, let's dive in…
SEO in 2023: 5 things we can expect
So many updates in 2022 have made the market (and us!) apprehensive and we will continue to see its impacts over 2023. There were 3 major updates in 2022:
Page experience update for desktop
Helpful content update
Product review update
We can see that the algorithm is deeply concerned with issues related to the user experience and the semantics of a text. It's putting aside technical issues such as keyword density within the text.
SEO-wise, what else is in store for 2023?
1: Semantics highlighted
Semantics have become so important that numerous plugins are taking into account keyword variations and related terms along with their density in content.
Semantic word density is strictly relevant.
An important note to Yoast plugin users: the plugin does not cover this, which means it can become outdated.
2022's Helpful Content Update brought a new algorithm that assesses whether a page was built for users or for search engines.
Rankings declined for content created for the sole purpose of generating rankings while increased for content created to enhance a user's visit to a website.
This is Google's way of making the user experience an integral part of every SEO strategy by focusing more on producing useful content instead of worrying about keywords and title tags.
2: User experience is more relevant than ever
The user experience has become increasingly relevant in the digital environment.
Mobile ranking signals were updated in 2021 by Google to better reflect the user experience when landing on a site.
Having proven successful for mobile, these updated ranking signals were rolled out for desktop in early 2022.
Nowadays, people no longer like super dense content that doesn't make much sense, or that doesn't answer the reader's initial question.
Google has also been considering the relevance of the writer, what their background is, if they have a history in more portals.
Therefore, leaving a photo of the editor, name and information such as links to social networks, including LinkedIn, can be a good alternative.
3: Content needs to be optimised for voice search
Voice assistants are a reality, and they are here to stay.
More people are starting to use them every day, forcing a constant improvement of their functionality on search engines.
However, users speak differently than they type, and in order to optimise a website for voice search it will be necessary to include longer tail queries.
4: Good practices on scannability
Another aspect expected by SEO updates is the scannability of published material.
That is, how easy it is to be read by the user and how quickly they can find their information.
To make a text more scannable, make sure to add smaller paragraphs with less dense subtopics.
The use of images, quotes, and other types of content in addition to plain text also helps, as well as internal and external links that can take the reader directly to the source of the information.
5: Rich results are a necessity
We all know how important it is to create listings that stand out, so whenever possible, use structured data to present additional features like:
reviews
images
FAQs
knowledge panels
Rich results will play an increasingly important role in SEO strategies in 2023 and not just for product listings.
Is TikTok Manipulating Keywords?
Casually scrolling through my 'For You' page, I came across a video that sparked extreme interest as an SEO, and I have a feeling it will be compelling to many of you as well.
In this video, the narrator directs viewers by telling them, exactly, what words they need to place into the search bar.
These new keywords will then take them to find their favourite products directly from wholesalers in China for a smaller price.
This is good for the companies and the viewer as there is a strong USP – discounted products.
Let's do some research:
The first keyword mentioned in the video is: Qingdao Eyelash.
At first glance, we can see there is little to no search volume and no competition, making this keyword an extremely easy one to target and a quick win that we can rank highly on.
Going back to the video, it was published on the 30th of November 2022. The day after the release, we can assume that the number one ranking URL started to receive more traffic.
While we don't have access to their analytics, we can see via ahrefs, that Google has been granting them with more keywords, which is an indicator that their site is being noticed by bots as the number of pages has NOT changed. They also do not currently hold any backlinks.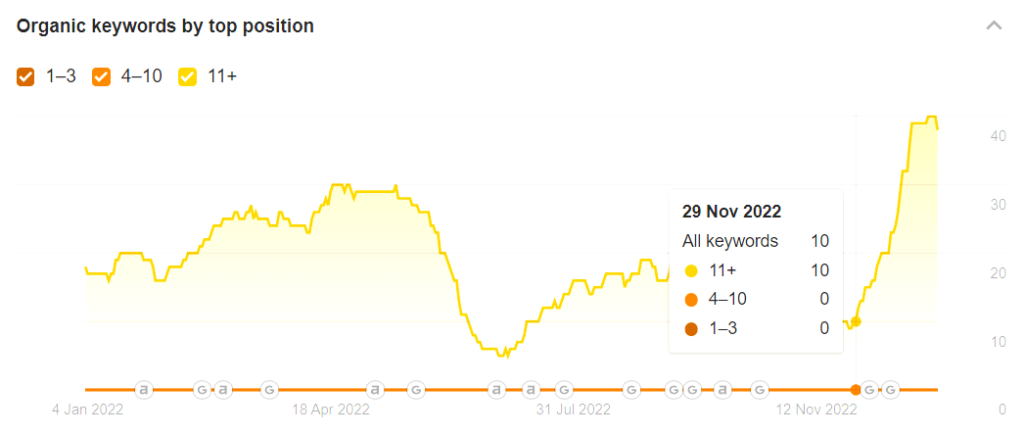 While writing this article, the TikTok we have been discussing has accumulated 1.3 MILLION views.
Now, if even only 1% of viewers use these suggested keywords after viewing the video, we have 13,000 users searching a new keyword in a single month.
A sharp spike like that is enough to shake the scene for any keyword.
Better yet, this TikTok account is creating and publishing more videos doing the same thing, and there are plenty of other creators making similar content.
Now, this video is serving a unique purpose by bypassing targeting keywords that, traditionally, users would be placing in their search bar. And clearly these are words that SEOs can be spending a lot of time and energy on.
All in all, these videos allow users to find products using new words that have less competition.
Why does this matter?
In SEO, we typically place a lot of time and effort into understanding what users are placing into the search and why.
We can analyse years and years of data to identify the perfect keywords to fit your current audience members along with your ideal targets.
While conducting keyword research we will also identify keywords with less competition that your products and services rank well for.
However, if they have low search volume, they will most likely be pushed to the back of the queue to accommodate for the heavier targets with high search volume and tougher competition.
However, if videos like this are changing the way that users search, we must integrate TikTok research into our keyword research.
Now, we know SEO can be influenced by your email marketing, Instagram posting, reviews, and so much more that has to do with your product or services online footprint.
By monitoring the success of "Keyword Videos" like the one shown here simply opens another door to enhancing your cohesive SEO strategy.
What does this mean for me?
If you currently have a high quality TikTok following, perhaps you want to give this strategy a shot. You can lead your audience to a specific page with discounts for TikTok viewers using a specific keyword.
Or, if you have not begun a TikTok channel, perhaps you can try using an influencer or simply begin piecing together you content strategy.
New Year's Resolutions for Better SEO
The new year is here and with it the opportunity to create an even bigger impact with our recommendations to clients. Here are some SEO resolutions for us and them!
Automate where you can
Do yourself a favour and automate as many day-to-day data-gathering tasks as possible.
Whether that's using tools like:
Ahrefs
Screaming Frog
Google Search Console or
Lumar (previously DeepCrawl)
or even building automated reporting in Looker Studio (Data Studio)
The less time you spend collecting data the more time you have to interpret it and create innovative strategies.
In 2023 there is also the opportunity to use AI like ChatGPT to help us build out ideas for content and metadata. Although we can't (and shouldn't!) use it to write these things for us, it can certainly be used for a bit of inspiration when it is otherwise lacking.
Good SEO takes time
Although we can utilise automation to make better use of our time as SEO experts, we cannot unfortunately expedite great results.
And this is something we occasionally need to remind ourselves.
Keep learning
Something we need to remember is that there is always something new to learn when it comes to SEO.
Whether that's understanding how AI will play a bigger role in our work or how the rise in popularity of using apps like TikTok as search engines will affect Google.
2023 is set to be an interesting year for the future of SEO.
And that's a wrap!
Thank you for joining us for another edition of KRAWL. We look forward to sharing more news, insights, and top tips with you again next month.
Catch you later!
KRAWL On
Have a read through our suggested articles:
Own your marketing data & simplify your tech stack.