Organic Search
•
10 min read
Should You Focus on Voice Search in 2021 and Beyond?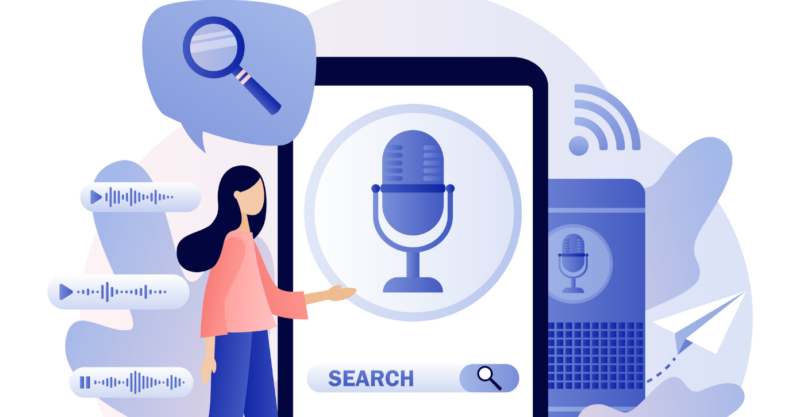 For several years, voice search has been positioned as one of the biggest shake ups in the SEO industry.
Initially, it failed to live up to the early hype due to a lack of adoption and access to the enabling technology.
However, as sales of technology that encourages voice search (i.e. smart speakers), has grown and people have become more accustomed to talking to machines, is now the time to integrate it fully into your SEO strategy?
Find out below…
What is voice search?
This might seem a simple question, but it's crucial to differentiate between voice search and voice command.
Voice search, in its truest form, is the act searching on a traditional search engine, using your voice. This is normally started with "Hey Siri", "OK Google", or using the microphone icon next to the search bar on Google.
Voice commands are the orders we bark at our smart speakers, our Alexa's, Google Nests etc. in which we ask them to play music, turn on our lights, or simply let us know what the weather is going to be like today.
Understanding the difference between the two enables us to identify the potential impact each can have on performance and the actions that can be taken to maximise results.
How does voice search work?
Essentially, voice search works like traditional text-based search, as your device takes the audio request, transcribes it in to text and searches as it would do if you had typed it in.
However, the manner in which voice search returns the results works in three different ways:
Screen based voice search
This returns the traditional search result with the same look and feel of a traditional text-based search.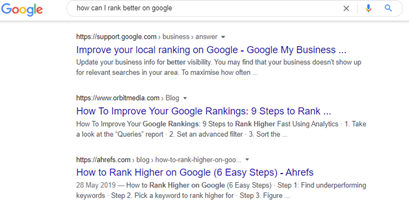 Screen-less voice search
In this instance, search engines will return a result as a spoken response.
This happens in cases where there is a featured snippet owned by a specific site. Your device will read the snippet as the response to your question.
On the go
These results rely on Google's Answer Engine. The result is returned directly from Google, with a site providing the source.
These are normally how answers to questions such as: "How old is Barack Obama?", "What year did the moon landing happen?" etc. where a specific, factual answer is needed, Google returns them direct.
How are people using voice search?
The type of search conducted by users varies wildly. However:
20% of voice searches are triggered by a set of 25 keywords such as; how, what, best, easy etc.
76% of smart speaker users perform local voice searches weekly.
47% of smart speaker searches are "standard" online searches.
[Source: https://www.invoca.com/blog/voice-search-stats-marketers]
The prevalence of voice search, while not at the rate some previously forecasted, has continued to grow.
Therefore, it may be a valid inclusion in your SEO strategy, as long as you know how it is used by your target audience and what you can do to generate results from this area of search.
Of course, the focus you place on driving results in this area should be assessed on it's potential to contribute to the generation of revenue as part of a multi-channel marketing approach and how that compares to other areas of SEO.
Could your SEO strategy be improved to generate more ROI? Speak to one of our experts to find out
How does voice search work for e-commerce?
Voice search has been predominantly servicing informational queries since its inception. Typically, this makes it a lesser priority for e-commerce brands whose primary focus is to sell goods.
E-marketer found that only 22% of voice search users use it to make a purchase, and the vast majority of these sales take place on smart speakers such as Amazon Alexa and Google Nest.
This is mostly down to the familiarity that users have with Amazon and its eco-system. Using smart speakers to make small, repeatable purchases, as you would do using the app on your phone.
For larger, higher value, or more researched purchases, users are still opting to stick to traditional platforms to make their purchases such as desktop, and to a lesser extent, mobile.
For individual retailers, this essentially means that voice search is limited in its ability to drive direct sales and is reliant on users making specific brand led searches.
That being said, it can still be a good way to introduce new customers to your brand when they are in the research phase of their journey to purchase.
Local search
With such a high percentage of voice search users making local queries, retailers that have both a physical and online presence need to ensure that they are well optimised for local SEO.
These voice searches may not directly drive increased online sales (although with click and collect, there would be a better chance) but with a greater presence in SERPs for queries that contain a location or 'near me', retailers will be in a better place to capitalise on voice searches to drive store footfall.
How to optimise for voice search results
While voice search results are unlikely to drive direct sales, they can be a great way to get in front of new customers.
The easiest and most effective way to target a voice search result is to focus on winning the featured snippets with the greatest search volume and which are the most relevant to your brand.
To do this, you need to study and analyse what keywords are triggering featured snippets and deciding which you want to target.
From there, understanding what type of content is being returned in these results is key. This will help you create and structure your content in a way that will allow for it to be selected.
Then, ensure that you use schema mark-up, where appropriate, to further educate search engines that your content is the best option for that coveted position 0.
Top tips for securing featured snippets
Use target keyword in headers and sub-headers. It can also be handy to phrase these directly as the question you then answer.
Provide succinct, direct answers. Ensure facts are verified. If the featured snippet already exists, match the format with your answer (paragraph or a list).
Ensure clean HTML is used and everything is marked up correctly (paragraphs, lists and headers etc.).
Optimising for local search
As we've already covered, the relationship between voice search and local SEO is now a close one. That means if your business has a physical presence, you need to ensure you are visible in the local pack for geo-locational searches.
Optimise your listings through Google My Business including the content of them and the categories you target.
Build citations and ensure there is a consistent approach with business or store name, address and post code formats.
Make the most of additional features like reviews and Google Posts on your listings.
In Summary
Even though voice search has not reached the levels that many touted in years gone by, it is still a growing piece of the search landscape.
Understanding that it can be used to capture new customers making informational searches around your products or searches, and optimising accordingly, is the best way to approach it at the moment.
Equally, the volume of voice searches that have location-based intent demand focus on local SEO to drive footfall to your stores.
Looking to integrate voice search into your SEO strategy?
Chat with our team of SEO experts today.
Own your marketing data & simplify your tech stack.