Organic Search
•
10 min read
How to Leverage Seasonal Deals Hubs for Organic Search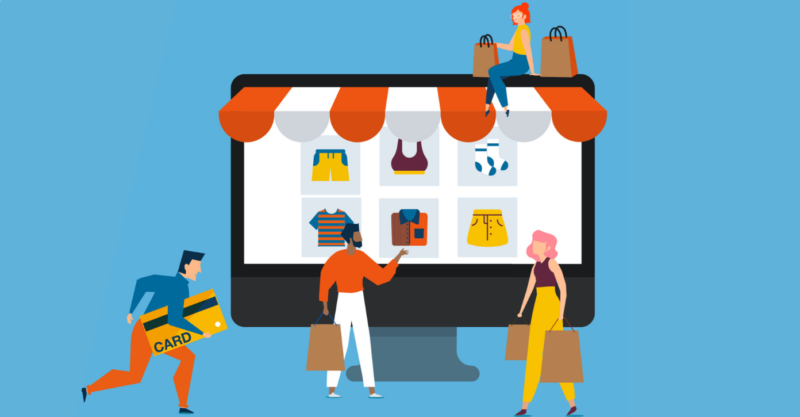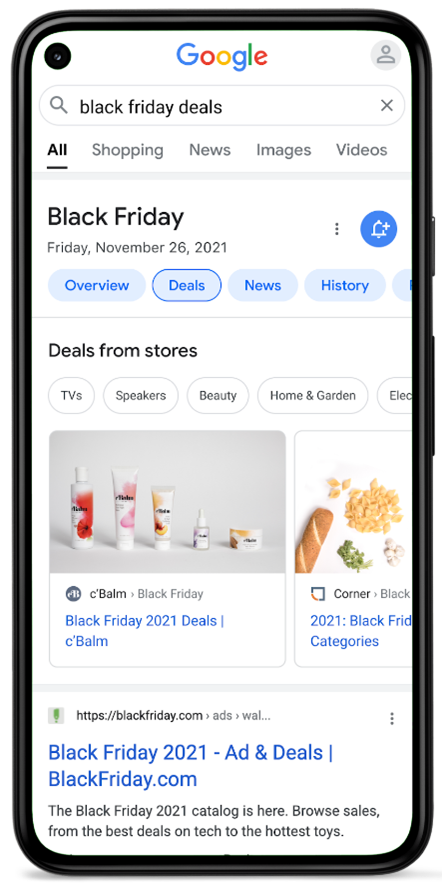 With Google's recent announcement that 'deals carousels' are going to start appearing on a SERP near you, has there ever been a better to time to get those seasonal hubs nailed down?
Quite frankly, no.
And if you're not currently leveraging seasonal deals hubs for your organic search strategy, then you're not reaching a huge swathe of searchers who are (most likely) modifying their normal search behaviours with "Black Friday deals".
Still, the best time to plant a tree was 100 years ago, or today.
But, what are season deals hubs? And how can they help you tap into seasonal search traffic, earn more money, and stop letting CRM have all the fun during Black Friday? Good thing you asked. Read on to find out…
What are 'seasonal deals' hubs?
Seasonal hubs are essentially landing pages that are used for a unique trading period. At a very basic level this is a PLP (product-listing page) that groups existing products or services, but frames them as 'Black Friday Broadband Deals' or 'Back to School Offers'.
Some brands have a page all-year round promoting 'deals of the month' or other rotating offers.
Where a seasonal hub differs, is that it's only designed to drive traffic during specific parts of the year. (Be sure to communicate that to any overzealous content pruners who might consider a page not currently driving traffic as worthless.)
Why create dedicated deals hubs?
Because people search for them, and other pages won't cut it.
Generating organic traffic over key trading periods like Black Friday, Cyber Monday, or Christmas require search-optimised landing pages built around the trading period.
Seasonal hubs follow the same principle of "unless you build it, they won't come" as it's uncommon for a generic deals hub (think a static 'Special Offers' page) to get traction during competitive trading period in Google search.
The more competitive the query, the greater the need for a purpose-built landing page.
Also, if your paid search planning includes generating sales over a named trading period, then a dedicated landing page will improve your ad quality and direct users to a page that meets their expectations.
Beyond search, seeing a prominent menu item called 'Black Friday Deals' is enough to entice users already on-site and who have come to expect generous deals at that time of year. Often, the pages we build for search have a life beyond the channel. Now that's just being efficient.
Deals hub best practices
Now that we've convinced you that seasonal hubs are the future, here's some of our, and Google's, guidelines for how to get more from seasonal hubs.
Keep a static URL, rather than creating a new page for each yearly 'event', like Tesco Mobile's Black Friday hub.
Static URLs mean over time that a single page soaks up positive click-behaviour, remains indexed for your target keywords, and (hopefully) acquires backlinks as publishers crank out deals-driven content and direct users to a brand's seasonal page.

If you rip it up and start again, you're essentially starting again from scratch and your quest for Black Friday dominance begins anew.


After the event ends, create placeholder content for the following year and link through to a generic deals page.
Users tend to append their seasonal searches with the year they're currently searching in. That's why when an event is over, we recommend creating some placeholder "the deals are over, but see in you in 2022!" messaging and update the metadata to reflect the next year the deals are live again.

The aim here is to build steam ahead of the next big trading period, achieving relevance earlier in the year.

And in case someone is late to the party, add an internal link to a generic 'offers' page (if you have one) to soak up any last revenue from users looking for deals. This is more for marginal gains, but extracting every last drop from your seasonal assets is good practice.


If you're creating a seasonal hub for the first time, don't do it a day before the trading period starts.
Google needs time to index your page for its target queries, so try and think a few months in advance. Consider creating a calendar of seasonal trading periods, like Black Friday or Christmas, and build those pages a month before they need to be live.

Even if the content isn't excellent, users aren't searching for it yet so it's unlikely to be seen. Get out of the habit of thinking every page needs to be absolutely perfect before it goes up – an iterative approach is almost always better in the long-run.


Don't 301 redirect it when not in use.
It may be tempting to redirect the page when the event ends, but it's preferable to let it just remain as a 200 status code, but remove any links from the main menu.

If you were dead set on redirecting it, you can always 302 it, but leaving it up year-round ensures it remains in the index and primed for the next trading period.


Optimise the page, including the metadata.
Google's confirmed that the page title of your deals hub will be used in the carousel copy, so be descriptive and meet searchers' needs head on.

With that in mind, if you can find more granular keyphrases to target, we'd encourage that. If you sell mobile phones, there's a chance that some people who searching for 'Black Friday Deals 2021' are looking for an iPhone, but you're more likely to drive qualified traffic if you namecheck your items in the targeting, e.g. 'black friday iphone deals.'

Big trading periods are noisy, so be specific and be there for searchers looking for something specific that you carry.


This includes optimising the on-page content, as well as the metadata.
Fetch and render as the content changes, to ensure Google has the most up-to-date version of your page in its index.

Simply use the 'URL Inspection' tool in Google Search Console to request indexing when your deals go live. Note, if the content is served through JavaScript, it'll need to do a second pass, so ensure any static content is also present in the HTML source, so getting indexed for what you need doesn't take longer than necessary.

Note: if you don't have Google Search Console set up, here's a guide for getting up and running.


Because of Google's 'deals carousel', use an optimised banner image.
From the mouth of Google:
Include a prominent image that will help shoppers understand your offering.

For example, show products on sale or include banner text highlighting special offers or discounts.

While Google generally discourages banner text in images, text in images can help on deals pages.

Any text in an image should be reflected in the textual content on the page and in an appropriate alt text attribute.

To minimize cropping in the deals carousel, we recommend that the aspect ratio of the image be in the range of 4:3 to 3:4.
Closing thoughts
There you have it. Some actionable tidbits on creating search-led and carousel-friendly seasonal deals hubs. Be sure to check our resources regularly for the latest and greatest in search news, optimisation tips, and upcoming events.
In the market for an agency partner? Our multi-award winning team are always free for a cup of tea and a chat. So get in touch!
Own your marketing data & simplify your tech stack.