Organic Search
•
14 min read
The Secret to Driving Growth with Your SEO Strategy
Ensuring your brand is easily found online is key to driving success. But with so many changes to Google's algorithm, and new AI tools coming onto the scene, understanding what will really move the needle in SEO can be tricky.
So, how can you get the most out of your SEO strategy?
In a recent QC Webinar, QueryClick's Digital Strategy Director, Scott Donnelly, shared his secrets to driving real growth for your business from SEO.
If you missed the session, you can watch the on-demand recording here.
Or, keeping reading to learn:
Where do you start with an SEO strategy?
As Scott explained at the beginning of the session, SEO can sometimes feel quite daunting with a lot of unknowns especially if you've never invested the time or energy into it.
So, how do you get started?
Before starting to plan out your SEO strategy, it's important to first understand what it is you're looking to achieve. We can then work back from there.
There are two core areas to consider:
What is your primary business objective?
This is the overarching goal of your SEO strategy. It could be to increase sales, drive more leads or reduce your CPAs. Knowing this will inform your strategy moving forward.
What KPIs will you use to measure progress?
Your business objective is your goal that will likely take 12, 18, even 24 months to complete. Your KPIs are the iterative steps you need to take to make that happen.
The 5 key stages of an effective SEO strategy
With any strategy, you need to make sure that you are considered and focused in your approach.
There are five key stages your SEO strategy needs to follow to be effective, Scott explained.
These are:
1. Analysis
Before starting any new strategy, it's vital to first understand your current performance.
Ask these questions:
What's the current state of play?
How are we currently performing?
What does our market look like?
Who are our audience?
Who are we talking to?
Who do we need to get in front of?
Understanding the answers to each of these questions will help guide your strategy.
2. Forecasting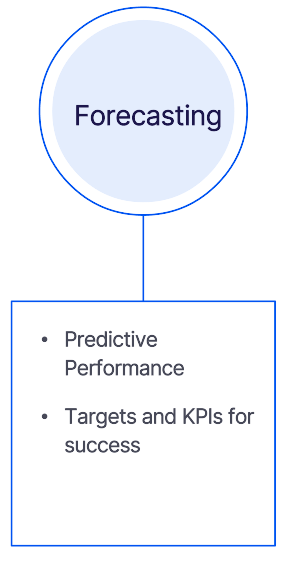 Trying to be as predictive as we can with performance is key.
And it helps to try and grease the wheels when we're having conversations internally about SEO.
Unfortunately, SEO is not as clean cut as Paid Media often is. With Paid Search, we can know the budget, we know what the CPCs are, we know roughly how much traffic we're going to be able to get from that budget.
With SEO, it's a bit more up in the air. But it's important to try and provide some sort of metric that says:
this is what we think we can achieve
this is when we can achieve it
And then we think about how we're going to do it.
3. Roadmap and planning
And that's where your SEO roadmap comes in.
While you need to keep some time for ad hoc work due to the ever-changing nature of SEO, for the most part SEO should be really structured.
You need to have a plan of action.
Without a plan of action, you'll likely find yourself just completing a lot of different little tasks that, ultimately, might not be levelling up to that top-level strategic business objective.
And a common roadblock with SEO strategies is actually getting the work that your SEO agency, or in-house team, create or recommend onto the site.
Ensuring you have a robust roadmap will help you build a strong business case to highlight the biggest activities and the biggest changes that are going to impact performance so you can get those done first.
4. Execution
And then naturally, once you have planned and prepared, the biggest thing you can do is execute your strategy.
Ensuring you're driving efficient delivery is key to success.
As well as incorporating expertise, authority and trustworthiness into every content piece.
It's important to make sure that your SEO work is performance-based. Quite often, SEO focuses on purely driving traffic to the site.
But in reality, that's not moving the needle for your business and it's likely not tying back to your core business objective.
With every piece of SEO work you do, always ask the question: "How is the content that we're creating or the technical fixes that we're doing, ultimately helping us achieve that final goal?"
5. Measurement
If you're making changes to your site and publishing optimised content without understanding what impact they're having, you're going to lose track.
And you're not going to be able to validate the investment that you're making.
Adopting an ROI mindset is really, really key here.
So, understanding for the effort that I'm putting out in my internal team, or the cost that I'm spending with a third-party provider, what am I getting in return? And what value does that mean for my business?
4 fundamentals of an SEO strategy
Before you start building a strategy, it's important to understand first where you are so you know what you're missing and what you can do to drive that growth.
Here are four key things to include as part of your SEO strategy:
1. Keyword research
If you don't have effective keyword research, you can't understand how your audience are searching for the products or services that you provide.
Targeting the right keywords across your site, and in your content, is the absolute baseline for SEO – and getting that right is key.
Related: Top 5 Keyword Research Tools to Drive Growth
2. Content gap analysis
Once you have your list of relevant keywords, you can conduct content gap analysis to understand what content is missing from your site that your audience is searching for.
This is a great way to find quick wins to drive more bottom funnel traffic and boost growth.
3. Competitor benchmark
Competitor benchmarking is important for understanding how your content compares to other businesses within your sector.
It's key to discovering:
Which of our competitors is performing the best within our space?
Is there anything we can do to replicate and plug some of our own gaps quickly?
What kind of content do they rank for?
4. Technical audit
Technical SEO is the bedrock of Organic Search. Without a solid foundation, your SEO efforts will crumble.
When building your SEO strategy, it's vital to consider things like:
what can we do to start to differentiate ourselves from the technical space?
can we add new schema?
Can we speed the site up?
That will give you a strong advantage from a technical basis, and help you hit the ground running with SEO.
Driving omnichannel marketing through SEO
Blogs are a great way to boost your SEO and drive traffic to your website.
But they shouldn't just be published on your site and then forgotten about.
One piece of content can turn into a multi-channel campaign by leveraging that piece and repurposing it for different activities.
For example, your blog content can be turned into:
Ebooks
Infographics
Emails
Videos
Social media posts
Podcasts and webinars
Tips for reporting on SEO success
There can be a lot of misconceptions about SEO within businesses.
It's often viewed as a 'free' marketing channel – but this does a disservice to the amount of time and effort that goes into driving increased Organic traffic and revenue.
That's were effective reporting can help.
Shining a light on the hard work you're doing to drive growth through SEO will get eyes on your work and promote the importance of a well-oiled SEO strategy across the business.
Scott shared his tips for bringing more awareness to your SEO success on the webinar:
Report on the small wins
As SEOs, we're relying on fickle search engines – while going head-to-head with our competitors every step of the way.
This can make it difficult to see huge spikes in performance from SEO in a short period of time.
That's just the nature of the beast; it takes time to drive wholesale mass SEO performance.
And that's why it's crucial to not forget about those small wins.
After all, growth is growth.
If you're able to move the needle – even just a small bit – and see ranking improvements from the bottom of page 1 to the middle of page one, for example, it deserves to be shouted about.
Don't lose sight of the final target
On the other end of the spectrum, and re-iterating something Scott mentioned previously, it's vital that you don't lose sight of that end goal – your business objective.
Each step you make along the way should be contributing towards that.
And if it isn't, then cut it from your strategy.
Report weekly on the things you can control
There are a lot of moving parts to SEO and a lot we can't fully understand or influence.
So, if there are areas we can control, it's important to highlight those and share the results business-wide.
Running a regular report on things like keywords rankings is a great way to shout about performance – and highlight the great work you've been doing to drive results.
Provide executive summaries of SEO performance
And following on from that, remember to include the content within your reporting that will speak to your specific audience.
If you're reporting to the C-Suite, then hone in on how your SEO strategy is driving revenue for the business.
If you can speak in their language, and connect with what they care about, you'll be closer to creating an understanding of the importance of SEO across your business.
Key takeaways
Your SEO strategy should always have your overall business objectives in mind.
You need to ensure your fundamentals are in place before you start scaling.
Start by seeing what extra value you can get out of your existing content first.
Scale across the whole funnel, to ensure you're visible everywhere.
Over-report – ensure people know about your successes, but don't shy away from the failures either.
For more tips on boosting organic growth with your SEO strategy, download our Complete Guide to SEO Audits below.
Or, if you're looking for a performance marketing partner, find out what makes QueryClick different.
A Complete Guide to SEO Audits
Own your marketing data & simplify your tech stack.