Retail
•
16 min read
How Black Friday is Destroying Growth for Retailers
With Black Friday just around the corner the thoughts of many retailers will have turned to how to maximise what, on the face of it, has become a key time of the year.
But what does Black Friday really mean for retailers, and Performance Marketers in the sector, in particular? Are retail brands really getting additional value from their involvement in what is now a global retail phenomenon?
Recently our CEO Chris Liversidge delivered a Masterclass on the subject, and we provide a snapshot of what was discussed here. Amongst other things it contains an assessment of the poor quality of cookie data that dates back to 2004.
If that isn't a good enough reason to read on, I'm not sure what is!
In this blog, we use Black Friday – which is on all our minds as one of the major upcoming events in retail – to try and get under the hood a bit with the kind of data opportunities that exist for retail Performance Marketers right now, to try to ensure that we are getting the best bang for our retail buck as we go into the festive period.
Two bits of background context first
Before we dig into the detail and impact of Black Friday, it's worth stopping to consider two key factors that have impacted retail at a broader level in recent times:
1. Explosion in retail digital spend relative to traditional spend
You can see on the chart on the right from Advanced TV that over the last seven years or so, the preponderance of digital activity in our media mixes has grown and grown, while traditional media spend has remained largely flat.
And digital marketing activity has been dominated by three AdTech suppliers: Facebook, Amazon and Google.
And that's especially pertinent to retailers, a point we will return to later.
Interestingly, the pandemic and lockdown have also pushed up the amount of activity in digital video. Video ads bought programmatically in households represent about 45% of all TV ad views in the US and in the UK, and a couple of other mature markets. And CPMs in that market offer retail advertisers the opportunity to get brand messaging out in digital channels today at a dramatically reduced cost compared to traditional methods.
2. The pandemic has accelerated digital's importance in retail
The second factor to consider is that lockdown really has affected the online vs offline balance quite profoundly for retailers. Across the market online retail sales grew 36.6 % YOY, which is phenomenal in itself.
And, while pure online plays like Boohoo saw increases of 40% in revenue during lockdown, Primark's 'bricks and mortar only' focus was a real drawback, suffering a £1bn reduction in revenue in the same time period.
This just makes the point that digital, as we go into major events like Black Friday and Christmas, is going to be key for assessing who the winners and losers are going to be.
How significant was Black Friday in the UK last year?
On the face of it, the answer is fairly significant.
According to IMRG, last year in the UK was the largest spend year for Black Friday activity, with £8 billion being spent and 80% of retailers running promotions. Plus, there was a reported 38% increase in online sales on Black Friday.
In fact, Black Friday is a bit of a misnomer for an event that lasts a lot longer across the UK and EMEA in particular – across most of November in fact.
So, on the face of it, it all looks good.
But when you begin to dig a bit deeper into actual results you begin to uncover a few issues:
According to Shopify, 64% of shoppers acquired during Black Friday have a much lower lifetime value than other times of the year. So, people on the hunt for discount or purely value driven customers, might not provide the value that retailers really think.
But there is a deeper issue. According to the IAB, 93% of digital media spend is either on Facebook or Google or one of their various properties like Instagram or YouTube. The problem with that? They have their own measurement systems. They also operate in silos and unfortunately – in our experience with clients – they present a very different picture of revenue back to you. Especially when it's compared to your own web analytics.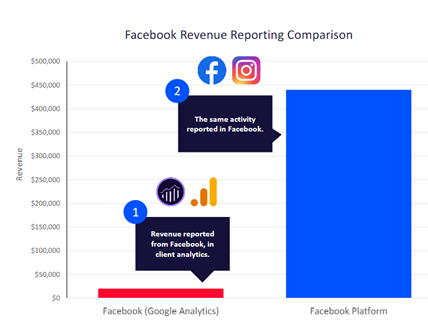 So, you can see in this chart on the right, which is from one of our customers, we have Google Analytics, actually GA 360 in this case, showing a markedly different revenue picture to Facebook's own platform reporting.
Which means we are left in a situation as marketers of having these cannibalistic AdTech silos, and no clear answer as to where exactly revenue is being derived from. If you combine that lack of ability to optimise with a push for discounting – which might also capture a lower lifetime value audience – you can see how there is a case that Black Friday can be a Doomsday scenario for retailers.
So how do retailers drive real value from Black Friday?
First up.
You need to create a view that gives you a true analysis of the impact of both digital media and discounting.
Take the example below. It is a price elasticity analysis that we delivered for a customer which identified which of their products actually drove conversions by being discounted. And which did not.
On the right-hand side, in the top quadrant, the elastic results were where a discount does drive conversion across all of those products. Driving 10% increased conversion values – so somewhere that discount should be applied by the retailer.
But the analysis also identifies inelastic products. i.e. those products where the discount made no difference to the conversion behaviour or otherwise of the customer.
So really, where the retailer was just throwing away money and affecting overall cost per acquisition for no good reason.
This kind of measurement is enabled by taking a different approach to measurement – which is used in our own attribution platform, Corvidae.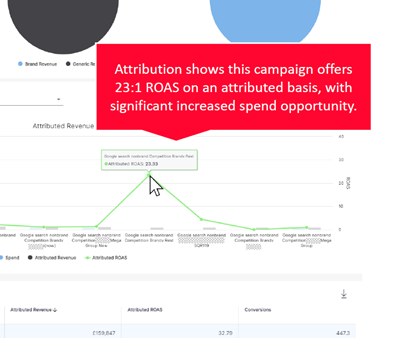 This looks across different touchpoints, ignoring cookie information and instead using a method based on Machine Learning and AI, using probabilistic matching and probabilistic measurement which joins together multiple hits – and all of that joining is based on the conversion probability of the individuals in the data set.
A second benefit here is when you have an AI-based measurement system you are better able to include data from silos like Google and Facebook.
You get a truer picture of revenue contributed down to individual campaign level as you can see on the right. This means you're fairly valuing activity which is earlier in the customer conversion path.
This is top of funnel, maybe brand activity, the kind of activity that is highly engaged during Black Friday.
And these are typically undervalued using over simplistic methods like Last-Click attribution. And because you can move away from those Last-Click areas, there is less auction activity and lower overall CPAs. Which is why you get very high class spend opportunities on an attributed basis using these AI systems.
Taking cookies out of the equation
Cookies are worth considering in all of this. Particularly considering their well-documented issues around being able to accurately identify cross media and cross-device journeys for retail attribution.
We have been questioning the accuracy of the cookie since 2004. In fact, the quote below is a direct, bonafide quote from our CEO back then.
"The technology we use to measure success in digital has been wrong since the very first ad was tracked with a pixel and a cookie".

Chris Liversidge, QueryClick CEO, 2004
Back then we began identifying issues with the use of cookies for measurement for customers such as Tesco, B&Q, and a number of other retailers that we work with. And once we understood that the cookie was at the heart of the measurement problem on a first party basis, we also understood that they couldn't be effective on a third party basis either.
Now, that's a benefit to us all as marketers. Because by the end of 2022, we will be expected to have moved away from third party cookies with several implications including:
A direct impact on the ability to remarket to and prospect customers
The knock-on effect on ROI and new customer acquisition in particular
The need to get on top of data collection and development of first party data and the use of non-cookie-based measurement systems
The need to move towards Machine Learning and AI based measurement systems which are predictive, and remove all the drawbacks of cookie-based measurement systems
Add into the mix the impact that the IDFA opt-in that Apple now requires on every app used – for context, we have seen an average decline of volume on Facebook ads of around two-thirds for our clients which is driving up CPAs – and you begin to a get a picture of how competitive things are for retail brands anyway.
And Black Friday is only going to make that more feverish.
Driving growth with unified data
Part of the reason that we delved into the Black Friday topic is that, by using Machine Learning and AI based approaches, it is possible to look at attribution down to individual key phrase level.
And we see that as a fairly potent competitive weapon for retailers heading into a frantic Black Friday, giving our customers an extra level of control that they don't get within AdTech natively.
So, by creating a unified view of activity, looking across the different silos that we operate in as retail marketers, gives us a number of different areas of optimization that can help us make Black Friday a proposition that actually adds value.
Last year, we were asked to come on board and take over the paid search performance optimization for a high street retailer with over 250 shops across the UK. Last Black Friday had been their most effective Black Friday on record – with 4 million pounds of media spend allocated into campaign activity.
However, by using non-cookie based techniques, we discovered that, when you consider factors such as return rates and reduced LTV, that pretty much all of that new customer revenue was loss making against the 4 million pounds of media spend. And so Black Friday can be a challenge rather than a benefit.
Some of the controls that you get from moving away from cookie-based measurement allows you to dramatically reduce cost and improve returns.
By reallocating activities across Google and Facebook in particular – where you can re-allocate spend for as much as 35:1 ROAS – as well as taking advantage of the lower CPMs in digital TV. And also using probabilistic analytics to join in your linear activity. So you can understand how digital and linear are interacting in the same households.
This allows you to significantly reduce your cost of activity for supporting Black Friday.
Effective measurement is key
One final thought on measurement.
Last year, many of the really successful brands on Black Friday were self-prescribing their cohorts by running display advertising, targeted to the sustainability of their products.
So, taking advantage of the fact that there was a very large volume of engaged audience out there who've been saving money and only targeting them with discounts that actually made a difference on the conversion probability of those customers.
Which ultimately led to them generating a higher volume of first party data. So that throughout Christmas, and particularly into January sales, follow on increase in lifetime value could be generated from those new customers.
However, all of this is predicated on having accurate measurement systems in place. And we have got bags of evidence that cookie-based measurement systems don't cut the mustard.
So embracing more predictive models that allow you a more accurate view of attribution is going to allow you to take full advantage of the opportunity that presents itself from Black Friday right through into Christmas.
As well future proofing you for next year, when the third-party cookie world disappears.
The Complete Guide to Marketing Attribution
Own your marketing data & simplify your tech stack.