Attribution
•
6 min read
Last Click vs Corvidae – Solving the Attribution Problem
At QueryClick, we've spent the last five years really getting to grips with marketing attribution, from the good and the bad, to the ugly.
The most popular and widely used method of attribution is Last-Click, where the source of a conversion is attributed to the 'last click' the customer made before making a purchase.
For online businesses, this means never truly understanding the full value of their marketing activity. With last-click's heavy bias towards direct visits, marketers can never feel certain about the role that branding and awareness plays in encouraging conversions.
A glance at Corvidae
We've taken a sophisticated approach to dramatically improve the quality of the underlying marketing data. It provides a complete solution by leveraging proprietary learning techniques to look beyond the data, and instead map individual customer behaviour.
This process dramatically improves the accuracy of the data and makes it easy to connect with other data sets, giving a more accurate response than the marketplace.
It's all about the data.
Rebuilt, accurate marketing data allows multi-touch attribution models to perform as they were intended. Only with Corvidae can the true value of upper funnel activities be justified and wasted spend eliminated. By having an individual 360 degree customer view that also includes probabilistic modelling, we're able to join journeys together that were previously unidentifiable.
Ultimately, this offers a unique approach to enable marketers to eliminate all wasted spend and find new customers for less. This is all down to the radically improved data accuracy derived from our machine learning powered data rebuilding process.
How does this compare with Last Click?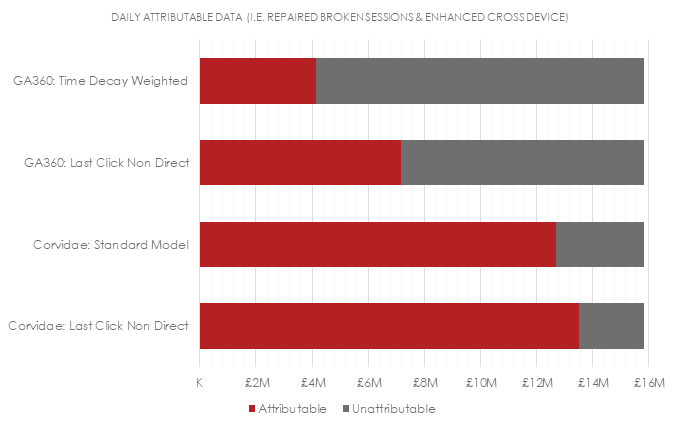 When looking at one of our case studies, it is apparent that the rebuilding of the raw clickstream data has a huge effect on the ability of the Last Click model. The machine learning is being used to 'see' the customer behaviour behind the generated clickstream data, and is therefore able to stitch together data points that represent a single user moving across multiple channels and devices.
In comparison to Google 360's Last Click model, we're able to attribute over double the amount of revenue.
However, it's important to note here that during the rebuilding stage no attribution modelling has been applied.
Corvidae is simply generating a data lake of anonymised end to end customer behaviours across devices from existing clickstream level data only. Once we've accurately cleaned and rebuilt the raw data, we apply attribution modelling.
Instead of Last Click, we focus on Markov Chain attribution, a process which maps the movement of a chosen factor and gives a probability distribution.
The rebuilding stage isn't attempted by any other attribution technology, therefore making Corvidae completely unique in its ability to give better insights and and greater accuracy.
What about channel revenue?
Here we can see that compared to Last Click Non Direct, the above case study shows channel attribution has changed by £39.9m.
For the £136.7m turnover across the measured channels, this radically alters the ROI implications of media spend, particularly in Paid Search and Paid Search Shopping Ads.
With Corvidae, you're able to rebuild your marketing strategy by using the new revenue and ROI outcomes for key, high media spend channels. Like this case study, you could save a year on year impact of +£13.1m revenue year on year just through reallocation of media spend on the Search channel alone.
The pressure on marketers to spend accurately, efficiently and to drive growth is more intense than ever and as a result, are overwhelmingly left with last click reports and disconnected channel strategies. This makes it impossible to remove wasted spend, cannibalisation, or identify incremental spend opportunities.
The root cause of ineffective attribution is the poor quality of the underlying marketing data. But by using Corvidae, we dramatically improve the marketer's ability to access accurate, predictive attribution outcomes and power automated elimination of wasted spend.
We're here to improve broken attribution.
Why not get in contact using the form below!
For attribution that works.
Own your marketing data & simplify your tech stack.