Organic Search
•
5 min read
Google's Second Search Design Update: Everything SEOs Need To Know
You didn't find what you were looking for? It happens all the time.
However, Google's second search design overhaul is trying to give you the correct answer – faster.
What does this mean for the future of SEO and the user experience? Keep reading to find out.
Product Tests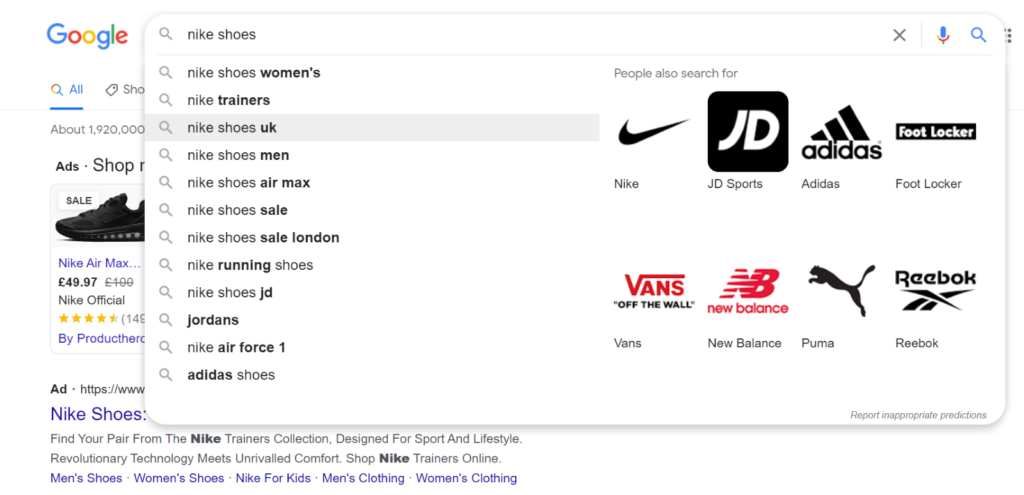 Directing converting traffic to your site is the top priority involved in many SEO strategies.
When users are ready to make a purchase, they make searches including common themes such as the brand name or style of the product they are looking for.
For competitors, fighting for keywords in this space can be a final attempt at capturing this audience.
Traditionally, this could be done in price comparison blogs or bidding for that other brand name via PPC.
In the example above, we can see that Google has implemented a new experience, suggesting common brands above all else once the user journeys back to the search bar to make a second search.
When we look at this product-based example, there is predictive text and "People Also Search For" featuring only brand names and heavy imagery that draws a lot of attention.
What does this mean for smaller brands?
If you do not have a large online presence, one comparable with Adidas and Vans, you may struggle to see the value in this feature as it quickly narrows a search into more top performers.
While Google is constantly learning and developing their algorithm to show the top results for each search, features like these could drown out smaller and newer sites, making it more important than ever to develop an SEO strategy and make your way into that space.
Multiple Result Queries
Let's take a look at the term "summer time".
Now, summer time is a clear date range, but it is also a popular song and could be the preface to a plethora of questions. We were delighted to see the way Google served up these potential results allowing the user to directly navigate into whichever section suits them.
Understanding what features populate to each query can help you on your journey to SEO success. Customer intent should be at the heart of your content strategy.
How can I use multiple result queries?
This feature is a great way to identify the search intent of a phrase. If you are developing a content strategy, identifying what populates via your target keyword can help you dive deeper into the specific stage of customer journey you are trying to place content into.
Or for example, creating content focused on the keyword "summer time" is a shot in the dark. It's not specific enough, and this search is, most likely, going to get narrower before the user gets to where they are going.
However, you can follow that journey and take inspiration from the "People Also Ask Box" or find out what your competitors are doing in that space.
If you are looking from a product-based perspective, dive into the content being produced by the competitors who show up in the search box.
How often are they posting?
Who are they targeting?
Can you implement any of their successful strategies into your own business?
Once you place all of your research together you can develop something beautiful.
QueryClick SEO
Staying on top of the latest trends, algorithm developments and strategies is in our nature. Implementing those findings into real results for our customers is what we do. If you would like to find out more about our SEO services, get in touch using the button below.
Looking for an SEO partner?
Chat to us about your goals and challenges today.
Own your marketing data & simplify your tech stack.