Attribution
•
11 min read
5 Reasons Why Effective Attribution in Travel Matters Now More Than Ever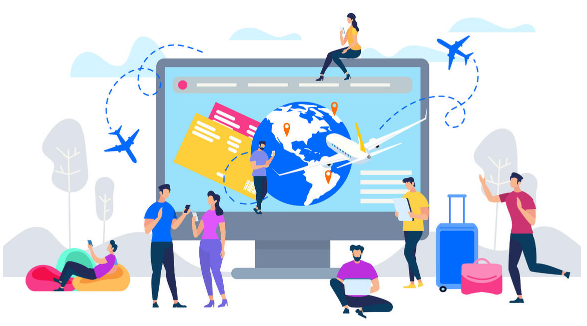 Getting attribution right was already challenging for travel marketers with increasingly complex customer journeys, increased levels of competition and radical changes in customer travel preferences.
But the advent of COVID-19 has changed the situation beyond all recognition. To successfully navigate a path out of the downturn travel marketers need to optimise the effectiveness of each and every marketing interaction with customers and successful attribution is at the heart of this approach.
Here are 5 reasons why effective attribution matters to travel marketers now, more than at any other time in recent history.
COVID-19 has turned the travel industry upside down
The impact of the pandemic, forced lockdowns and extensive restrictions on travel have had a seismic impact on the sector and the challenge facing travel marketers.
The COVID-19 situation is unique in its nature, combining the impact of a global health crisis with an economic crisis, on unprecedented levels. And the impact is staggering – with the OECD estimating that international tourism fell by 80% in 2020.
According to Skift Research the plummeting demand and radical changes in customer behaviour have also led to 90% of travel marketers having their budgets slashed. With the largest seven public online travel agencies likely to lose at least $11.5 billion in revenue in 2020 alone.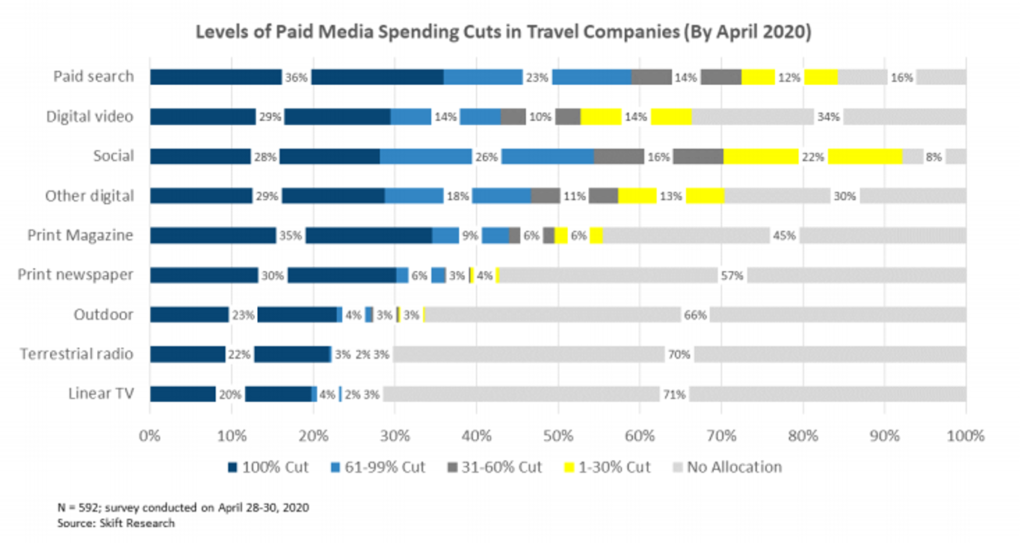 And the knock-on effect on spend has been equally dramatic. As the graph above shows, spending has been severely reduced with Paid Search, Digital Video and Social being particularly hard hit.
So, travel marketers are having to think about what they spend, where they spend it and what is – and isn't working for them – like never before.
Recovery in travel needs to be underpinned by effective marketing and attribution
The situation may have been inevitable in the short term, with marketing typically being one of the first and easiest expenses to cut as revenues abruptly dried up overnight. But it brings into sharp focus two key priorities for travel marketers:
The need for highly effective optimization of the spend that remains in the short term
The ability to accurately track and fully attribute future spend as part of a recovery strategy as restrictions recede and the economy bounces back
Effective attribution lies at the heart of both priorities. In fact, a strong recovery will rely on effective marketing that is underpinned by accurate attribution.
As experienced travel marketers know, customers don't simply appear out of nowhere, book a trip and disappear into the night never to return. Even in the worst of travel downturns, like right now, customers are considering travel options, researching locations and providers – and making plans. The trick – as evidenced by Forbes – is to continue to invest in the downturn. To boost not only downturn sales but to make the most of the travel upturn when it comes.
Crucially, marketing attribution will allow travel marketers to understand which tactics are most effective and allocate budget accordingly to recover marketing performance and drive accelerated reach.
The need to adapt to new demographics and platforms
Although the impact of COVID is unprecedented, there are some useful lessons from recent history in travel which give a feel for where things may head next.
In the 2008 financial crisis the travel industry was severely impacted as bookings plummeted. But as things gradually eased customers looked to technology and found new ways to travel. Booking their own "DIY" holidays using innovative online marketplaces and providers such as HomeHolidays and Airbnb.
There is some evidence recovery is in sight again at the current time but, again, travel marketers will need to be flexible to take advantage of the upturn.
There are some important initial learnings we can take from the travel sector – particularly from countries that are further through the pandemic, such as China. According to a report from Gartner, China's travel sector recovery has been largely driven by the local market and by targeting a younger demographic. Social Media has played an essential role in this, with emerging platforms such as Tik Tok acting as key growth drivers for the sector.
Investing in technology has also been essential to travel business recovery. Online travel consumers are better informed and knowledgeable than ever. The challenge for travel brands is to engage with them in a way that appeals to them – and key to this is personalisation.
In fact Google uncovered the fact that 69% of customers are more loyal to travel companies that personalize their experiences on and offline. And the successful travel businesses have invested in technology to do this and drive re-engagement within the sector.
To do this effectively you need solid marketing attribution, but increasingly siloed marketing channels are making this difficult for many travel brands.
Buying travel is a process not a single purchase
Travel marketers also need to start looking at the consumer journey as a process, not simply as a purchase.
The reality for many travel brands is that the customer journey is a complex one. According to Tripadvisor the average traveller now spends time browsing an average of 38 websites before making a purchase. And Expedia report, 59% of travellers start researching their next trip between one to three months before departure.
These are relatively long and complicated buying interactions. Undertaken very often over several months and across a range of digital devices. Including a broad range of media interactions -both on and offline – from paid media, to search and social. With a range of touchpoints that influence the final purchase decision.
The challenge for travel marketers – which is even more pressing given the unprecedented commercial and competitive pressures they are under – is to find a way to connect media impact with revenue. And using over-simplistic attribution models, like Last-Click and First-Click attribution, and effectively judging your marketing efforts at the start or finish line only simply don't cut it.
What is needed is a way to understand the entire customer journey – and the contribution of ALL of the touchpoints that are contributing to revenue outcomes.
Less dependency on a small number of media channels post COVID
The reality is that a large number of travel marketers continue to stick to outdated "Last-click" attribution models. Where full recognition is given to the last interaction or touch prior to booking. Which allows Google to secure an overstated amount of credit in the attribution mix – and has artificially boosted investment in media like paid search.
However, the impact of COVID-19 and the resultant reduction in budgets is forcing many travel marketers to rethink their entire marketing strategy. With many brands overhauling their entire approach to better co-ordinate paid media investment in sub-brands and channels to eliminate competing spend and optimize across their portfolio. Others are also investing significant amounts of time and energy in identifying the "connected trip" and maximizing the impact of activity right across it.
And – as customers increasingly look for reassurance and information about travel choices – content is playing an increasing part in the conversion mix as travel brands leverage "trusted advisor" status. Driving increased brand engagement across direct and organic channels. With 80% of millennials saying they plan travel based on content posted by their peers and fed by travel brands.
The key to being successful in what is a changed environment is to have the tools and capability to identify the touchpoints that have the biggest impact on the buying journey and to serve the right content and media when it matters most. And being able to effectively assess and attribute every step on the journey is key for success.
So effective attribution really matters for travel marketers in the current environment. But our own research indicates that 90% of those responsible for improving marketing ROI in the UK are struggling to get their hands on the type of sophisticated models they need.
If you like to understand more about effective marketing attribution and the dramatic impact it can have on your marketing activity 'The Complete Guide to Marketing Attribution' is a good starting point.
The Complete Guide to Marketing Attribution
Own your marketing data & simplify your tech stack.