QueryClick
•
7 min read
2020 – A QueryClick Year Like No Other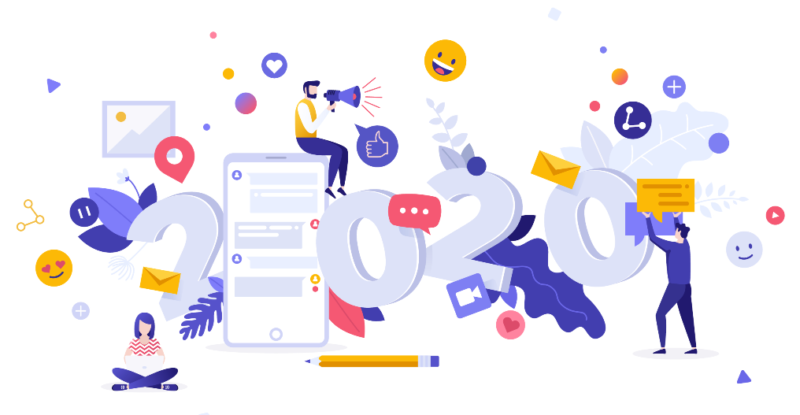 2020 will undoubtedly be a year that many are happy to move on from. While it may live long in our collective memory, it won't always be for positive reasons.
However, looking back and reviewing the year, identifying the things that went well and reminding ourselves of all the ways we've learned and developed is a useful exercise. Highlighting the positives will allow us to approach 2021 with fresh impetus and the ability to draw on everything we've learned this year.
At QueryClick, the year demanded flexibility, innovation, and the customary hard graft. As we have that in spades, there are plenty of positives we can take from 2020. So, here's our year in review.
People
It's a well-worn phrase but it rings true – a businesses most valuable asset is its people. On both collective and individual levels, there's been plenty for us to shout about.
When recently asked to share our individual highlights of the year, there were loads of positive stories across the team. There's been weddings, babies, moves to dream homes, and even people taking the opportunity to work naked from the waist down swim in the sea more often. Of course, there are plenty of work-based highlights too;
5 team members have been promoted for outstanding performance
We've welcomed 6 new colleagues – all of whom have made a fantastic contribution to the business
60 awards have been given to colleagues for great performance, including 3 QC Rockstar winners
Collectively we showed incredible resilience and adaptability with our approach to remote working. So much so that we became a remote-first employer. This means that we're able to provide greater flexibility with our operational hours and ways of working to provide a better work life balance.
Services
In this first year of the decade, we delivered outstanding results for clients. We helped guide them through the uncharted waters of a global pandemic with shifting regulatory impositions on their ability to trade as normal, as well as wild changes in consumer behaviour.
Despite these dramatic, dynamic changes in circumstances, we're proud of the performance we've delivered.
Paid Media Wins
Our Paid Media team had a strong 2020. Constant changes in this sector are nothing new and one of 2020's big challenges they overcame with aplomb was the restriction of visibility of keyword level data in Google Ads.
Our team are more than savvy enough to not be put off their stride by something like that, though. Across the year they've managed over £1 million in client media spend across paid search and social. More than manage it, it was invested smartly, and they've driven over £5.5 million in incremental revenue for our retail and ecommerce clients.
In addition to driving incremental ROI through paid media, there were personal successes too, including well-earned promotions and a QC Rockstar award win. With such talent in the team, it'll take a lot more than the increasing removal of third-party cookies to stop them continuing to deliver outstanding results in 2021.
SEO Wins
Our team of SERP-wrangling SEO superstars have spent the year managing migrations, slashing page speed times, crafting exceptional content, and many more things to deliver outstanding results.
There's plenty of proof in the pudding as to the effectiveness of our work here, whether that's increasing organic revenue in the beauty industry by 430% or generating of 259% uplift in organic traffic in the plumbing and heating sector. On top of that, we were shortlisted for Best Use of Search – B2C (SEO) at the UK Search Awards.
For our ecommerce clients, we drove over £100,000,000 in organic revenue this year. Wow!
Not all our clients are ecommerce, and the total organic sessions to the websites we work on comes in at more than 643 million for the year. That is mind blowing. We won't be stopping in 2021 either, as there's plenty of exciting projects in the pipeline. Of course, there will be a heavy focus on page speed (which we've shown to improve ROI) and improving Core Web Vitals for clients, as Google has already issued out a warning that they are set to become ranking signals in May.
Software
It's been a huge year for the software side of the business. Our agile working and cross functional teams have paid dividends as we continue to evolve our market-leading attribution solution Corvidae.
Effective, trustworthy attribution is holding the entire digital marketing industry back and the software department at QueryClick have made some significant breakthroughs and developments in 2020. These will allow us to provide not only accurate data, but insights to power increased ROI for clients.
This year's finest achievements are:
Launching our web interface at corvidae.ai
Implementing our session stitching technique
2 of our team becoming certified Microsoft Data Engineer Associates
Completing our visit-level attribution modelling technique
Developing our walled garden attribution process
On top of all that, we've also launched a tech blog, so if you want to keep up with the latest insights from QC's best and brightest we'll catch you there.
To keep up with all the latest news and insights from QueryClick, sign up to our newsletter.
Own your marketing data & simplify your tech stack.