Paid Search
•
8 min read
Preventing Cannibalisation and Driving ROI with Paid Search – A Masterclass Workshop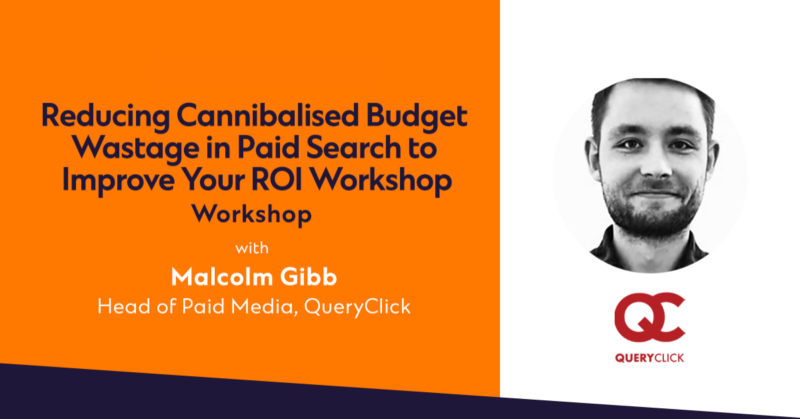 This month we delivered an exciting series of presentations at Masterclassing's Workshop Week, including one from our Paid Search Account Director, Malcolm Gibb. Malcolm shared some excellent insight into preventing paid and organic cannibalisation, as well as how to drive incremental ROI through paid channels.
We've outlined all his key points below.
The increasing challenge of generic search
Every marketer knows that rising generic CPC's, thanks to rising competition, makes it hard to justify targeting them in paid campaigns. On top of this, generic search is increasingly hard to measure and attribute, and now more challenging to manage at scale in light of two recent changes to Google Ads.
This year, Google rolled out an update to Google Ads that reduced visibility of low impression volume queries . This means that search term reports now show a substantial volume of 'invisible' spend, making it difficult to drive efficiency and fully attribute your returns.
To make matters worse, exact match doesn't mean 'exact' anymore. Starting in 2018, Google shifted the goalposts to serve close variants on exact match keywords, meaning marketers have less control over CPC's.
This contributes to already rising costs as pure exact campaigns are entering auctions for near-match keywords that marketers may not want to target.
In this challenging new landscape, paid marketers must make smart decisions around strategy and budgeting to prove the value of their campaigns. In his presentation, Malcolm shared two main ways to do this:
By reducing cannibalisation between organic and paid search
By driving incremental ROI from paid search
Reducing cannibalisation between paid and organic search (SEO)
Marketers can cut back on wasted spend by identifying and resolving cannibalisation between their paid and organic search activities.
As Malcolm explained, brands have long treated paid and organic as separate disciplines, often delegating them to in-house silos or different agencies. This means they're missing out on the numerous benefits of aligning paid and organic strategies and wasting money by pitting them against one another for the same keywords.
Paid and organic must be treated as two channels within the same ecosystem – search. By developing integrated strategies, marketers can drive even more ROI by using them together instead of against each other.
The lines between paid and organic search are getting increasingly blurred. Paid ads are now more prominent in the search landscape, appearing at both the top and bottom of organic listings as well as featuring more heavily in image results too. Equally, Google Shopping no longer features just paid results as organic listings are also included.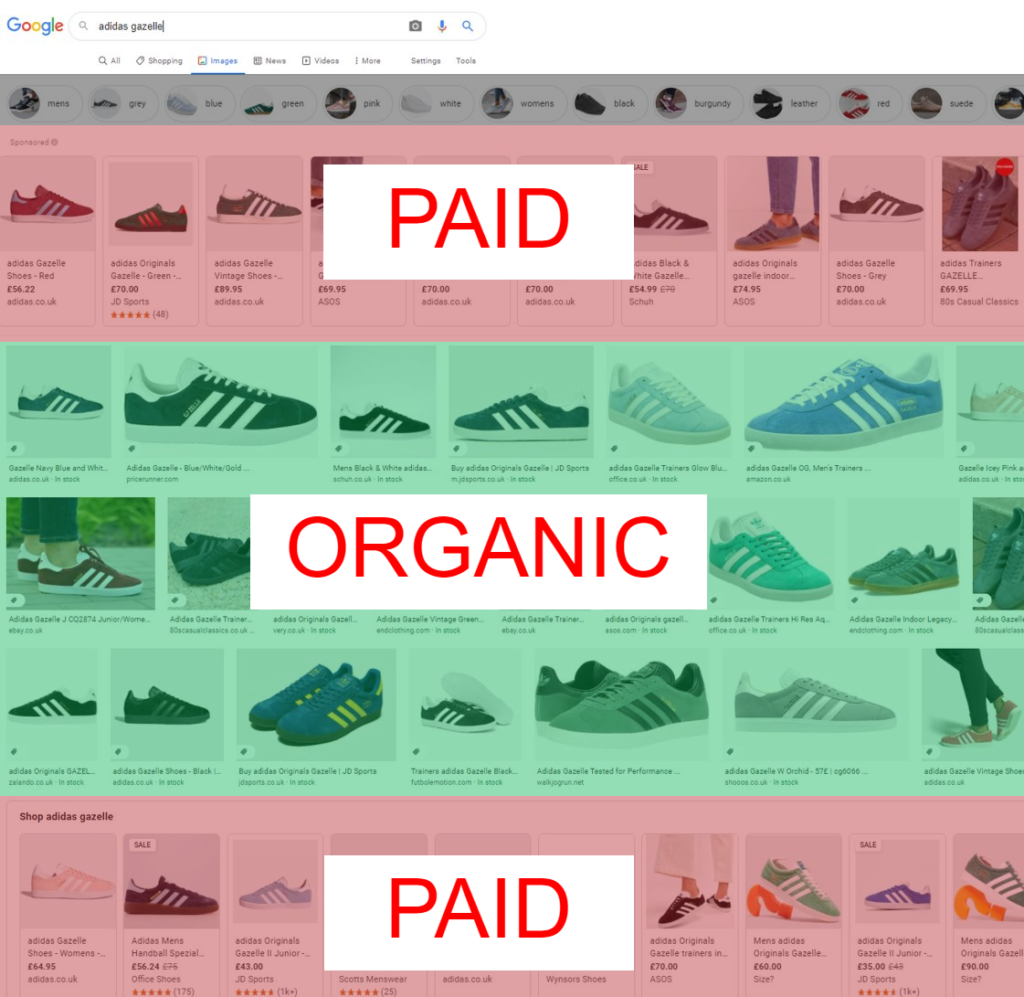 Marketers need to balance the responsibility of generating impressions, clicks, and conversions between paid and organic by cutting down on the spend wated by targeting the same keywords with both.
Identifying and resolving cannibalisation
To do this, marketers first must identify where paid and organic cannibalisation is occurring.
They can do this by marrying paid and organic data to see user behaviour, cannibalisation, and keyword opportunities for both channels. Pulling this data is relatively easy and can be done through the Google Ads interface using the Paid vs. Organic report.
Once they have that data, they can easily identify where paid and organic are overlapping at a keyword level.
Our in-house tool Unified Search takes this a step further, clearly highlighting opportunities to reduce wasted media spend and identify incremental revenue opportunities alongside re-allocation of budgets.
Optimise your Paid strategy with Unified Search – speak to us today
Resolving paid and organic cannibalisation
Malcolm highlighted two prominent money-saving strategies:
Where organic and paid are both ranking in high positions for the same keywords, and paid is earning most of the traffic, they can reduce paid activity to save and re-allocate budget elsewhere.
For keywords with low organic rankings, they can use paid ads to increase brand visibility whilst optimising our target URLs for SEO.
Once organic rankings have improved, they can then reduce paid activity and let the cheaper channel do the heavy lifting.
Driving incremental ROI with paid
Adopting strategies to drive incremental ROI was advocated by Malcolm
Generics provide the greatest opportunity for incrementality. By focusing on generic keywords higher in the conversion funnel, paid marketers can adopt a 'cost-per-cookie' mindset that uses PPC to recruit new users and nurture them through touchpoints to conversion.
The problem is that generic keywords are incredibly expensive. As every PPC professional knows, proving the value of paid strategies and making a case for focusing on generics is challenging when Paid ROI is often wrongly attributed to other channels.
But what if they could prove otherwise?
As Malcolm explained, deploying accurate attribution is key. Attribution across paid and all other marketing channels can help marketers identify, at a visit-level, the best places to focus optimisation and budget.
We've developed an attribution solution, Corvidae, to do this effectively, helping clients re-attribute revenue from incorrectly attributed sources. In one case, Corvidae attributed over 20% incremental revenue to paid that had been incorrectly attributed to other channels by traditional platforms like Google 360.
Corvidae data has also shown that generic search terms are up to three times more valuable than traditional solutions suggest, with one client seeing a £3-5 million return after allocating 5% more budget to generic acquisition.
With this data in their arsenal, marketers can demonstrate the true value of paid search and of investing in generics, getting the buy-in they need to deploy smarter paid strategies.
Say goodbye to wasted spend and invest in an attribution solution you can trust with Corvidae
Summary
The answer to the question "how can marketers reduce cannibalisation and drive incremental growth" is simple: With Unified Search and accurate attribution.
These allow you to:
Integrate your paid and organic strategies
Reduce wasted spend by identifying and resolving cannibalisation
Achieve true incremental growth by focusing on the generics
Using insights gathered from truly accurate attribution data to make smarter decisions around spend
Own your marketing data & simplify your tech stack.