SEO
KRAWL | SEO News | May 2022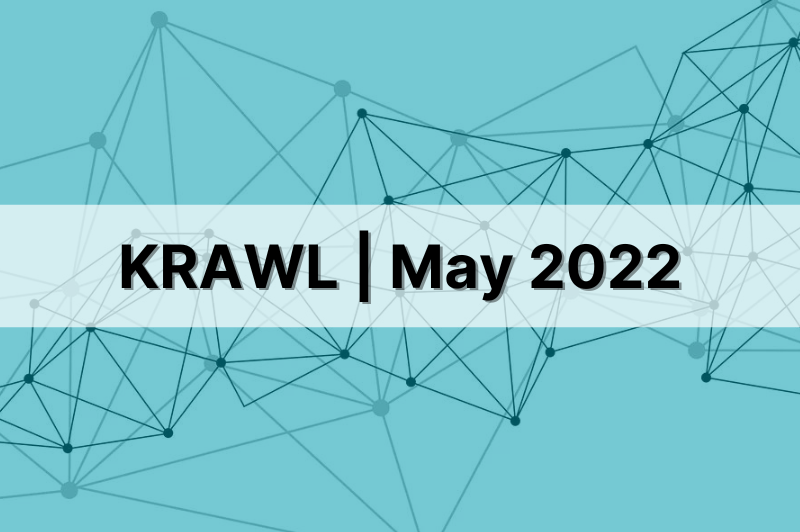 Welcome to another edition of KRAWL (Keywords, Rankings, Algorithms, Websites & Links). The newsletter for all things SEO, including core updates, small shifts, and breaking news.
"Hey Google, what is Speakable"
Voice search has been widely predicted as the future of online search over the last decade. After all, many people have already started using voice search and can't imagine going back to the old, tedious typing.
Google's recent release of a new markup specification, the Speakable schema, takes voice-enabled search to a new level. As technology is advancing towards voice search enabled devices, Google's new markup will come in handy, allowing businesses to indicate content that can be read aloud by these devices.
Similar to featured snippets, the new structured data will enable editors to identify sections within an article or webpage that are best suited for audio playback using text-to-speech (TTS). Adding the new markup will also help search engines identify information that can be read aloud on Google Assistant-enabled devices using TTS.
Speakable schema can now be used by Google Assistant to answer news queries on smart speaker devices. When asked a specific question, Google Assistant will use the speakable structured data to select parts of the article to support audio playback. In addition, when the assistant reads aloud a speakable section, it attributes the source and sends the full article URL to the user's mobile device via the Google Assistant app.
Currently, the new Google speakable schema markup is only available in the United States as a beta version. At the moment, it works with news sites that have their content published in English only. However, Google has announced that speakable is set to expand to other countries and languages after a sufficient number of publishers have incorporated the new markup.
What does that mean for SEO?
With 71% of consumers favouring a voice search query over typing in 2022, voice-enabled search and language-based content are expected to take up a significant proportion of searches in the future.
While speakable is still in a beta version and has no effect on a website's SEO performance at the moment, as the industry adapts to voice searches, we should expect speakability to become essential for ranking in Voice Assistant tools. If adopted widely, the speakable schema can significantly impact how we utilise the internet and conduct information searches.
Titlepocalypse Now Redux
It has been almost a year since the Titlepocalypse, but we still see instances where Google decides to take the upper hand and rewrite a carefully crafted title tag. In fact, a study conducted by zippy.com earlier this year showed that Google rewrites page titles more than 61.6% of the time.
Their analysis unveiled some factors that contribute to the chances of a title tag being rewritten, such as page titles being too short or too long.
Title Length
Page titles longer than 70 characters were changed 99.9% of the time.
Page titles with 1-5 characters were changed 96.6% of the time.
Brackets and Parenthesis
Page titles containing brackets were edited by Google 77.6% of the time, with words between the brackets being removed in 32.9% of the instances.
Page titles with parenthesis performed much better, being changed 61.9% of the time, with the words between the parenthesis being completely removed in 19.7% of the instances.
Title Separators
One particularly interesting insight drawn from this analysis is whether Google has any preferences on the type of separator used in a page title. For years, choosing a title separator was a matter of personal preference.
However, the study concluded that Google wasn't a big fan of the pipe. Data showed that the search engine replaced or eliminated the pipe 41% of the time but only removed dashes 19.7% of the time.
Most often, the pipe had been changed and replaced with a dash.
What does that mean for SEO?
H1 to the rescue!
As SEO specialists, we develop custom page titles and want them to appear exactly as they are, but there's no way to guarantee Google won't change them. Google's Search Advocate John Mueller has stated on Twitter that a solution to prevent Google from modifying metadata is unlikely to become available.
Still, in the conclusion of their study, zippy offered a strategic way of reducing the probability of Google rewriting your title tag. They suggested that using H1 tags tactically and matching them to the titles dramatically dropped the degree of title tag rewrites.
Thank you for joining us for our second edition of KRAWL. We look forward to sharing ground-breaking news, incredible insights, and top tips. If you have any
feedback, our inboxes are always open.
Catch you later!
KRAWL On
Have a read through our suggested articles:
Own your marketing data & simplify your tech stack.