Paid Social
•
17 min read
3 Creative Ad Challenges on Meta (And How to Solve Them)
As advertisers continue to pile budget into Paid Social and the costs associated with them continues to rise, ensuring you're getting value from your spend is more important than ever.
Incredibly, we reported in our recent webinar (How to Stop Poor Creative Killing Your Paid Social ROI) that UK brands had spent 59% more on Meta ads in particular, quarter on quarter, but that median monthly CPC is also up by 27% in the same time period. So, ensuring you are optimizing the effectiveness of your ads is key.
Improvements in ad creative can have a significant impact on overall performance and ROI. But typically, we find there are 3 issues that can hold you back:
Let's take a closer look at these issues and what you can do to overcome them.
Challenge #1- Lack of ad-ready formats
The first challenge facing both brands and agencies is a lack of ad ready formats.
There are multiple possible reasons behind this particular issue.
More often than not, it is caused by either quick turnaround times on campaigns or limited design resource capabilities. Whether that's in-house, within your own marketing team, or at your external agency.
Some common themes here include not having:
the correct image ratios available (for example, only having 1 x 1 static images)
files with vertical aspect ratios
creative that is specifically designed for social
Many brands also face challenges in video or animation production internally which can lead to trying to outsource creative. Which creates the knock-on effect of lengthy turnarounds on designs.
In addition to facing the issue of creative suitability, Meta advertisers can also encounter problems when the creative itself just isn't cut out for social. And it doesn't work for the objective of the campaign you are trying to run – possibly because there is not a lot of ideation that is going into that side of things. An example might be video not being cut to short formats to suit social needs.
And how you are set up in creative resource terms is going to determine the exact nature of the challenges you actually face.
For example, as a performance marketing agency, we (QueryClick) don't have a creative production team in-house. However, we are able to advise and consult on creative and actually 'make' creative where possible.
Adding simple, lightweight motion can have a big impact
One of the other key issues is that a lot of ads tend to be static.
One of the key stats we've probably all heard is that video outperforms static ads by up to three times. And we all know how it is scrolling through our own social feeds with brands vying for our attention.
In fact, watching video makes up about half of all of the time people spend on Facebook itself.
So, it's really important we consider how we can utilise video formats on Meta, without the need for huge production budgets and video production capabilities in-house.
And this is worth investing time and effort in. In fact, a recent test by Meta itself found that adding lightweight motion to static ads boosted conversions by 17%.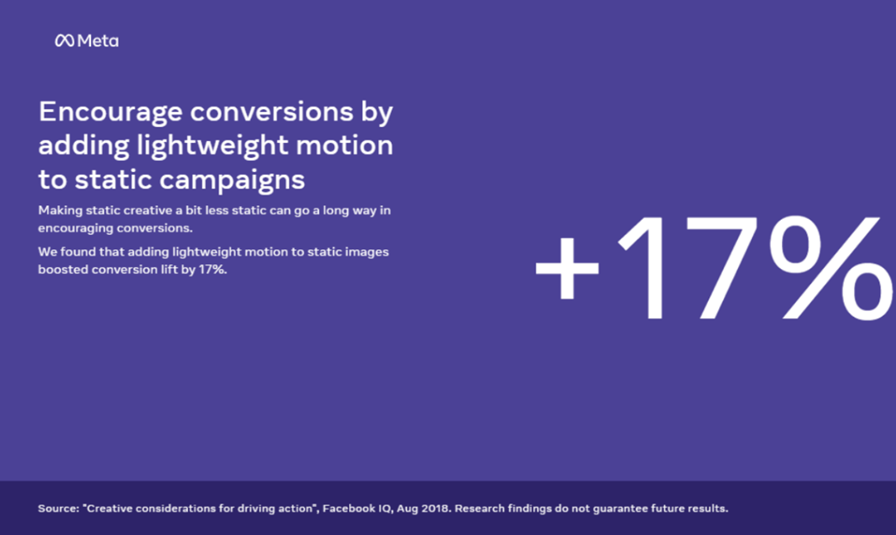 What is lightweight motion?
Lightweight motion is slightly different from full video motion. We're just adding animation into static creative and giving it a bit of movement, with a view to capturing a bit more user attention.
There is a strong argument for including some basic motion in your ads. However, we decided to take the concept a little bit further.
Video has always been part of our social ad mix. However, we know that not every brand has the resources in-house to produce video for the number of ad formats required.
So, we decided to try our own, very simple A/B test on whether lightweight motion, or previously used static campaigns would perform better.
In the example below, on the left is what our client provided us with for a Paid Social campaign: a static image ad which is very simple in format with a single text headline.
And on the right an alternative test, which was designed on a Canva-type solution and includes some very basic animation around the text. A very low-tech solution which was quick and easy to produce.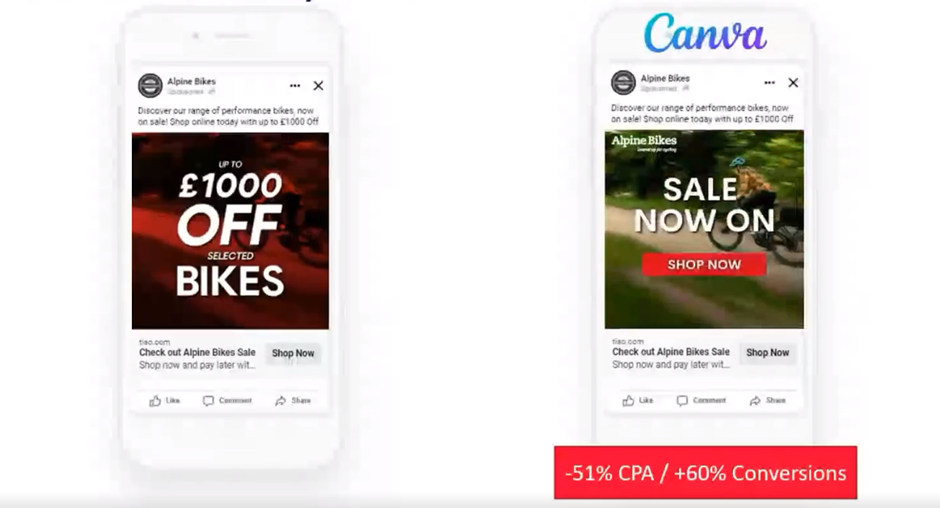 We ran an A/B test over a period of a month serving the animated and static versions to the exact same audience.
The animated version actually reduced cost per acquisition by 51% and generated 60% more conversions.
So, we started to roll that out across campaigns that were only running static ads and where there's limited production of video in the mix as well. To drive increased ROI across a variety of campaigns.
However, we always still advise to retain static ads and not just run video across all ads. Having a mix and balance of both formats is best for all your campaigns.
Interestingly, another study by Meta showed that movement and story formats, in particular, had a very positive impact on engagement. With ads containing movement outperforming static versions on direct response metrics including add to basket engagement (88% higher) and purchase engagements (76% higher).
Optimising creative for individual placements can be tough
All of this leads on to the next challenge that we face which is how to optimise creative for individual ad placements.
So, an example of this is being supplied a static image without correct size ratio and context.
In the fictitious example below, there is only a 1 x 1 ratio static image available which needs to go live on Facebook and Instagram. And unless ad placements have really been split then the ad will show across all formats, including story ads.
So, the image in the middle above shows how the ad would look if nobody had designed a 9 x 16 story format. Not great when you've got a single static image showing up on a story with truncated text.
The simplest solution to the problem is just to add in 9 x 16 vertical formats, which you can do in the ad itself.
So, if you're running automatic placements – which is actually typically best practice for Facebook – you can optimise the individual placements and what ads show on each individually.
The easiest way to do this is just by adding 1080 x 1920 vertical formats for this. And, if possible, adding animated versions of that ad as well.
So, we were able to look at certain accounts where static ads were actually running on vertical placements. And just by changing those to include simple animation we were able to reduce CPAs on one account by 20%.
An easy way to do this is to template an ad in something like Canva.
For example, when we have a static background provided to us, we then use Canva to create text and imagery within that ad in different formats.
It does this automatically so you can create 1 x 1, 9 x 16 and multiple different size formats and then create animated ads.
So, you end up with multiple ad formats in the right sizes in about 10 minutes or so.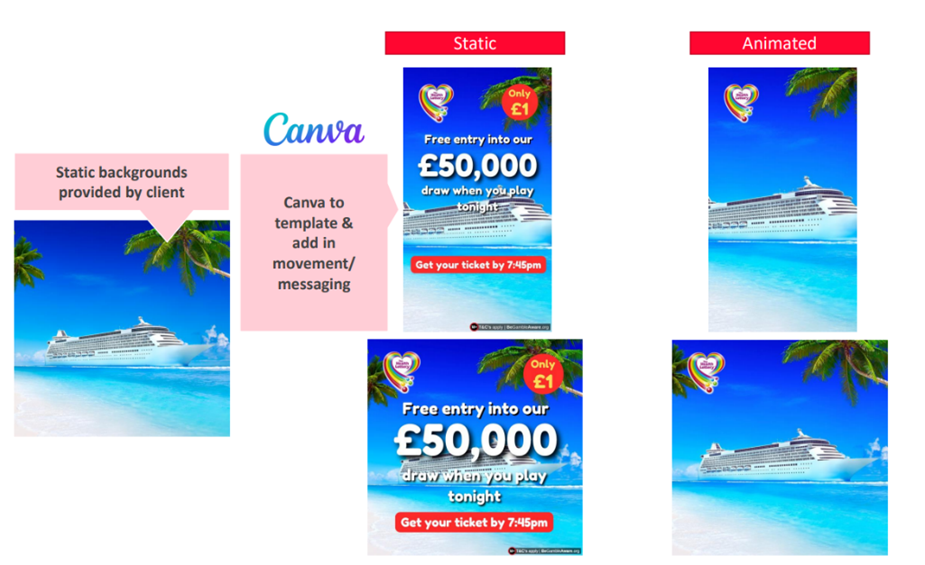 An approach like the one above is a great way of producing video or animated content if you're actually unable to do that internally.
With the added benefit that templates can be reused. That background image can be swapped out, the messaging can be changed in next to no time and it also requires very little graphic design or technical knowledge.
So, as a performance marketing agency, we're able to take that on ourselves and help unblock performance on key accounts.
Challenge #2 – Lack of creative differentiation at each stage of the customer journey
So, we've covered quite a bit of ground already, but I think that the next challenge is really having specific creative and ad formats at different stages of the customer journey.
Typically, a lot of companies have good campaigns structures like the one below which are broken out to target top, middle and bottom of funnel with different objectives.
However, the effectiveness of this approach is held back by using the same ad format or message right across the campaign structure.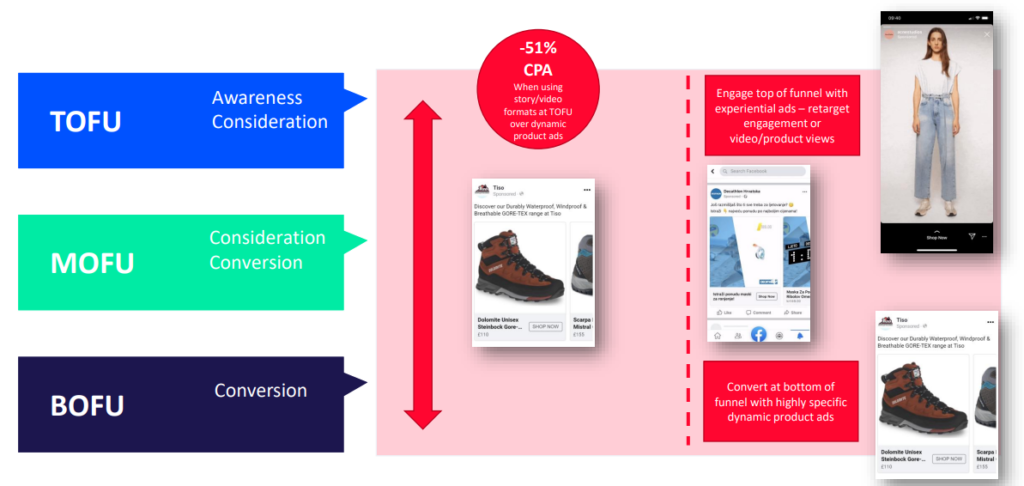 In this example:
There's a dynamic product ad going right across the top of funnel trying to target and prospect.
And then middle of funnel, we are trying to encourage consideration and conversion.
Whilst at the bottom of the funnel we are typically trying to mop up drop off, using things like add to cart or targeting with upsell or cross sell.
Instead, we can change this structure up by:
Using more brand-led experiential ad at the top of the funnel to try and capture their attention early.
Then after that, we can re-engage those users that have interacted with those ads in the middle of funnel to persuade them to convert or look at more products based on their previous views.
At the bottom of the funnel, we can use dynamic product ads that are showing specific products to try and encourage that conversion point from the drop off.
There are multiple different ways you can approach this. However, by using more story-led and video-based formats at the top of the funnel, we have found we are able to reduce cost per acquisition at that stage by 51% for particular clients.
The key takeaway though is that the customer journey should be thought of at the creative stage.
So, when we're talking with clients and we're talking about new creative we are pushing them to consider where this creative is actually going to go – and how exactly it is going to work within the customer journey. Across all channels, not just across Facebook and Instagram.
Challenge #3 – Effectively scaling across formats and multiple platforms
Based on overcoming the challenges in #2 and #3 it is good that you have now got these formats for use on Meta (which incorporates things like Facebook, Instagram, Messenger even WhatsApp – not that there's much creative in use there).
But there are also a plethora of other social platforms that will we want to put our ads on including:
TikTok
LinkedIn
Twitter
Reddit
Pinterest
How do we deal with all these?
Being faced with the prospect of building hundreds and hundreds of different variations and sizes is any in-house graphic designers' worst nightmare. So, we need to come up with a solution if we're talking about enterprise level scaling of ads.
And that's where dynamic creative optimisation suites (DCOs) come in.
There's many different DCOs out there. Hunch is just one which we like but you have also got platforms like Smartly, Spirable and Google Studio.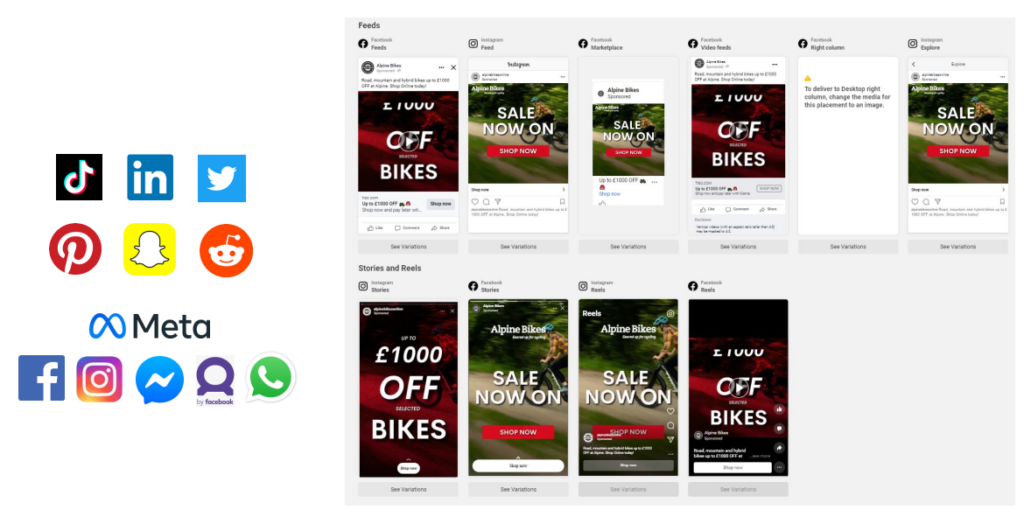 DCOs are essentially a templating system, which allow you to take your design concept and then have a feed or data feed linking into that to create multiple ads for a variety of products.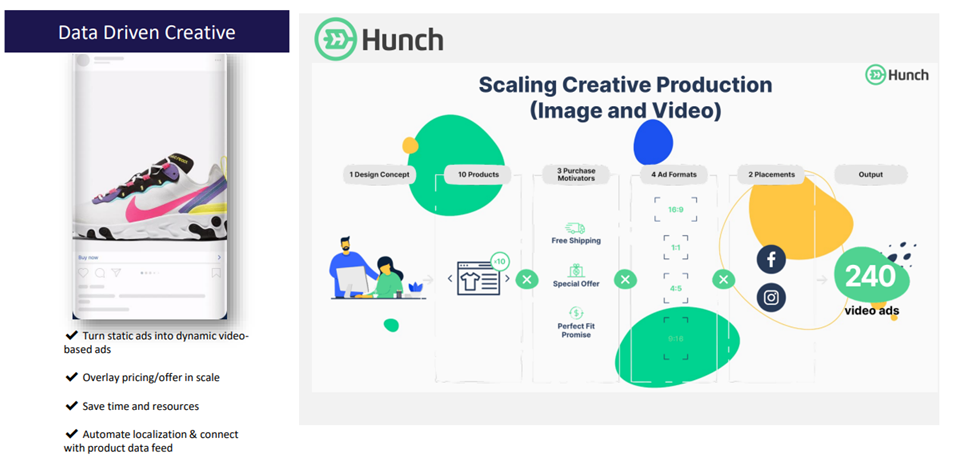 You can have different variations like purchase motivators that come into the ad template – so, free shipping, special offer, perfect fit etc – and then that will create different size variations for you. So, for example 16 x 9, 4 x 5, 1×1 etc. And then customize these to the individual placement.
So out of one design concept, you end up with 240 ads.
Now this can be used in multiple ways including personalisation of ads – for example based on the product that's been pulled in. On top of that, if you work with extensive product feeds, especially in retail, dynamic attributes can be pulled into those ads.
This includes things like:
price
products
product info
or any feature that you want to use it for allowing you to customise those ads to a personal level
So, we would really advise thinking about going from the kind of low-tech solution built via Canva to DOCs.
Why not try some of this with your Meta Ads?
We hope that we have given you some food for thought around – not only some of the challenges you face around delivering creative on the Meta Platform – but also how you can quickly and easily overcome them.
Creative is one of the best optimisation levers that we can pull as performance marketers delivering CPA reductions of 51% and delivering a broad range of wider benefits from better engagement to increased conversion rates.
Don't leave it too late to try some of the things we have suggested above. And if we can help you with any of this don't hesitate to get in touch with our Paid Social team.
Looking to scale your Paid Social ads?
Our team of Paid Media experts can help. View our services to find out more.
Own your marketing data & simplify your tech stack.