Paid Social
•
12 min read
How to Stop Poor Creative Killing Your Paid Social ROI
There seems to be a fair degree of evidence to suggest that costs associated with Meta ads have been on the increase.
According to data from Marketing Tech news, UK brands spent 59% more quarter on quarter Meta ads but that median monthly CPC is up by 27% in the same period.
And a poll in our recent webinar 'How to Stop Poor Creative Killing Your Paid Social ROI' indicated that 100% of marketers are concerned about the rising CPMs/CPCs on these type of ads.
So, as costs rise, the pressure is on performance marketers to drive cost efficiency and channel ROI for media spend on Meta.
One of the areas that is not often seen as a priority is improving creative and on our recent webinar Malcolm Gibb, our Paid Media Director, took a closer look at:
why creative is actually key to improving cost efficiency in your Meta ads
the challenges performance marketers face around creative and how to overcome them to improve your campaigns
how dynamic creative optimisation suites (DCOs) can help scale your ad process with templating and drive personalisation
The webinar recording is available to watch on demand. But here's a summary of what Malcolm had to say.
How to Stop Poor Creative Killing Your Paid Social ROI
Creative – the often overlooked lever in campaign optimisation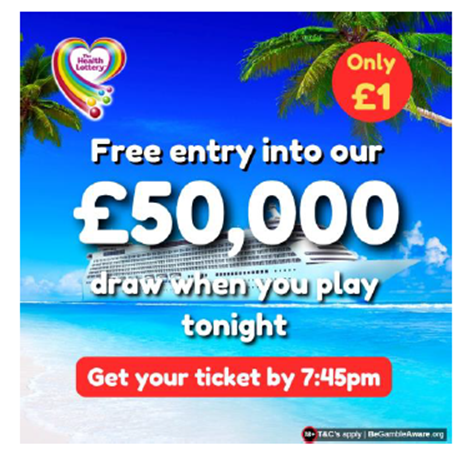 When it comes to improving performance within our marketing channels, and with Meta ads especially, creative is often a final consideration. Falling behind things like:
campaign objectives
placement structures
audiences
When, in fact, creative is one of the most powerful levers we can actually use to drive cost efficiency from Facebook, Instagram and other social channel campaigns.
Not least because it is one of the factors that we have greater level of controls over than many others.
On the webinar, Malcolm specifically focused on the Meta ad side of the things. However, it is worth noting these principles can actually be transferred over to other channels just as easily.
How creative can drive cost efficiency on Meta Ads and positively impact ROI
So, first of all, we need to understand why creative is a key performance driver that can drive cost efficiency.
Whether we're using cost per 1000 or cost per click bidding on Meta, the complex algorithm that's behind how Facebook is calculating costs and where our ads are actually showing across Facebook and Instagram.
Meta quality metrics
This means, much like quality score on Google, Meta has its own set of standard quality metrics to gauge user experience, impact and engagement.
As shown in outline in our diagram below:
Metrics like engagement and quality ranking are directly related to how relevant the ad is deemed to be to the user.
So, that links back to things like creative messaging including the copy that you're putting out there on Meta.
And most of the conversion rate ranking is largely dependent on how your landing page handles that user experience.
So, if you're familiar with Facebook ads, you will have come across these metrics before:
quality ranking
engagement rate ranking
conversion rate ranking
These are all fundamental quality metrics that help you understand how much reach and exposure your ad will actually get. And how much it will actually convert.
So, ensuring your ads are relevant, engaging and that they fulfil a purpose benefits those measures.
But, they also have a direct impact on how much you end up paying for users clicking through the ads or how much you're actually exposing your ads.
In simplistic terms for bids – the total value of bids is calculated on the bid itself multiplied by their estimated action rate.
So, that's Facebook deeming how much engagement your ad is likely to get, plus the user value.
In essence, a measure of how likely users are to convert or have a good experience with your ad.
These metrics are critical to the cost effectiveness of ads and creative is really a key component of that.
Facebook Gamma score
To take a step further. Post pandemic, Facebook has developed an algorithm that measures whether an ad was memorable or not.
This is called Facebook Gamma Score.
They use this capability to undertake things like conversion and ad recall uplift. And elements of this feed into those quality metrics we touched on above.
It's all about making sure that your ads are creatively compelling, capture user attention and are fulfilling a purpose.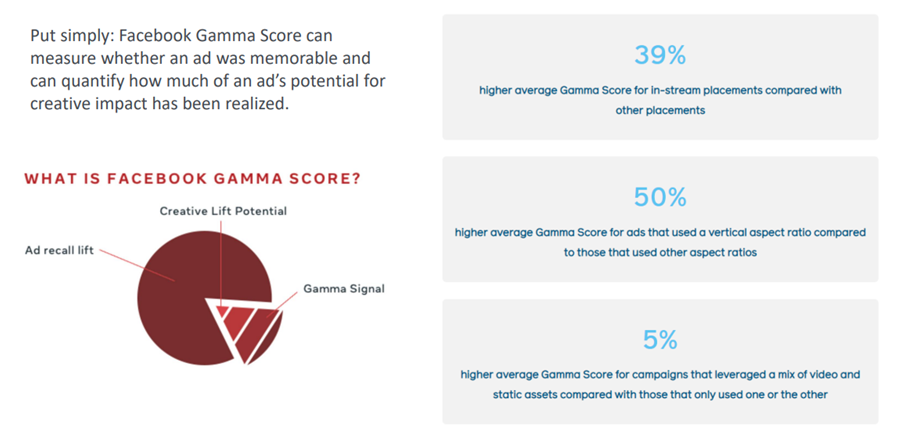 Some interesting stats that Facebook was able to uncover through tests on this algorithm include:
ads that use vertical aspect ratio scored a 50% higher average Gamma Score over those that use just standard aspect ratios
there was also a 5% higher average gamma score for campaigns that leverage a mix of video and static assets compared to those that only use one or the other
However, these formats have a number of key creative challenges.
Let's take a closer look at these in the next section…
3 of the most common challenges when dealing with Meta ads
Typically, we find there are 3 main issues to overcome when creating these type of ads:
Lack of ad-ready formats
Creative differentiation at different stages of the customer journey
Scaling across formats and multiple formats
Challenge #1- Lack of ad-ready formats
So, first challenge really facing both brands and agencies is a lack of ad ready content.
This can happen for a multitude of reasons:
quick turnarounds
limited resourcing
lack of capabilities in house or on an agency level
But it can also be down to formatting and creative simply not being suitable for specific ad formats.
But getting creative right for specific ad instances has clear benefits to us as advertisers.
Take the recent Meta stats that found that adding lightweight motion to static ads boosted conversions by 17%.
It is a concept we put to the test by taking simple ad creative for social and adding some very basic animation using some simple templates done in Canva.
And the results are impressive.
The animated version actually reduced cost per acquisition by 51% and generated 60% more conversions.
So, by using some very simple templating, we were able to turn the dial on conversion – and then take that on a step further by beginning to optimize creative for individual placements.
Challenge #2 – Creative differentiation at each stage of the customer journey
And issue #1 leads directly into issue #2.
It can be difficult to have really different creative or targeted ad formats, and creative, at different stages of the customer journey within Meta ads.
Now, when we have a look at advertising accounts on Meta, typically a lot of companies have good campaigns structures broken out to target top of funnel, middle of funnel and bottom of funnel with different objectives.
However, a lot of them utilise the same ad format or message right across the campaign structure. Like the example below: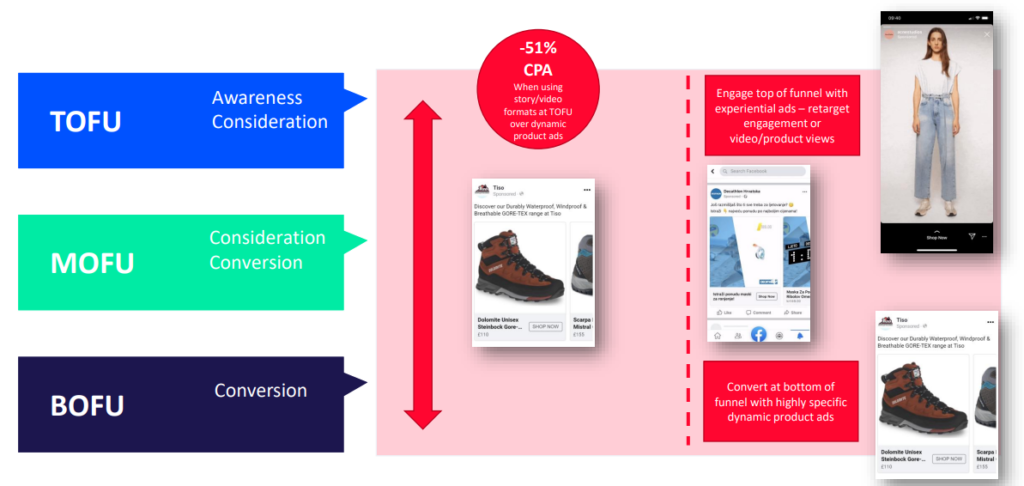 However, by:
adjusting this to show more brand lead experiential ads (at the top of the funnel)
re-engaging those users that have interacted with those ads (in the middle of funnel) based on products or video ads previously viewed
showing dynamic product ads (at the bottom of the funnel) that are showing specific products to try and encourage that conversion point from the drop off or to use it as a tactic to upsell or cross-sell other products
We have found it is possible to reduce cost per acquisition at that stage by 51% for particular clients.
Challenge #3 – Scaling across formats and multiple platforms
The final challenge is managing creative across the sheer breadth of formats and platforms.
Meta incorporates channels like:
Facebook
Instagram
Messenger
WhatsApp
But there are also a huge number other social platforms that we want to put our ads on from LinkedIn to TikTok.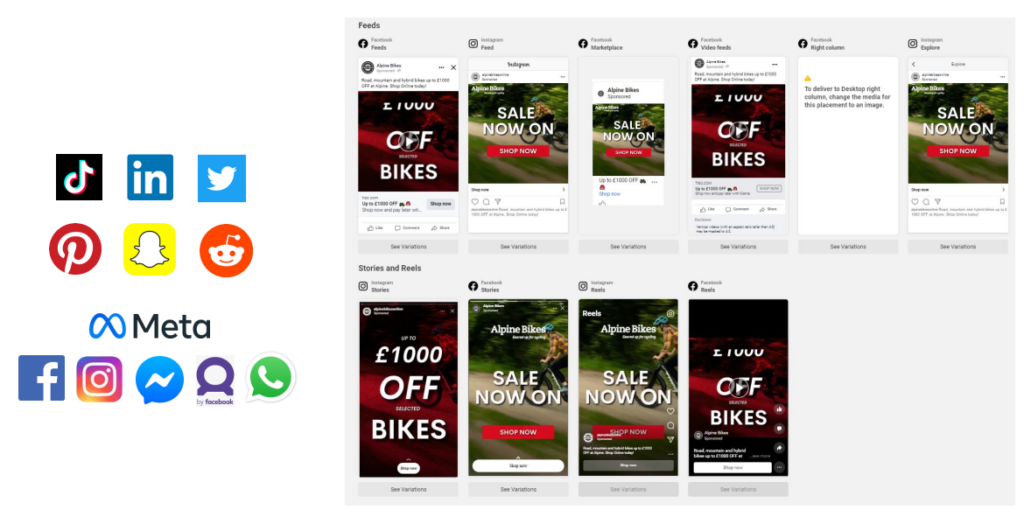 So how do we deal with creative for all of these?
The reality is that it's any in-house graphic designers' worst nightmare – when faced with the prospect of building hundreds and hundreds of different ad variations and sizes.
That's where Dynamic Creative Optimisation suites – or DCOs – like Hunch, Smartly, Spirable and Google Studio come in.
They work on the basis of helping you quickly scale your ad creative as one design concept can essentially help you create over 240 ads and also assist you to manage the different variations.
They can also support personalisation and customization of your ads more effectively.
3 takeaways to turbocharge your ad creative
So, creative is one of the best optimisation levers that we can pull as performance marketers to enhance performance of our Meta ads and also ads on other social channels.
Here are 3 webinar takeaways to help you on your way.
ensure that creative is optimised for placement, platforms and along the customer journey
if you have the ability, utilise even lightweight motion video graphics as an integral part of your creative mix on paid social ads – as they can significantly reduce CPAs by over 50% and increase conversion by as much as 60%
if you want to scale your ads, utilise a DCO and use templates to drive both dynamic optimisation and personalization of ads across channels
To learn more about how to maximise your Paid Media performance, download our eBook below.
How to Maximise You Facebook and Google Ad Spend
Own your marketing data & simplify your tech stack.