Organic Search
•
11 min read
Leveraging Audience Data to Enhance your Search Performance
We recently took part in Masterclassing's Virtual Search Masterclass where QueryClick's Digital Strategy Director, Scott Donnelly and Head of Paid Media, Malcom Gibb shared in-depth insight on how audience data can enhance your search performance in both paid and organic spaces.
How has search become more than just focusing on keywords? Will audience data affect your ads? How do we understand and implement this information? We'll answer these questions, and more, in this blog.
Understanding High Value Audiences
Key takeaway: When we look at audiences, we need to use data to truly understand them.
Traditionally, we may think of audiences to be the same as "demographics", but the truth is, they are real people who have core motivators. Understanding these and applying them to your strategy is key to driving performance.
In order to do this, we have to find the right data – and that's key. If you have access to resources, such as Google Analytics, you get a great snapshot into what that audience looks like in terms of some key demographic details.
These tools also give you insights through affinity audiences and in-market segments so you can understand a bit more about what your customers look like and what they're interested in.
However, that alone isn't sufficient. We recommend integrating that information with third party data. GWI (Global Web Index) is a great tool that allows you to drill down to understand the key motivators and attitudinal statements – to find out what really makes that audience tick.
Unlocking Rich Data Points
Key takeaway: How third-party data unlocks more potential.
Moving beyond first party data unlocks behavioural insights that can be applied to, not only our search strategy, but to your business as a whole. It's important to note that GWI is a survey-based tool. This data has come directly from customers. In better words, it's not what we think they do, it's what they tell us they do.
In the example above, we can see that this customer group has a propensity to decline cookies. This could create a problem in performance marketing activity as it means they're no longer traceable which can make it difficult to justify the ROI of investment into certain channels.
Information like this is vital to your campaigns. There are hundreds of other data points we can gain access to by integrating first and third-party audience data.
Turning Audience Insight into Action
Key takeaway: Our data can drive performance when used correctly.
We can use our data to inform our approach to building a high-performance search strategy. It gives us the ability to inform on important actions such as testing frameworks.
For example, understanding what messaging might resonate with that target audience and the USPs we can call out in Google ads, Facebook ads and search meta listings.
It also helps us develop our on-page conversion optimisation.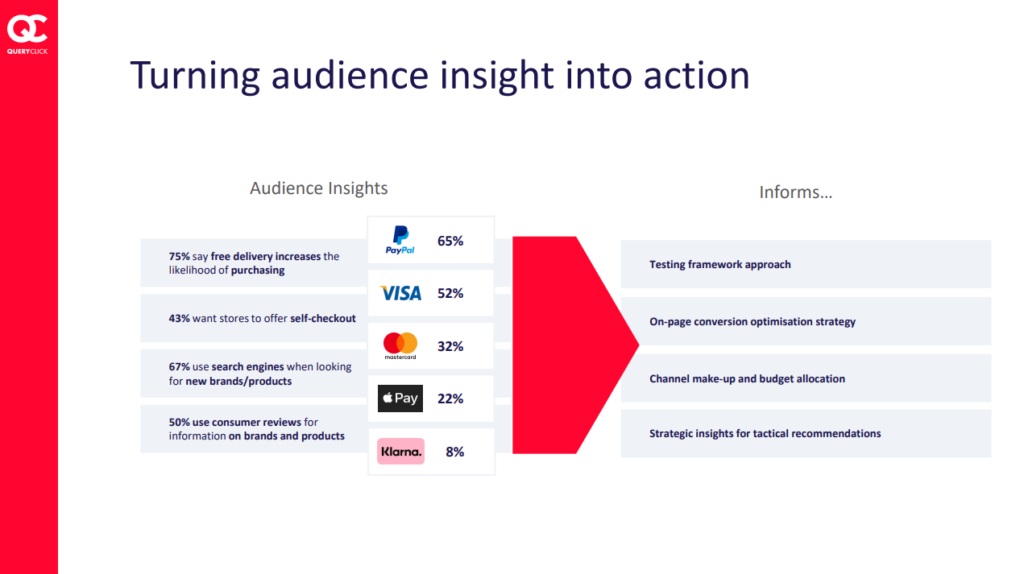 For example, the audience data n the right here, shows us the majority of users checkout using PayPal rather than Klarna.
Because of this, we could recommend using PayPal 'pay-in-3' over other alternatives in that checkout experience.
Audience data allows us to understand where potential users are spending their time and see what channels they use to discover new products or services.
That allows us to identify new opportunities on different channels and get a solid idea on how much exposure we need to reach those users. This allows us to diversify.
For example, we can vary channel mix with the likes of TikTok and Pinterest.
Validating Audience Insights That Drive Action
Key takeaway: Test your theories with measurable data.
Example: Understanding that our target audience has a propensity to use discounts, coupon codes, and the like, we can test that assumption against another variation.
In this example, we used a discount code versus a charitable message on a client and we were able to prove that discount messaging led to 20% improvement in conversions. Combine that with incremental tests and you can see how this data can be applied into improvements and performance enhancements over the long term.
Another way we can use this data, is to inform targeting opportunities across platforms.
Using the same information in our example, we created a bespoke target audience on Facebook, incorporating demographics such as engaged shoppers and coupon and discount incentives. That would just be one of several audience sets we derived from that data. Another one including information such as a specific tv show and video games-based targeting.
We validated that assumption by running a controlled tests on Facebook and we were able to drive an increased conversion of +15% and a reduced CPA through creating this new target audience.
There are many other ways that audience data can be incorporated into targeting. For example, understanding what other brands and sites users visit allows us to create bespoke affinity audiences across Search and Display while also helping us to craft on-page conversion experiences towards the user.
High Value Affinity Audiences Require Content
Key takeaway: Create content in other areas that are applicable to your customers and your brand.
Traditionally, this audience data has been something which is easier to use in the Paid Media space and has been under-valued and under-utilised in SEO.
However, leveraging this audience data allows us to enhance how we approach content while creating truly data-led audiences which we can use to build content pillars off the back of.
You can gather the information pictured above from Google Analytics. This gives you an insight into what your audience likes to do and what interests them – beyond products.
Now, it's not to say that a financial services company should start a food blog because a part of your audience happens to be 30-minute chef enthusiasts.
But it does inform you into what other areas of content your audience are interest in.
If you, as a brand, have something to say in that space or have an opportunity to do something creative, you can start to target those audiences when they're not at the product search phase of their journey – engaging with them much earlier on in the funnel.
Use Audience Data to Inform Campaign Activity
Key takeaway: Unique content has better potential when created from multiple data sources.
Link acquisition is still key to driving organic performance within the SEO space. However, it is becoming difficult to cut through the noisy and crowded market.
Most brands are trying to compete for the attention and coverage from the same publications and journalists. It is imperative that you bring something new to this space to gain this.
Blending data points from multiple sources can give you a unique view of your audience and allow you to create great, impactful content moving forward.
If you say something to your audience that they have either told you or they don't really know of themselves, that you can convey in an engaging manner, the likelihood is that you are going to be able to get a good response from them and ultimately drive them through to your site to become a customer.
Key Takeaways
Search is now far more than just keywords in both Paid and Organic. You need to apply audience data to receive an enhanced level of performance. While you can rely on keywords, it's not going to give you results that it would do if you applied audience data.
You have a wealth of audience data at your fingertips. Unlocking your own first party data is useful. Understanding it and using it can make a world of difference to your content campaigns.
Integrate third party data sources. These allow you to enrich your audience data and it's great for finding out more about your audiences than you thought possible. Users are more likely to tell something like GWI through these surveys than they are to tell you directly.
Own your marketing data & simplify your tech stack.