Analytics
•
15 min read
Getting to Grips with GA4: Top Tips for Success
The deadline to move to Google Analytics 4 is just around the corner.
So, how can you prepare to make the change, with minimal impact on your marketing measurement?
In our recent webinar Getting to Grips with GA4: Top Tips for Success, Malcolm Gibb, Head of Performance at QueryClick, took us through the basics of ensuring your GA4 is setup for success. Including exploring:
The key differences between UA (Universal Analytics) and GA4
How to make the most of GA4 functionality including audiences, filtering and reports
Our top tips for success
Here is a quick run-down on what was covered if you missed it.
Watch the full session: Getting to Grips with GA4: Top Tips for Success
When do I need to move to GA4?
The official deadline for GA4 migration is 1st July 2023.
But the reality is that GA4 is here already.
There are now less than 50 days left before UA will stop reporting and is deprecated.
So, if you haven't got a GA4 configuration set up the time to act is now.
And there is still time to migrate. But it's important to understand that it's not just okay to create a GA4 profile. The key thing is to configure it properly and then make sure it's 'marketing ready'.
Need help moving to GA4? See how our Google Analytics Consultants can help >>
Why GA4? A quick history
So, why is there a need to migrate to GA4 – and why does it exist?
It has been a long journey that dates back to 1998, when web analytics started with web server log analytics.
It was concerned with looking at hits that were happening on web services through Urchin which is still a remnant in UTM tagging.
In 2005, Google acquired Urchin and then used that technology to develop the first iteration of a UI-based version of the Google Analytics we know today.
Over the years that has evolved.
However, it has always been built with desktop and web front of mind. whereas GA4 has evolved to include app tracking and web tracking all tied together.
And cross platform and device tracking is integrated at its core.
What's the difference between UA and GA4?
Malcolm shared a handy diagram which shows some of the key differences between the packages: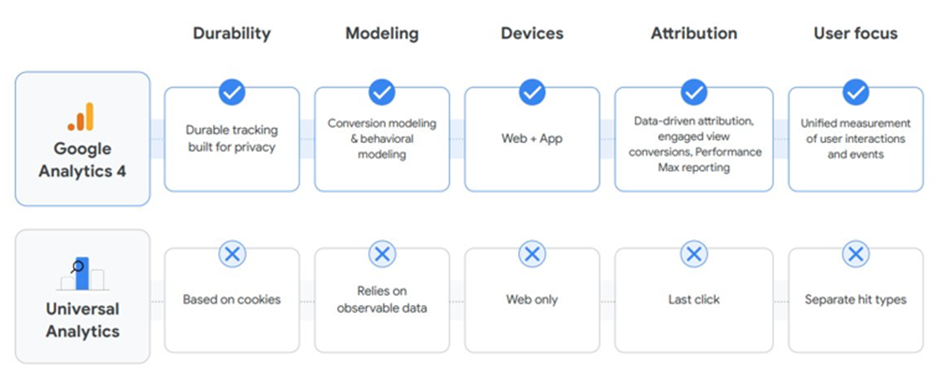 So, what are the highlights?
Firstly, one of the biggest differences, is that GA4 is built with the future of privacy in mind. UA, on the other hand, relied completely on cookies to track sessions which had real implications for privacy
Also, GA4 has conversion modelling and behavioural modelling at its core – whereas UA always relied on observable data on your website or app
GA4 is built on firebase technology and has app (and web) tracking at its core. Whereas with UA, you can't essentially track app-based behaviour and have to rely on Google Analytics for Firebase
Marketing attribution in the respective packages is very different too. UA pretty much relies on Last Click attribution. While GA4 is much more data-driven, with a view of engagement that uses events – and is much more user focused. So, it provides unified measurement of user interactions and events. Whereas UA provides more hit types, goal bases and conversions
Measurement in UA vs GA4
So, the difference from a measurement perspective, is that while UA was session-based and focused on hits (page or event hits such as add to cart, etc.); GA4 places much greater emphasis on engagement and customisation.
It is event driven at its core and it lets you set the parameters of those events.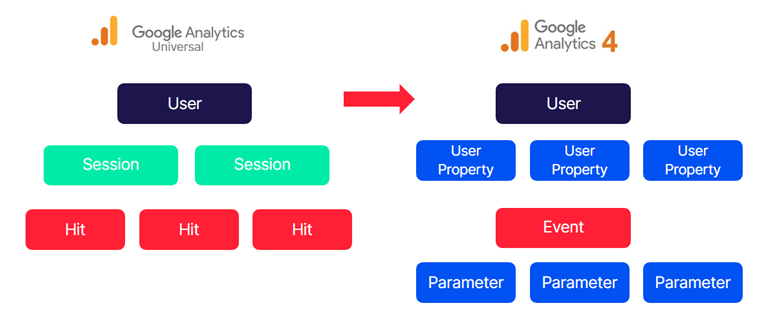 And, while in UA, you'd typically measure:
the user
the session on the site
where they'd visited
In GA4, we actually measure the user along with the user properties including their language, geographic location etc.
And the events are the engagement that users are having on your site which can include:
watching a video
signing up for a newsletter
clicking a link
viewing a page
and much more.
Structuring in UA vs GA4
The other key difference that you'll probably notice is the difference in structure of your account.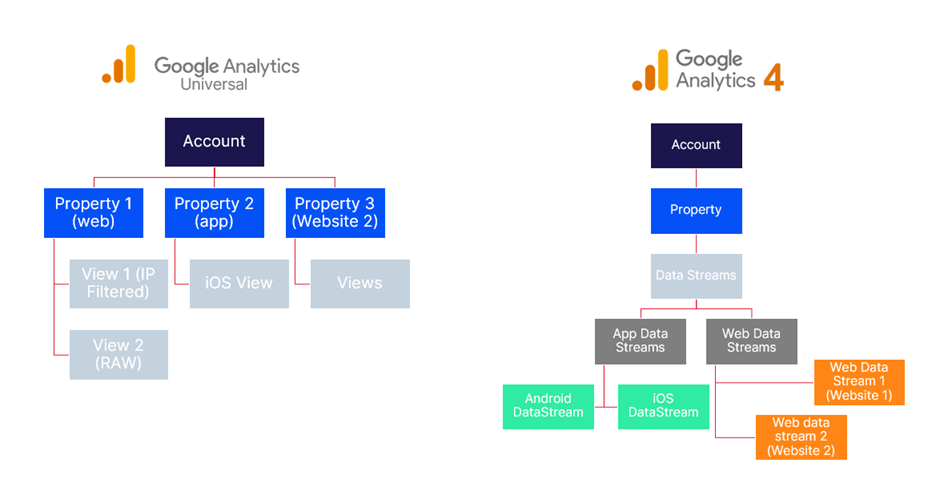 In UA, you have one account and then multiple properties potentially with multiple views in each.
And within each view is a different collection of data.
As an example, you may have one UA account with a property for a single website that contains 3 views – so typically we would see things like a production one, one for staging, one filtered by IP etc. And those different views exist for filtered data.
However, in GA4, the account structure has changed.
Where in UA, you could create up to 25 views per property and 100 properties per account.
You won't find the same structure in GA4.
Instead, in GA4, you have the option to create properties with data streams.
For instance, you can have one property with data streams for both web and app flowing into the same property.
So, if you're using an app, you have those multiple data streams such as one for Android and one for iOS flowing into the same property.
How to migrate to GA4
Migrating can either be straightforward or not depending on your existing set-up.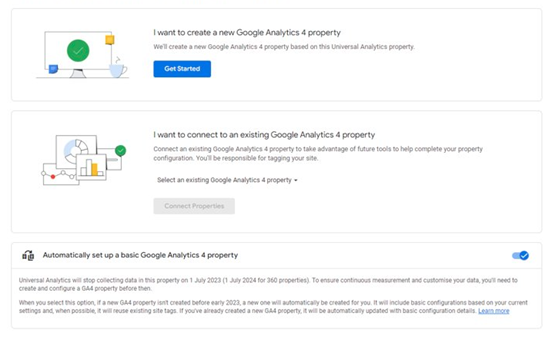 If you have migrated from UA to GA4, you probably already have a GA4 property right now.
And Google migrated most UA properties in April via auto migration.
But if you don't have that, you can quite easily set one up through the admin console for your existing analytics profile which includes a setup assistant.
However, as pointed out earlier, setting up a base GA4 profile is fine but it does need configuring to make it 'marketing ready'.
So, Malcolm then shared 8 key steps for setting GA4 up successfully.
Download our GA4 setup checklist >
8 key tips for setting up GA4 for success
So, now we're going to take you through some key steps for success and configuration of GA4.
Deploy Google Tag – the first thing you really need to do is to deploy your Google Tag correctly. It's relatively straight forward if you use Google Tag Manager you just need your GA4 measurement ID and then you can set up a GA4 tag template within Google Tag Manager. Which means you are combining and merging both Analytics and GTM so you can actually look at tags and events through both platforms
Ensure data streams are set up and set up a checklist – GA4 works on the basis of data streams and it is important to consider which ones you need to meet your own marketing needs. This is going to determined by factors such as whether you have a standard single or multiple websites, are using an app, geographical considerations etc. It is also a good time to set up referral exclusions from sites like your own payment gateways
Events in GA4 – this is one of the core differences in GA4 and can tell you a lot more about interaction and engagement than before. GA4 has out of the box events such as page views, first visit, sessions start, user engagement, app install etc but custom events are even more powerful. By identifying soft conversion points on your site you can create custom event tracking that allows you to track a lot more detailed user behaviour and user interaction on the site itself
Creating new events in GA4 – by creating new GA4 events in Google Tag Manager – such as a form submission – and then you can then pick that up as an event in GA4 and build the reporting view around it you need
Setting conversions – here we want to define which events are core conversions and which are not. And it is important to create the right view – for example on ecommerce sites conversions around sale are important but if you have a website focused on lead generation then that needs to be reflected here
Link GA4 to Google Ads – this doesn't happen out of the box but is key to making sure that you can take advantage of enhanced audience tools in Google Ads. So, make this a priority
Import conversions and audiences from GA4 – if you are using UA conversions as your main Google ads goals they'll be set to primary. What you want to do is import your GA4 conversion events into Google ads and then move them from secondary conversions to primary conversions
Create custom reports in the UI – don't be intimidated by the new interface in GA4 it actually has quite a customisable interface. So, it is worth getting things set up the way you want to see them. Pre-made reporting buckets include things like business objectives, app developer, lifecycle etc. But is relatively easy to create your own categories of reports say for example if you've got multiple websites
A few final pointers
Malcolm ended the webinar by providing a few guiding thoughts as viewers embark on your GA4 journey.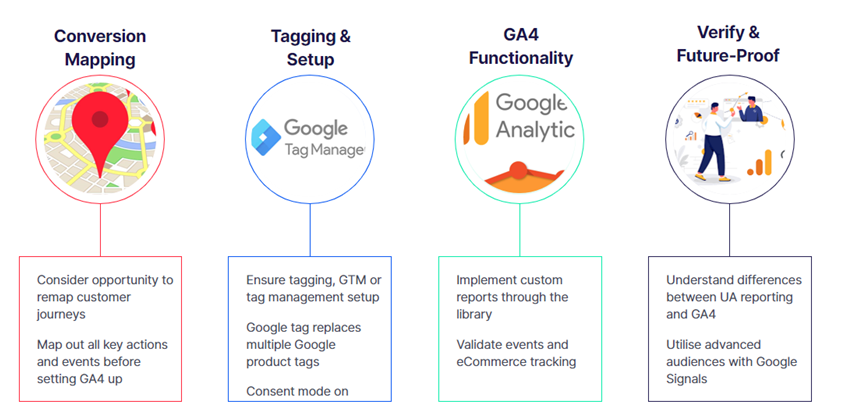 Customer journey mapping – GA4 is an excellent opportunity to reset and revisit customer journey mapping. And ask 'are we really thinking about how customers are traversing through our website or our app and are we really capturing all of the events and engagement that tells us what they are doing'. So, it's an opportunity to remap the journey – but also to make sure that you are setting these events up correctly in GA4
Make sure your tagging is up to scratch – it is an ideal time to make sure that your tagging for GA4 is robust and that events are well set up and working. It's also important at this stage to think about privacy and consent. There are new consent mode features within Google Tag Manager and GA4 so it is important to make sure that your site is compliant with privacy policies
Get to grips with GA4 functionality – it is okay to just set up a GA4 profile however it does need to be configured to be marketing ready. So, work through the Setup Assistant in GA4 and go through that checklist. But then plan out how your teams will actually use GA4 including the custom reports they will need. And validate the customer journeys that you've set up in the events that you've integrated as well
Verify and future proof GA4 – we get a lot of questions are around why GA4 data does not match AU. The answer lies in the fact that there are some quite fundamental differences between how GA4 is measuring or modelling data. Which can lead to discrepancies between things like sessions or acquisition metrics. So, it is important to understand the differences between how GA4 is reporting versus your old analytics package. And take into account how there will be a data mismatch when comparing data over time due to attribution changes and measurement.
Setting up GA4 for success
Hopefully the insights from our webinar have helped you get set on the road to success with GA4.
If you want to know more about how our team of Google Analytics consultants can help, download our brochure below.
Or, if you have specific GA4 question don't hesitate to get in touch.
QueryClick's performance marketing services
Discover what makes QC unique.
Own your marketing data & simplify your tech stack.