Google Analytics Consultants
Get to grips with GA4 and ensure your analytics are set up for success.
Google Analytics is a staple in the marketing toolkit. But analytics isn't a one-size-fits-all solution. Make sure your reports are set up in the best way to shine a light on your hard work – and its impact on your end goal.
Need a Google Analytics Consultant?
From the initial audit to ongoing support and training, our Google Analytics consultants will ensure you have everything you need to hit the ground running with your marketing analytics – including GA4.
Choose a Google Premier Partner
QueryClick has been awarded Google Premier Partner status for 6 years in a row.

Work with us to get your analytics right across:
Google Analytics 4 Migration and Setup
GA4 is here. But it hasn't been a smooth ride.
With a new interface to learn and big changes to the way your activity is reported, there's a lot to get to grips with.
Our experts are on hand to make the switch as smooth as possible.
*GA4 Adoption Rates
What's included in your GA4 set up?
Google Account Integration
Event and Conversion Setup
Tagging and Data Layer Setup
Google Analytics 4 Training
Learning a new analytics platform is a big adjustment and we'll be with you every step of the way.
We provide continual training to you and your team to ensure you're making the most of your new reports – and that you have the know-how to drive long-term success.
Get the most out of GA4 with a trusted Google Analytics consultant:
"Google Analytics has provided the cornerstone data for thousands of organisations over the last decade. Now, we enter a brave new cookieless world where observable data is diminishing, creating a huge challenge for marketers to report with accuracy. Ensuring a robust Analytics and Tagging setup is fundamental to any performance acquisition activity and is a must."

Malcolm Gibb – Head of Performance, QueryClick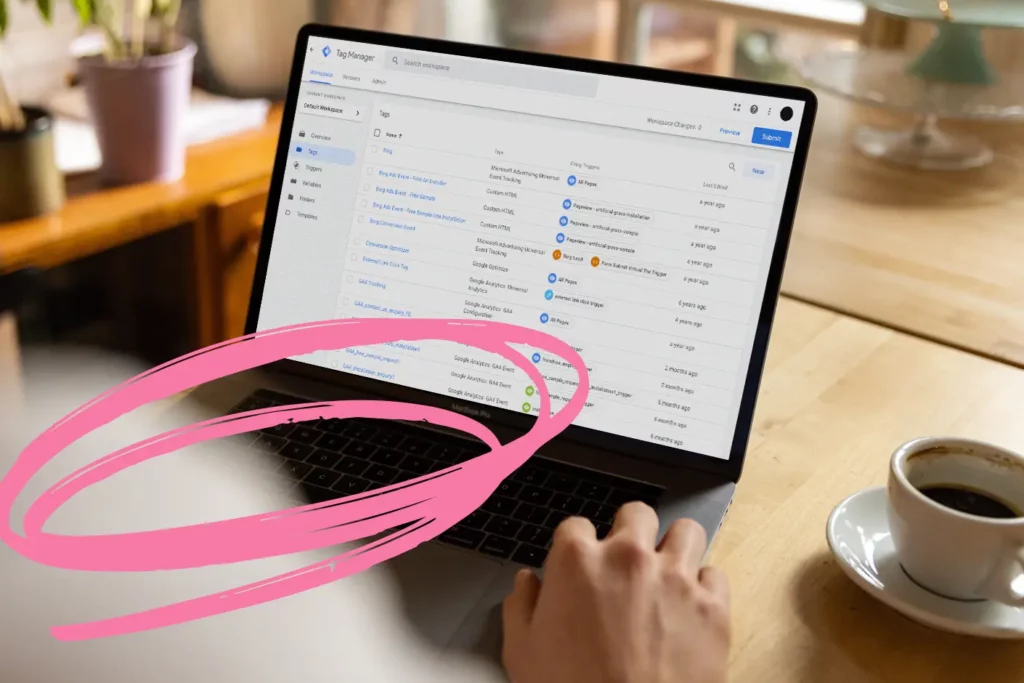 Google Tag Manager
To achieve a robust analytics setup, you must first ensure that your tagging architecture is fit for purpose. As part of our GA4 configuration we perform complete tagging audits to ensure that events and conversions are working effectively.
Data layers, events, parameters can all be difficult to get to grips with. We have GTM experts on hand to guide you through the process and implement as and where required. We work with straightforward to multi-site international and complex tagging setups and will advise on best practice tagging and solutions.
How can we support your GTM setup?
Data Layer Specifications & Implementation
Get your Google Analytics audit
For a chat about your current Google Analytics setup, or making the move to GA4, get in touch and we'll be happy to help you get set up for success.
Google Analytics 4 FAQs
GA4 is the next generation of Google Analytics and has been developed to be less reliant on cookies, and offer a future-proofed predictive, privacy-focused platform.
The impact of GDPR and CCPA, the change in how browsers collect data, and user demand for more data control and transparency, has contributed to the birth of the new Google analytics platform.
There are a few core differences between Universal Analytics (UA/GA) and GA4. These include:

• GA4 is built with the future of privacy in mind. UA, on the other hand, relied completely on cookies to track sessions which had severe implications for privacy
• GA4 uses conversion modelling and behavioural modelling whereas UA always relied on observable data on your website or app
• GA4 is built on firebase technology and has app (and web) tracking at its core. Whereas with UA, you can't track app-based behaviour and have to rely on Google Analytics for Firebase
GA4 was first announced as the replacement for UA and initially released in October 2020.
From July 2023, Universal Analytics will stop collecting new data and all historical data stored will be deleted on January 1st, 2024.