•
6 min read
QueryClick win two Masterclassing Effective Digital Marketing Awards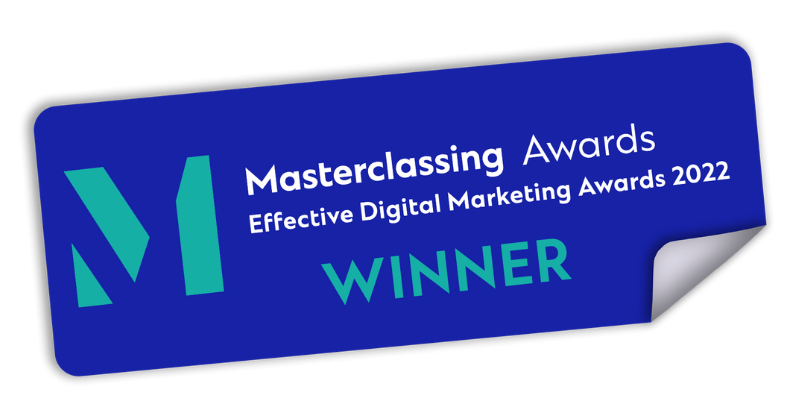 QueryClick won Most Effective Attribution Solution and Most Effective Advertising Campaign at the 2022 ceremony.
Edinburgh & London, July 2022:
Masterclassing's Effective Digital Marketing Awards ceremony took place last week, with QueryClick winning two of their three nominated categories:
Most Effective Attribution Solution: Corvidae – The Way the Cookie Crumbles: Paving the Way for AI-Driven Attribution
Most Effective Advertising Campaign: QueryClick x Tiso – Reaching New Heights in Retail
QueryClick were also a finalist for Digital Expert of the Year – UK, EMEA & APAC, which is drawn from attendee ratings from Masterclassing workshops across the year. They came in the top 5 of all Masterclassing presenters across UK, EMEA and APAC in the last 12 months.
This is the second time QueryClick has been awarded Most Effective Attribution Solution for their cookieless attribution solution, Corvidae, also winning the award at the 2021 ceremony. The judges shared that Corvidae was their chosen winner as it's "an excellent way to leverage innovation to solve the pressing and age-old attribution problem in this cookieless world".
Upon accepting the award, QueryClick CEO and Founder, Chris Liversidge, explained:
"We recognised about eight years ago that attribution really wasn't working. And rather than that being a fault of the models, it was a fault of the analytics technology that we use: pixels and first-party cookies. So, really we learned that those cookies are the cause of all attribution failure as they don't allow you to see what happening cross-device or multi-browser environments which we all live in.

"We found a way to use AI to replace the role of the cookie completely, third- and first-party, and change from being about 20% accurate in our digital analytics to now more than 97% accurate. It's a nice application of AI which helps us all, as marketers, have something that's genuinely accurate.

"It's been a real success story for us over the past year or so. Lots of partnerships going on, lots of agencies working with Corvidae now. We're just really excited to see it take off."
Corvidae's AI-driven attribution has produced fantastic results for its clients such as:
35:1 ROAS for Facebook
20:1 ROAS for Google Ads 
£670k reallocated from direct to other channels
Discover more about Corvidae's cookieless attribution here.
QueryClick have also seen continued success with their work with outdoor retailer, Tiso. The judges chose this campaign as their winner for the Most Effective Advertising Campaign as "there was a complex set of challenges to overcome here, but this campaign did so brilliantly, delivering huge increases in footfall to physical stores, web traffic, revenues and average order value."
Throughout lockdown, Tiso had seen growth from digital revenue, so were looking for a strategy which would allow them to scale up their digital advertising and move away from an over-reliance on branded search by increasing spend and inactivity within Google Shopping.
As Calvin Green, Account Director at QueryClick, explained while accepting the award:
"We aimed to diversify the marketing mix. Moved away from brand and spent money on users further up the funnel and customer journey. Implementing a good BAU account structure and new shopping structure. We then began to scale up non-branded campaigns and utilising DSAs.

Another challenge was increasing footfall traffic in-store. So, we used Meta ads and geo-targeting reach ads to encourage users to visit physical stores."
The campaign saw some great results, which led to the award win, such as:
111% increase in traffic
210% increase in revenue
31% increase in ROAS
51% increase in AOV
Speaking of the campaign's success, Erin Loney, Head of Digital Marketing at Tiso, said:
"In a period of uncertainty and constant changes to consumer behaviour, it was a pleasure to work with QC on delivering an exciting new strategy to raise Tiso's online reach. It was fast paced with lots of reactive strategic decisions – this really shows in the amazing results they were able to help us deliver."​
You can view the full list of winners here. Or find out more about QueryClick's performance marketing services.
Own your marketing data & simplify your tech stack.