Attribution
Report Suggesting Amazon Using Echo Data for Targeting is Concerning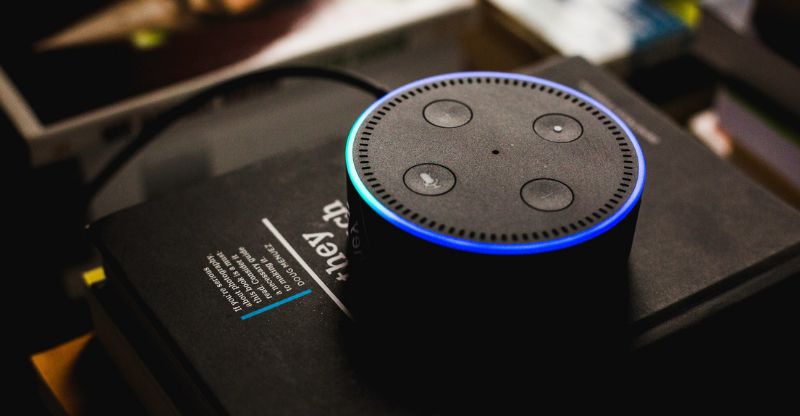 When we came across a fascinating piece of research on how Amazon is using voice data from its Amazon Echo product to target advertising – within its platform and across the wider web – it set us thinking about some of the trust and privacy related issues that the large AdTech platforms are experiencing right now.
We know from our own research that there are very real concerns around bias in AdTech reporting and wider issues of trust for not only Amazon but also Google and Facebook too.
So, what did the most recent research uncover – and what are the wider implications for marketers who are already grappling with the impending death of third-party cookies and the requirement to re-engineer their approaches to targeting and effective attribution as a result?
We dig a little deeper into that here.
What exactly did the research on the use of Amazon Echo data show?
Researchers at the Universities of Washington, California-Davis, California Irvine and Northeastern University recently released a research paper called "Your Echos are Heard: Tracking, Profiling, and Ad Targeting in the Amazon Smart Speaker Ecosystem" in April 2022 which found that Amazon is harvesting voice data from its Amazon Echo devices to drive targeted advertising.
In particular, the researchers were keen to understand how the various elements of the Amazon ecosystem – Amazon itself, Alexa voice activation, Echo devices and adverts – interact with and influence each other.
The stumbling block was that they lacked readily accessible interfaces that would tell them how Amazon Echo audio data etc actually gets used.
In the absence of this, the researchers set up dummy personas that they then used to interact using voice commands with a wide range of Amazon Skills that were associated with interests ranging from Connected Car to Dating and Navigation and Trip planners.
They then collected data on how these commands had an impact on elements like audio ads – which were being delivered across Amazon Music, Spotify and Pandora – and also for display ads on the web (for the logged in dummy Amazon accounts).
Their key findings are fairly eye opening and showed that:
Amazon Echo user interactions are tracked by both Amazon and as many as 41 of their advertising partners
Amazon uses Amazon Echo interactions for ad targeting on-platform (e.g., audio ads) and off-platform (e.g., web ads)
The data collected is used to inform ad targeting premiums that are 30x higher than usual
Amazon inferred user interests from voice data in a way that was inconsistent with their public statements and privacy policies
On reading, the research has clear implications for both users and marketers in terms of the way that Amazon is manipulating data without being clear and upfront about the process and their intentions.
However, the findings also have implications at wider level in terms of the trust, transparency and overall ethos of all of the big AdTech platforms at this time.
The Amazon case is not an isolated cause for concern
Although the focus for the researchers was specifically to assess the Echo data instance at Amazon their findings have echoes in the recent past for other vendors too.
Here are just some of the issues we have come across in our work and research in recent times.
Concerns over transparency at Amazon and elsewhere
It's interesting that Amazon's response to the research has been patchy at best.
According to the Register their initial response was to issue a vague, blanket condemnation of perceived inaccuracies in the research without specifically responding to any of the claims.
"Many of the conclusions in this research are based on inaccurate inferences or speculation by the authors, and do not accurately reflect how Alexa works."

The Register: Study: How Amazon uses Echo smart speaker conversations to target ads
One of the damning findings of the research from an Amazon perspective is that the way that they are using Echo audio data to infer advertising interests is a clear breach of not only their public statements but – perhaps more worryingly from a legal perspective – their own privacy policies.
In fact, the researchers also found that over 70% of Amazon skills (the mechanism used to deliver third-party services via the platform) had policies that had no mention of either Amazon or Alexa.
And only 2% of these policies actually had clear and consistent explanations on how they collect and use data. Hardly a resounding affirmation of a platform trying to closely protect customer privacy.
And the concerns around conduct at Amazon comes hot on the heels of issues that other AdTech players have had recently including:
Concerns over the impact of 'Walled Gardens' at Amazon, Google and Facebook
Alongside Google and Facebook (Meta), Amazon is quickly becoming the 3rd force in an advertising industry that is increasingly dominated by the big AdTech players.
According to global data released by emarketer, together they accounted for 74% of global digital advertising in 2021 – with Amazon ad revenues showing a huge jump of 63% year on year.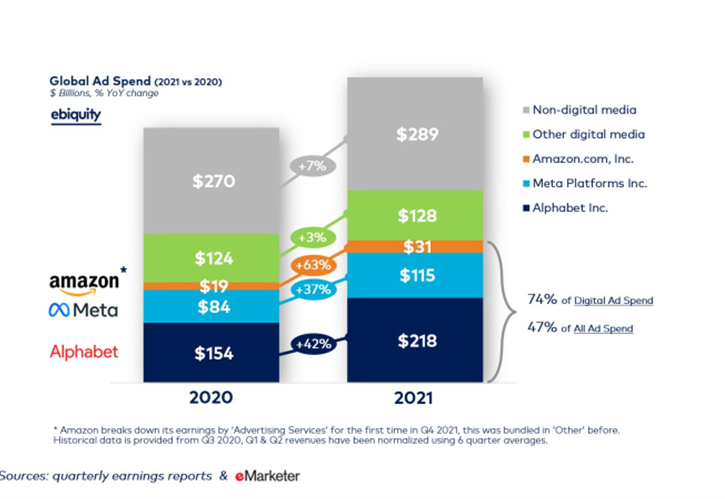 However, there is real concern amongst marketers and advertisers that these top three platforms take a 'walled garden' approach to key issues like data sharing.
With the impending death of third-party cookies, a significant premium has also been placed on the value of good first-party data.
And all of the big Adtech players are awash with this:
Amazon has over 200 million users
Google has over 1.5 billion monthly Gmail users
Facebook has 2.8 billion monthly users
The big benefit? A high percentage of these are persistently logged into accounts across multiple devices that provide the data needed to potentially target them with a high degree of advertising accuracy.
80% of marketers are concerned about bias in the AdTech channel
So, spend is increasingly flowing into these top three channels but this coincides with very real concerns from marketers that they can't trust the channel reporting information that is being put in front of them.
This came out strongly in a recent research study by QueryClick which found that an incredible 80% of marketers are concerned about the issue of AdTech bias.
This chimes with our own experience when working with clients. As long as the big AdTech vendors continue to mark their own homework and only deliver data that supports their own sales propositions as part of a siloed approach to reporting then things are unlikely to improve.
So where does this leave advertisers who are operating in an environment where there are clearly issues of trust and transparency surrounding the key AdTech players. And there is a need to regain control over advertising – all at a time when the death of third-party cookies places a focus on building first-party data and enabling effective attribution.
Take back control of your data and attribution
The simple answer is – if you have concerns around AdTech bias – you need to regain control over your reporting and attribution.
And to do that you have to completely break free of the siloed approach that platform providers are forcing on you and rebuild your data in a way that provides a true and independent picture of what is happening on the ground.
And the results can be transformational. Consider the example below where QueryClick worked with a well-known UK online clothes retailer to show that Facebook campaigns were actually driving 68% less revenue than channel campaigns were reporting to the client.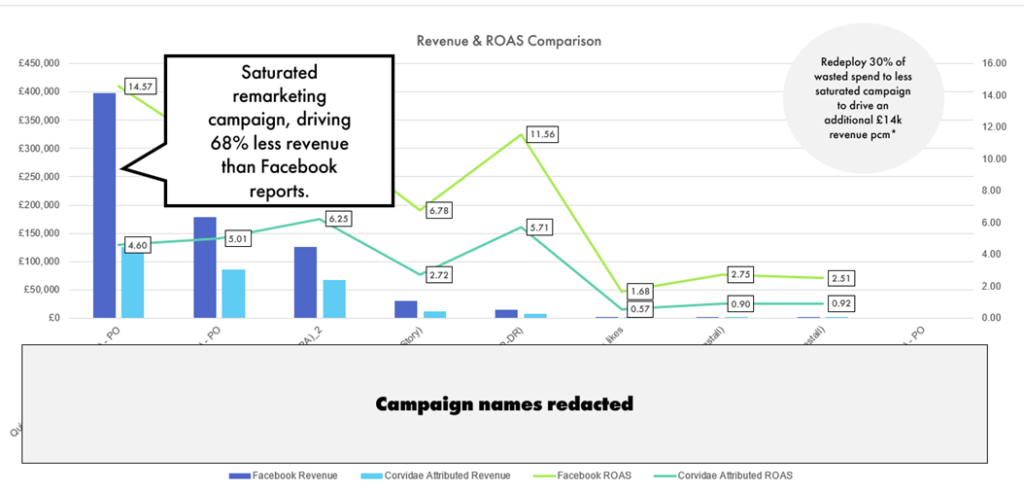 The graph above shows how Corvidae – our own attribution platform which uses visit level attribution – was used to effectively rebuild Facebook channel data and identify saturated spend including identifying:
That Facebook ad spend was in fact driving 68% less revenue than Facebook was reporting
That redeploying 30% of spend from this campaign could generate an additional £14k revenue per month
It is this type of type of transformational approach – using sophisticated Machine Learning and AI to effectively take the place of cookies – that enables brands to pull free from the shackles of biased single AdTech channel reporting and provide you with the single, individual user level journey view you need to be more effective across creative, campaigns and channels.
Visit our website to learn more.
Own your marketing data & simplify your tech stack.