Paid Media
•
5 min read
The Best Free Online Courses for Paid Search Marketers
Continuous learning and development are extremely important to our culture at QueryClick. So much so, we're allocated 7.5 hours (a full working day!) per month solely for personal development.
We're free to decide how we wish to use this time – whether that's attending seminars, receiving training from a colleague, watching YouTube videos or reading the latest marketing book.
As a newer member to the team – and the Paid Search function in general – I have been using my recent personal development time to undertake several Google Ads and Microsoft Beginner's courses to build up my skills in some of the core areas that are used in Paid Media every day.
In this blog, I'll share a few the best free online courses anyone working in Paid Search needs to take.
Microsoft Ads
If you are new to the concept of Paid Search and how it works, the Microsoft Ads course is ideal for you.
It begins by explaining what both an ad and a paid ads are, as well as explanations about some key terminology such as:
keywords,
ad scheduling
location targeting
This course is the least interactive of the courses covered in this blog, with only text-based resources available and an end-of-course exam.
Find out more about the Microsoft Ads course here.
Google Analytics
The Google Analytics course takes you through the basic features of analytics, including how to:
create an account
implement tracking codes
set up campaign goals
analyse reports
This course includes several interactive sessions which allows you to put what you've learned into practice rather than just reading or watching videos.
There are also three follow-on courses you can take after this one to further develop your skills – Advanced Google Analytics, Google Analytics for Power Users and Getting Started With Google Analytics 360.
Find out more about the Google Analytics course here.
Google Search
If you are new to working in Paid Search or want to learn more about search ads, then the Google Search course is ideal for you!
It covers:
the fundamentals of search ads
how to create and optimise them
best practice tips
This course is made up of various text-based resources and videos, followed by an exam at the end.
Find out more about the Google Search course here.
Google Shopping
Made up of a mix of videos, readings, mini tests and an exam, the Google Shopping course takes you through:
the basics of shopping ads
how to build them
different strategies to get your products in front of the right shoppers
Find out more about the Google Shopping course here.
Want to know more about Google Shopping? Read our Smart Shopping Q&A from QueryClick's Head of Paid Media >
Google Display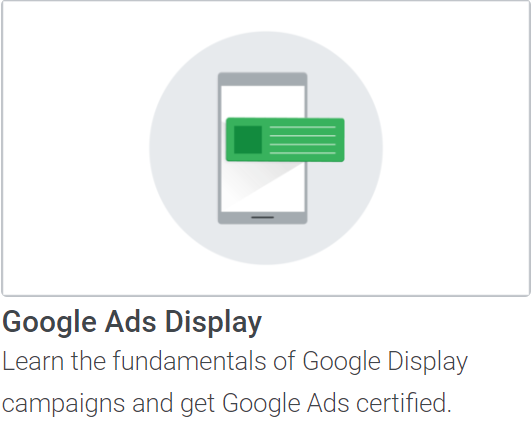 The Google Display course shows you how to build awareness and drive action for your brand through building, managing and then optimising your visual ad campaigns.
Like Google's Shopping and Search courses, this course consists of a mix of reading, videos, mini tests and an exam to test what you have learned.
Find out more about the Google Display course here.
Are You QC?
We're hiring! If you're looking to increase your Paid Search knowledge and work for an award-winning agency, take a look at our current vacancies.
Own your marketing data & simplify your tech stack.