Paid Social
•
13 min read
What Ad Formats are Available on Meta?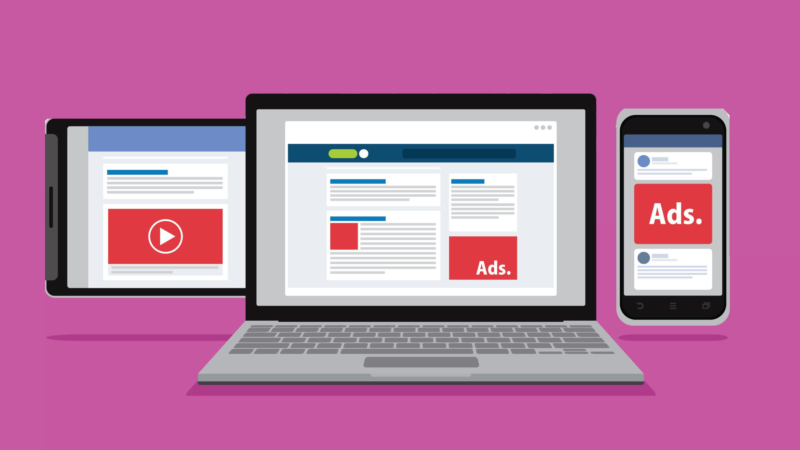 As Meta have continued to add to the breadth and depth of the advertising opportunities that are available not only on Facebook but also across Instagram, the Audience Network and Messenger keeping track of the options available has become more difficult.
How do you know which is the best to use across each platform to meet your goals?
We've compiled them all into a single, central summary so that they're available all in one place. And you can choose which ad format is right for you with ease.
The Meta ad format selected is going to differ based on campaign objectives
Before we dig into the specific detail on Meta's ad formats, it's worth pointing out that the type of ad you select is going to be heavily influenced by your specific goals.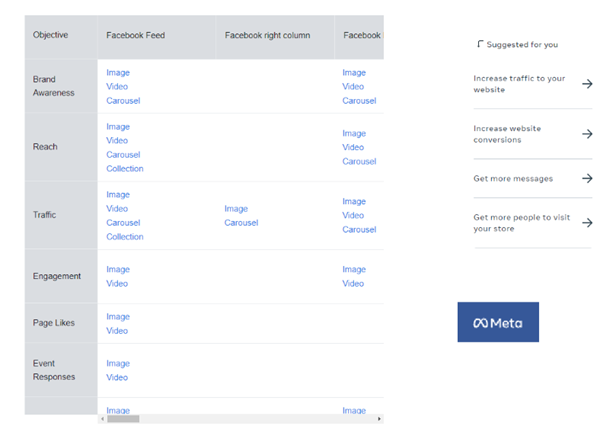 If you're not sure, Meta have a useful summary matrix which is worth a look and available in their business help section.
It breaks the ad opportunities down by:
Advertising objective
Where the opportunity is available across channels including Facebook, Instagram, Audience Network and Messenger
Format available – image, video, carousel, collection etc.
A full list of Meta ad formats
Now on to the formats themselves.
In this section, we take a walk through your options and consider where they might best fit in your ad strategy:
Facebook Feed ads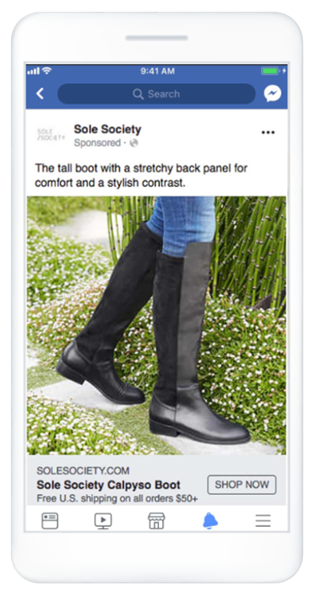 The Facebook newsfeed is the constantly updating list of status updates, photos, videos and more in the middle of the Facebook home page.
With the flexibility to decide whether your ad is shown to desktop or mobile users – or both – Facebook news feed ads provide the opportunity to get your product or service in front of people and encourage them to explore more.
The combination of lower CPCs and higher click through rates mean they also open up the opportunity for higher funnel type targeting, meaning you can get your brand name in front of people who might not yet be aware of you.
Facebook Right Column ads
These are a desktop only format.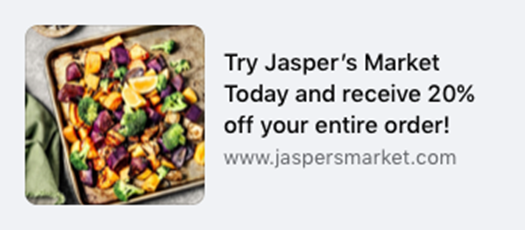 They are typically displayed in the column on the right-hand side of the screen but can also appear in other placements across the site.
The ads offer the potential for use in retargeting activity, and the combination of Right Column Ads and News Feed Ads increases engagement by a factor of 3.
However, the smaller size of the ad placement and lack of CTA buttons have to be factored in when deciding whether they are the right option for your campaign requirements.
They are also typically more expensive than News Feed type ad options.
Facebook Instant Articles ads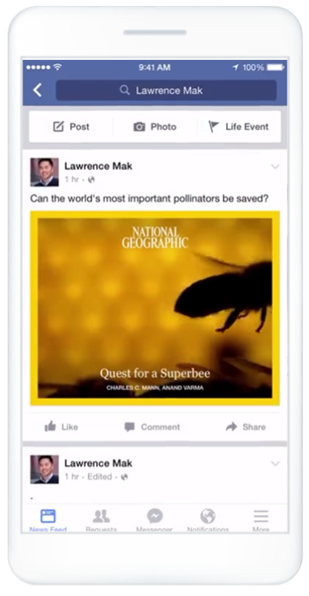 Geared towards faster loading times for mobile optimised formats, and a better user experience, Instant Articles allows mobile users to experience content without leaving the Facebook app.
It works on the basis of approved publishers being able to place ads within their instant articles.
The focus here is on enhanced levels of prospect engagement with consumers and to enable a more sophisticated level of brand discovery.
With more of an emphasis on dynamic discovery and exploration, high quality content is the key to engagement, audience expansion and creating affinity with your brand using this format.
Facebook In-Stream Video ads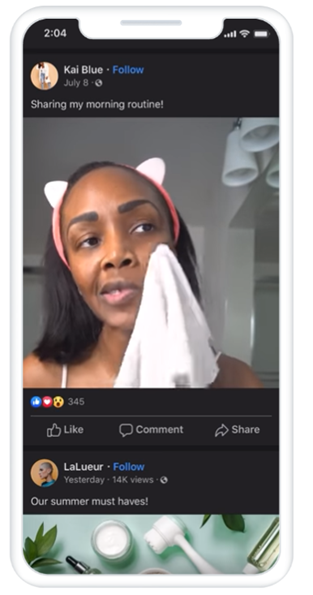 This format allows you to get your brand message out to consumers watching video content from digital first creators and other familiar content publishers.
From the 60 second mark of the main video content being watched, advertisers can use up to 10 images and links across a series of carousel cards that either promote single product or services or tell brand stories.
With low cost per impression and high view to completion rates, they can be useful for attracting people to your brand.
The only potential challenge here is upper limits on the amount of available inventory due to capacity constraints.
Facebook Marketplace ads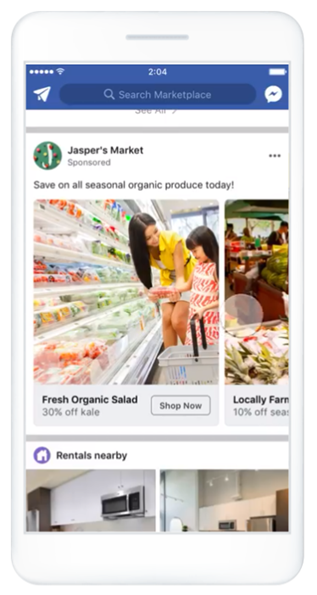 Designed to provide access to an audience that is very much "in-market" and ready to buy as they browse Facebook Marketplace, these ads offer a carousel type format.
With the flexibility to promote either multiple products or detailed product features through a series of up to 10 images or videos.
Given that the bulk of marketplace items are bought and sold locally, this holds a strong attraction for businesses based in the relevant locality.
Added personalisation options also make this ad proposition even stronger.
Facebook Stories ads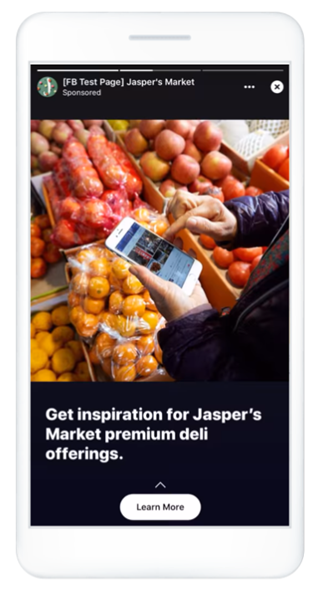 Offer the opportunity to improve engagement with targeted audiences and also improve retention levels with existing customers.
Facebook Stories Ads can deliver enhanced creativity in a highly immersive format that opens up the potential to use emojis, stickers and other creative components.
These maximum 15 second ads are highly digestible and appear full screen as vertical ads to Facebook users between their Facebook stories.
Used consistently, they offer the potential to scale and retain audiences.
Facebook Search Results ads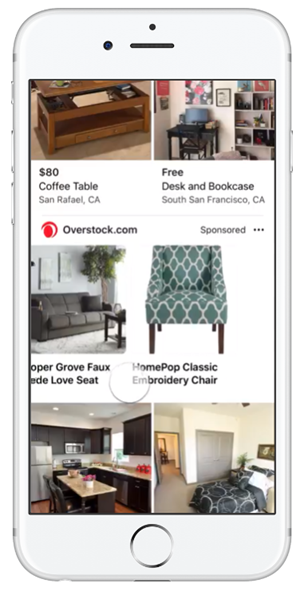 Search Results ads help advertisers tap into the millions of daily searches made across Facebook and Facebook Marketplace.
This is typically lower-funnel type targeting, with ads aimed at consumers who are showing a strong intent to buy.
They are displayed directly to users who have a specific interest in the product or services that your business is offering.
The only slight limitation is that the format is only available to target users using the Mobile Facebook app.
Facebook Reels overlay ad
Relatively new as an option, these offer the potential to target consumers who are engaging with Facebook Reels (Reels is part of Meta's response to the increasing rise and competitive threat posed by TikTok).
These appear as either a banner ad (towards the bottom) or sticker ad (towards the top) after 1-second of a Facebook reel finishing.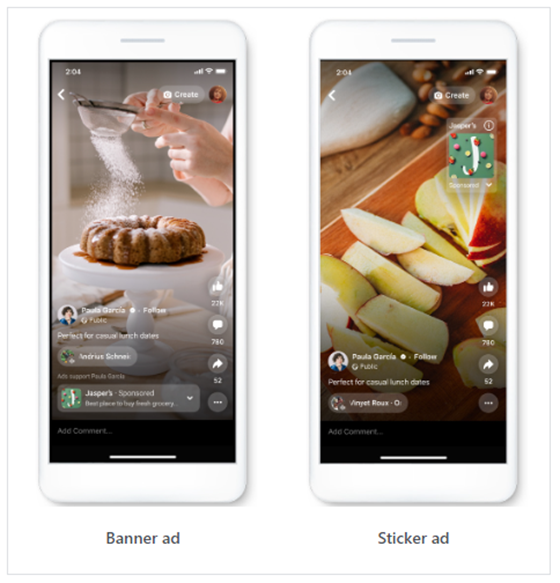 Facebook Collection ads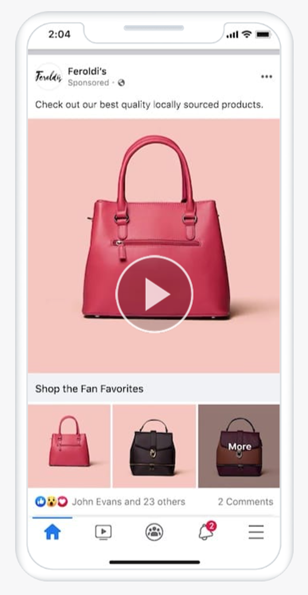 Designed to help brand owners to influence behaviour on mobile shopping with a strong visual approach.
The format allows consumers to move quickly from researching product options to buying by providing the opportunity to lead with a primary video or image which is supported by 3 smaller images. Which allow the user to dig deeper into details.
Customers who tap on a collection ad to browse, or learn more, will be seamlessly taken to a fast-loading visual post-click experience powered by Instant Experience – all without leaving Facebook or Instagram. All with a focus on higher conversion and brand lift.
Instagram Stories ad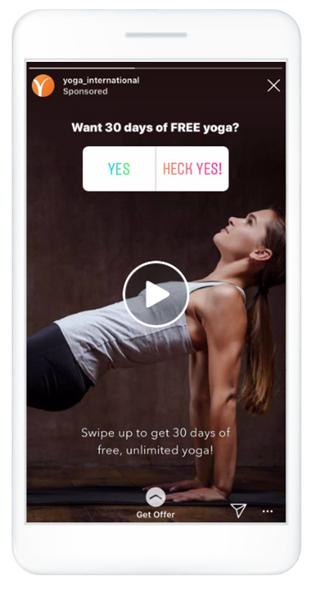 These vertical ads are immersed seamlessly into an Instagram user's viewing experience in Stories and offer the potential to add elements like stickers, emojis etc to your creative.
They are shown for either 5 seconds or until the user swipes out of the Story.
Unlike an organic Instagram Story, your ad doesn't disappear after 24 hours and instead you can tailor the duration of your campaign to suit your specific marketing objectives.
Stories ads offer many features to invite interaction, which makes them ideal for engaging users.
Instagram Feed ad
The Instagram feed is the constantly updating list of photos and videos that appears when you open the Instagram app.
The Instagram feed displays photos and videos from accounts that people follow and from advertisers.
Feed ads are ideal for:
reaching new audiences,
raising brand awareness,
and attracting new followers.
Instagram Explore ad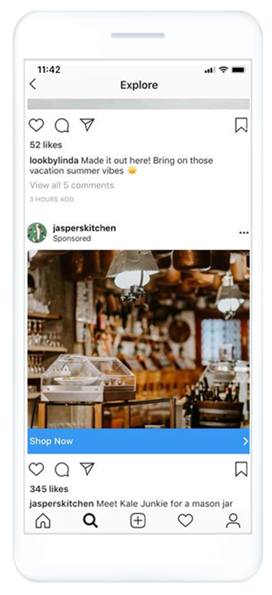 Explore ads enable advertisers to show targeted ad content on the Explore page in Instagram.
This is where Instagram pushes content to the user based on previous interactions and interests on the platform.
Part of the power in this format is that it allows advertisers to reach people who might not be following your brand on Instagram and are in research mode.
These users are ready to shop and discover relevant products and are also served your ad in a blend of content that has been specifically curated for them.
So, your ads make more sense.
Audience Network native, banner and interstitial ads
Audience Network ads are a good way to take advantage of audiences outside of Facebook in a wide variety of additional websites and mobile apps.
With over 80,000 mobile apps – including 40% of the top mobile apps in the network – they provide the opportunity to extend campaigns to reach people with native, banner and interstitial ads.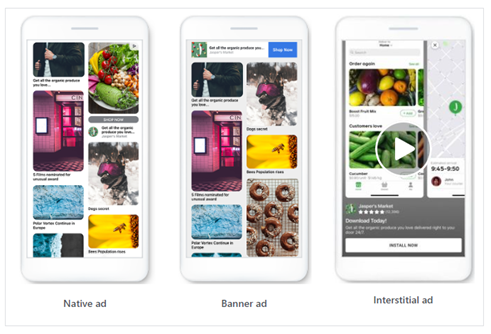 Messenger Sponsored Message ads
These ads are designed to enable you to reconnect with Messenger users who have interacted with you via either live chat or your bot.
They appear as targeted, in-context ads in the Messenger app and can be a relatively cost-effective tactic for this type of re-engagement.
Messenger Inbox ads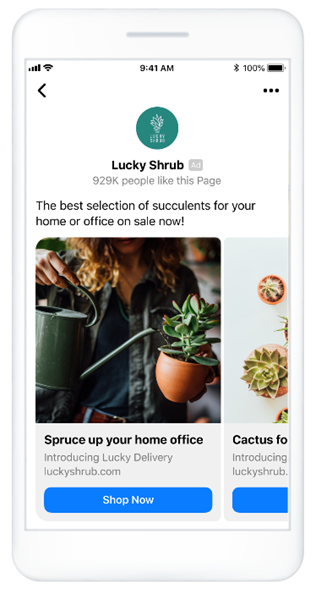 These ads appear in a user's Messenger Inbox, in-between conversations that a user is already having as part of private and group interactions.
The ads themselves look like messages and when clicked they show a detailed view of the ad.
They can also include up to 10 images and links.
They provide a good opportunity to target users who have existing conversations and have an interest in your brand.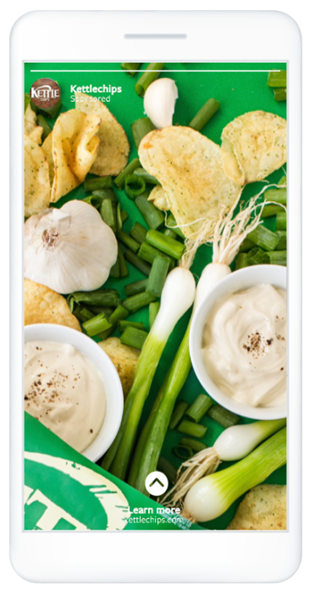 Messenger stories ads
Messenger Stories can bring your business to life in an immersive format, with options to add stickers, emojis and other creative elements.
These full-screen vertical ads appear to viewers between organic Messenger Stories.
Image ads in Messenger Stories will appear for five seconds or until the user swipes out of the story.
Some additional help as your thoughts turn to creative
We hope you find this summary of the various ad formats available on Meta useful.
If you are planning to create some new ads for the platform your attention is probably turning to thoughts on the type of creative you might use.
You might also be interested in our recent webinar on How to Stop Poor Creative Killing Your Paid Social on ROI and 3 creative ad challenges on Meta (and how to solve them).
Looking to scale your Paid Social activity?
Our award-winning team of Paid Media experts can help.
Own your marketing data & simplify your tech stack.