Case Study
•
11 min read
Increased Search ROI by Removing Cannibalisation: Case Study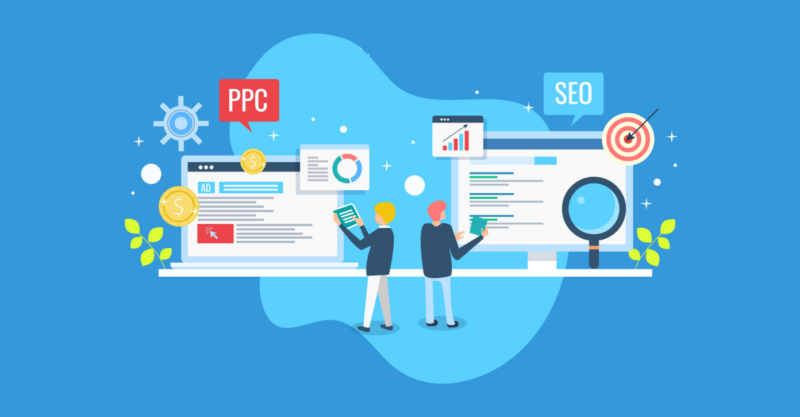 At QueryClick we've been working with Tesco Mobile to improve their SEO performance for almost 5 years. Over the course of this partnership, we've successfully increased organic traffic, conversions, and revenue; however, the Coronavirus pandemic demanded a fresh approach to delivering success.
Covid-19 drove a shift in consumer behaviour as online channels became the most effective way for people to achieve transactional or service-based goals. With the resulting increased e-commerce activity, Tesco Mobile's Performance Marketing Team sought greater efficiencies between paid and organic search.
Working with Merkle, Tesco Mobile's PPC agency, and using Unified Search (part of our proprietary attribution software) saved over £1million for the client through greater integration of the two search channels. Here's how:
The premise of reducing cannibalisation
The basis for this project was a simple hypothesis, posited by QueryClick:
To determine the answer, we collaborated with our paid media counterparts to determine and implement a statistically-sound methodology for a test. Ultimately, we needed to know whether we could eliminate search cannibalisation by switching off PPC brand bidding without a loss of performance.
The cross-channel strategy
To ascertain the scope of keyword-level cannibalisation, we had to combine Google Search Console and Google Ads data. This resulted in an integrated report that used both paid and organic data at keyword level.
In doing so, QueryClick used click-through rate (CTR) modelling unique to Tesco Mobile. This defined our 'expected' clicks for each organic position on the SERP and we used this data to understand the actual vs. expected CTR. The output was valuable insights into underperforming areas that needed to be addressed as well as over performing areas that we could learn from. In the areas of underperformance, QueryClick determined priorities by identifying the areas that had the highest 'click opportunity'; these would form our initial focus.
Looking at the click opportunities, it was apparent that there were areas where paid support was required (typically, where Tesco Mobile had lower organic rankings). Equally, there were also areas of high paid spend where organic was performing well. Inevitably, there were areas where channels were cannibalising each other's traffic, and one of those areas was brand keywords.
Unified Search helped us highlight areas where brand bidding was unnecessary due to the site sitting in the top organic position, limited competitor presence, and high organic click-through rates.
Having presented these insights to Tesco Mobile and Merkle, the next step required removing exact match bids on brand keywords so we could understand how it would impact total sales from both the organic and paid elements of the search channel.
Merkle's testing methodology involved splitting out the Brand campaigns into Test and Control, targeting specific GMA (generalised marketing areas) provided by Google.
These were segmented in a way that minimised any cross contamination from the commuting areas of the South East. London was removed and the rest of the areas were plotted in Tableau with adjustments to be as geographically representative of the UK as possible.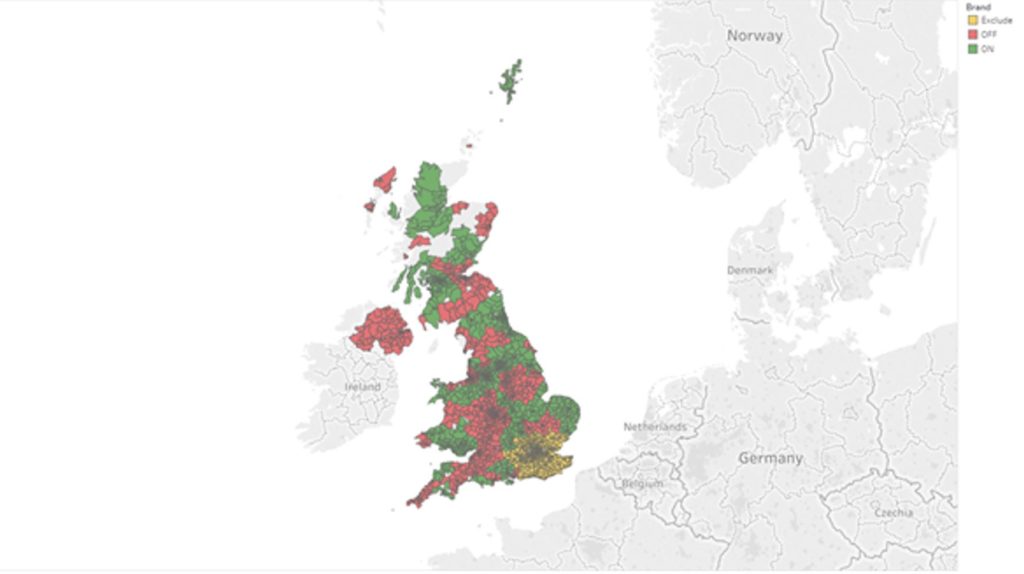 Another key factor in the geo-segmentation was ensuring the Test and Control areas had similar historic sales volume and trends.
The test results
The results of the test highlighted that there was:
Non-significant impact on online new and upgrade sales

Effectively, this suggested that turning off the Brand PPC campaign would have a negligible effect on the amount of new customers placing orders online as well as existing customers upgrading or extending their current deals.

There was low evidence that brand PPC campaigns were driving upgrades from existing customers (beyond what would be captured by organic, should these PPC ads stop running).

Additionally, the test found a lack of statistical significance that new sales were being driven by brand PPC over and above what would be generated by organic alone.

Non-significant impact on offline and telesales upgrade sales

Looking beyond just the online transactions gives us more meaningful information about the impact of our work. With effective call tracking, we are able to see how our SEO activity also drives transactions away from the website.

Again, the test failed to establish that using brand PPC was generating increased upgrades that took place offline but had been driven through a website interaction where users arrived at the site through search.


Non-significant impact on offline and telesales new sales

Finally, the test established that sales from new customers, completed offline but influenced by potential customers arriving at the site via search engines, would be not be significantly lower if brand PPC was not used to acquire their clicks.
On the back of these results, Merkle also conducted further analysis to understand if the test ran long enough.
To do that we looked at whether the gap between the ON and OFF regions kept increasing. In fact, the data showed that the gap actually kept decreasing and that the results were unlikely to change if we were to run this test for a longer period.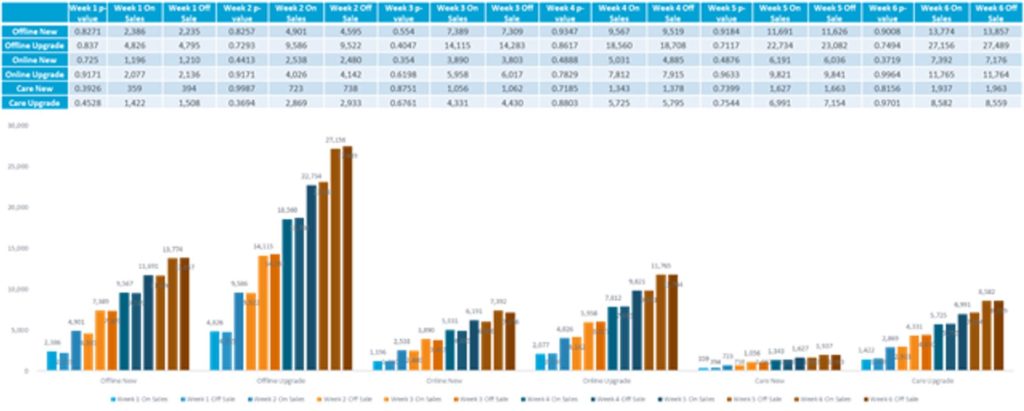 Finally, we conducted an analysis to understand which channels took the brand paid search credit in the OFF region.
The results showed that organic and direct channels picked up an overwhelming majority of the sales that would normally be attributed to brand paid search.
The outcome
The test established that the traffic and sales that would've been driven through paid search bidding on exact match keywords could be acquired through organic traffic if those ads were not shown and clicked on. This allowed them to be switched off and the ~£1,100,000 spent per year on brand exact bidding could be reallocated on other areas of paid media.
Without paid media cannibalising brand exact, organic search experienced a bump in traffic and sales that, before our testing programme, Tesco Mobile would have had to pay for unnecessarily.
With the test complete and the savings made, QueryClick and Merkle continue to collaborate on organic and paid cannibalisation – identifying areas of weakness to be propped up by paid spend, or areas of strength that do not require as much paid advertising support.
Following the results of the SEO / PPC test, we were thrilled with the outcome and savings made.

Above all it showed how data and statistical modelling should be used in marketing to challenge a hypothesis, set up a control measure and manage a test correctly to get clear results.

Using the right tools and leveraging excellent agency expertise from Merkle and QueryClick, we were able to show quick and unequivocal results saving us more than £1m.

We are mostly excited about reinvesting the money saved back into marketing and bring even more great deals to our customers. Thank you Merkle and QueryClick!"

Peter Louca, Performance Marketing Manager
Tesco Mobile
Summary
This was a hugely successful project that required close collaboration between several organisations that ultimately drove impressive results for our client.
The key results were:
£1,100,000 paid media budget saved from switching off brand exact PPC ads.
This allowed extra budget to be spent on other paid media activity.
A stronger relationship between Tesco Mobile's paid and organic search agencies.
A desire to collaborate further and find more SEM efficiencies between organic and paid search to scale these experiments beyond brand exact testing.
If you would like find out how our SEO and PPC teams can help drive results for your business, contact us today. Don't forget to check out our attribution software too, which can identify areas of underperformance and allow you to improve ROI by re-allocating wasted spend on more effective activity.
Own your marketing data & simplify your tech stack.