Performance Marketing
•
7 min read
How Gen Z and Millennials Impacted Retail During COVID-19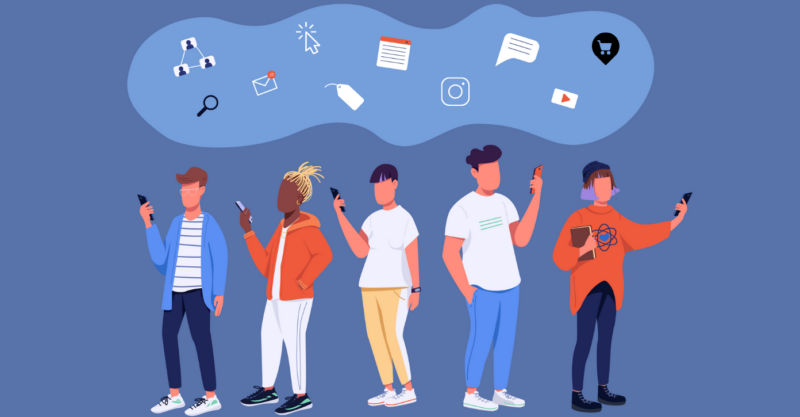 One thing that was clear to us during the past 18 months as we have worked with retail clients – many of whom were having to reinvent their business models almost overnight – was that we were seeing fairly fundamental structural changes that would change the landscape for retail marketers going forward.
On the back of this, we were keen to identify some of the key themes and trends that were shaping this new retail landscape which was the genesis of the idea for our Performance Marketing Trends in Online Retail survey.
Here, we look at a snapshot of the findings. And, particularly, how the mix and volume of business changed for retailers during this highly disruptive period.
Retail business from Gen Z and Millennials fell during the pandemic
A decline in younger customers – most strikingly Gen Z with 54% of our survey respondents indicating a decline in revenues from this segment – is a result to strike fear into the hearts of retail brand marketers.
As they know, only too well, the high cost of direct acquisition where their brand is perceived as just one of many options and not part of the consumer's own perception of quality.
But this was one of the headline stats that jumped out of the data for us – followed relatively closely by 45% reporting a reduction in revenues from Millennials too.
These are marked figures – and much steeper than reductions in spend of 27% (Gen Z) and 35% (Millennials) that were uncovered in similar research by emarketer on the impact of the pandemic on spend across segments.
However, there are also indications that spend is bouncing back with suggestions that both Gen Z and Millennials are now spending at 125% of their pre-COVID-19 levels.
Download a copy of the full Performance Marketing Trends in Online Retail survey report which includes:
"State of play" assessment of retail marketing
Post pandemic trends that are influencing strategy
Trends in SEO and social for retailers
Impact of the death of the 3rd party cookie and iOS 14
Evidence of significant revenue increases for most retailers
A really significant 59% of respondents have indicated that they have seen an increase in first time customers since 2020. A figure that jumps up to 81% when you specifically ask CMOs.
53% also indicate that they are exploring more channels as a direct result and a further 36% saying that they are seeing an increase in repeat customers.
It is clear that exploring new channels – which included video, paid social, TikTok and programmatic for our survey respondents – has paid off with improvement in new customer acquisition.
This also potentially reflects the wider trend of openness to new brands the pandemic has created in all demographics.
A great example of creative thinking around this from another sector was in the Chinese travel industry back in 2020. With hotel and flight bookings falling off a cliff due to people's inability to travel the industry refocused its entire efforts.
Firstly, it focused on Millennial and Gen Z customers since the pandemic had less health impact on them – using emerging social platforms and livestream and short video to engage the demographic.
Secondly, the entire industry refocused itself around the needs of "staycationers" – using livestreams on WeChat – as no one was able to travel.
As a result of this focus, despite a reduction in international travel of 70% in the early stages of the global pandemic, Shenzhen & Zhengzhou hotel occupancy rates went from 25% to 60% in just 6 weeks, driven by this hyperlocal targeting strategy through social channels in particular.
Retailers need to re-evaluate the way channels work in a changing world
The travel sector example in the section above could well have resonance for retailers in changing market.
For retailers who have previously relied on older demographics for footfall and in-store purchases, a re-evaluation may be necessary in terms of how the physical store can complement, rather than compete with, online. For example, providing a destination to 'experience' and be entertained.
The pandemic is not the only reason people are choosing to shop online. While the pandemic has been a significant driver in these cross generational changes in shopping behaviour, it is far from the only one.
For example, in the beauty sector, COVID-19 is only the fifth most important reason 18- to 34-year-olds are choosing to shop more online. In older segments, it is one of a number of key drivers.
This is a key learning about the potential of digital that needs to be a key part of future planning for brands looking to maintain new customer acquisition. As we move into the 'new normal' and post-pandemic behaviours in many markets.
The graph below shows – for those that have seen a decline in business – how it has specifically hit home.
And it is in new customer acquisition that retailers are being hit hardest with 59% highlighting this as an issue – closely followed by 51% saying that they are exploring less channels as a result.
Much of the data highlighted here comes from our Performance Marketing Trends in Online Retail survey. Don't forget to download your full copy here.
If you also want to explore any of the themes or topics raised in the survey then we would love to hear from you!
Why not schedule time with one of our experts to discuss things in more detail?
Own your marketing data & simplify your tech stack.