•
3 min read
Performance Marketing Agency QueryClick in Top 3% of UK Agencies After Being Awarded 2022 Google Premier Partner Status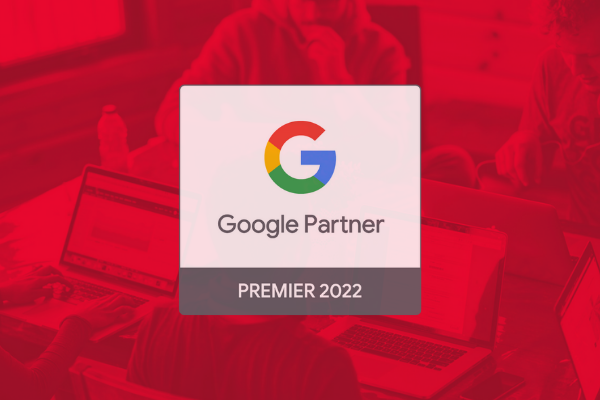 Award-winning performance marketing agency, QueryClick, has been awarded Google Premier Partner Status for 2022 – securing a place in the top 3% of digital agencies in the UK.
Edinburgh & London, 18th February 2022:
Based on client growth, ad spend and specialisation, Google only grant Premier Partner Status to the top 3% of agencies within a country – and despite a turbulent year for a lot of businesses, QueryClick have held onto the title for the fifth year running.
Working with some of the biggest UK retail businesses – such as Sally and Tiso – QueryClick's Paid Media team has produced amazing results which helped in securing this top-tier status, such as optimising over £2.4m media spend on Paid Search and generating client revenues of +£7.3m at an average ROAS of 3.1x.
QueryClick was required to meet stringent criteria to qualify for partner status including:
achieving and maintaining certifications from Google Ad Academy.
achieving a minimum threshold across all client accounts.
meeting a minimum threshold of 70% optimisation on their ad accounts.
When asked what achieving this status meant for QueryClick, Head of Paid Media, Malcolm Gibb shared:
"I am extremely proud of the team at QueryClick that we have secured Google Premier Partner Status for 2022, and it goes to show the depth of experience and dedication our team has in driving paid search performance for our client partners.

It's brilliant that we are able to receive additional support and insight from Google that supports our performance; however we don't hang our hats on a badge.

Our results speak for themselves and although it has been a tough economic climate for retailers during the pandemic, our paid search team has helped support significant performance improvements across our client base with some fantastic results!"
Find out more about QueryClick's Paid Media services or book a meeting to discuss how a Google Premier Partner can help with your Google Ads.
Own your marketing data & simplify your tech stack.