QueryClick
•
11 min read
The Snack Olympics
What are the Snack Olympics?
I'll start with a confession. I have been thinking about doing this for months.
The premise of the Snack Olympics was simple; to undertake a comparative study of supermarket snacks to determine which is best. Naturally different people have different preferences, so my hope was that this exercise would form the springboard for further discussion.
Undertaking this taste test was a chance for us to get together as an office and get to know each other outside of work chats. The Snack Olympics was also the perfect way to apply marketing principles to something entirely different. Making this a data driven exercise was a simple way to ensure that everyone had their opinion heard and that the findings could be shared.
What did I hope to prove?
I wanted to prove that not all supermarket snacks are created equally. Along with that, I wanted to conduct some analysis that would inform our future office snack buying choices, thereby ensuring that each person had snacks they would enjoy.
Power to the people!
Is that all that you hoped to prove?
There was also a deeper motive at play. I wanted to learn more about the role that the brand plays in our preferences and ultimately our purchasing decision.
Some things I expected to see included:
The perception of brand in relation to the quality of a product
Different people looking for different characteristics in their snack choices
The importance of snack flavour over snack texture
The importance of snack appearance as an indicator of quality
I also expected to see a natural bias towards M&S products. I expected participants to assume the snack they liked the best was from M&S.
How did I decide the snacks?
I made a shopping list based on some firm favourites from my evening snacking. Onion Rings are my go-to but I wanted to take this exercise a little further and make the study more comprehensive.
Going in, I was mindful that snack availability could be a deciding factor in what I brought back to the office. The size of the supermarket was sure to have an impact on the choice of snacks on offer.
Where did I go to get the snacks?
I mapped a route from our shiny new office at Fora Spitalfields and went walking with several large bags.
My hope in setting out on foot was to offset some of the many calories I'd be consuming later.
My route took me to 4 supermarkets and covered 1.8 miles. Needless to say on a 25 degree day, I got very hot.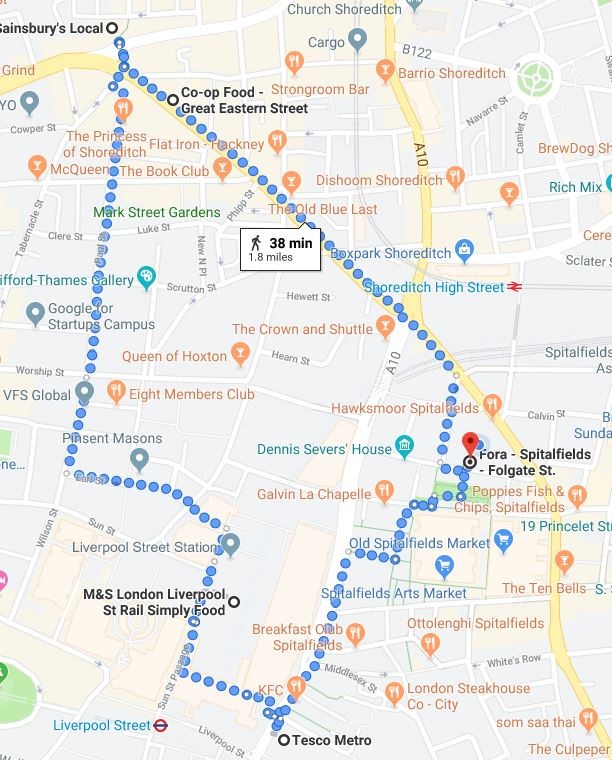 How was your overall shopping experience?
Overall, Shoreditch supermarkets are busy and stressful! I am very glad that I didn't set out at lunchtime.
Co-op – 4/5 – 1 item wasn't scanned at the checkout, causing me to go back and pay again, but the shop was well laid out and clean.
Sainsbury's – 3/5 – My path to the till was blocked by a big backpack and several snacks on the list were missing.
M&S – 4/5 – Despite some trouble with the automatic door this shop was by far the best laid out. This was the priciest shop.
Tesco – 3/5 – The busiest shop by far and the hardest to find some of the snacks. Gluten Free snacks were hidden at the back of the store and the tills were very busy.
Onion Rings
For the purposes of explaining our method, I will talk about Onion Rings as every supermarket that I visited stocked them. There were large variations in the size of the bags and the amount of snacks contained within. Tesco had by far the heaviest bag and M&S the lightest.
The cost of the onions rings varied slightly but tended to be around £1.10, with prices cheaper online.
Please see below for links to the products online. I couldn't find onion rings on the M&S or the Co-op website.
M&S
Co-Op
Now you must be wondering, what makes a good onion ring?
As a committed onion ring eater I can tell you. I look for balance between the depth of flavour, crunch and a tasteful amount of grease. I want some residue to be left on my fingers, but not so much that I have to go and scrub my hands. I have included greasiness as a metric in this case because greasiness could be perceived both positively and negatively.
Onto the blind tasting
Before we get to the flavour rating we first had to decide which supermarket each of the onion rings came from. To do this I set up a Google Form and made the fields compulsory.
As the adjudicator I laid out four bowls with the respective onion rings and labelled them 1-4.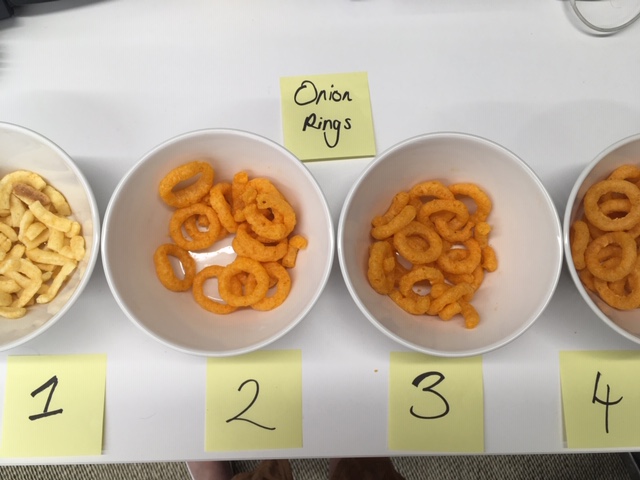 Next, with phones or laptops each of our 11 participants navigated the office and started to sample onion rings!
Throughout the whole exercise we had a very confused dog wandering about the office.
Blind tasting results
The Google Form collected the results from the blind tasting and this is what they looked like:
Blind tasting results
| | | | |
| --- | --- | --- | --- |
| Snack | Shop | Correct Answers | % Correct Answers |
| Onion Ring 1 | M&S | 10 | 90.91% |
| Onion Ring 2 | Tesco | 5 | 45.45% |
| Onion Ring 3 | Sainsbury's | 5 | 45.45% |
| Onion Ring 4 | Co-op | 6 | 54.55% |
| – | – | – | Avg. 59.09% |
Key takeaway
Perception played a large part here. The snack that looked the most like an onion was seen as the highest quality snack, as such people determined that this came from M&S.
The M&S snack was also by far the palest of the snacks.
Now onto the flavour ratings
Next we had to decide which onion ring was the best tasting. To do this I created different flavour metrics for each snack. For onion rings we rated:
-Taste – does the snack taste like onion?
-Texture – does the onion ring have a good crunch?
-Greasiness – does the onion ring leave you feeling greasy? (This could be both a positive or a negative)
Snacks were rated from 1-5 with 5 being the best and 1 the worst
M&S Onion Ring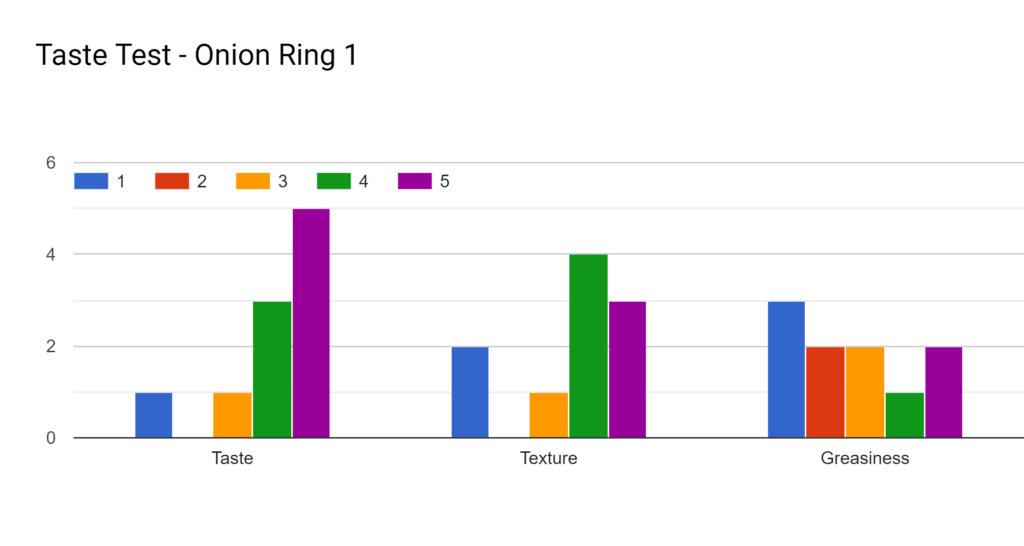 Key takeaway – The M&S onion ring scored highly for taste and texture and had a low rating for greasiness.
Tesco Onion Ring
Key takeaway – The Tesco onion ring performed well for taste and texture but was a greasy snack.
Sainsbury's Onion Ring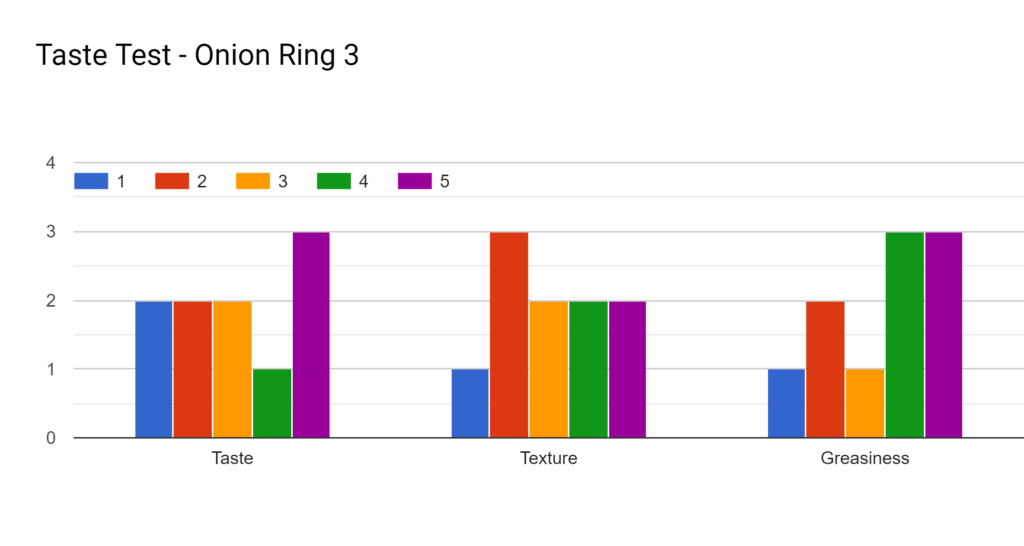 Key takeaway – The Sainsbury's onion ring performed consistently across the metrics.
Co-Op Onion Ring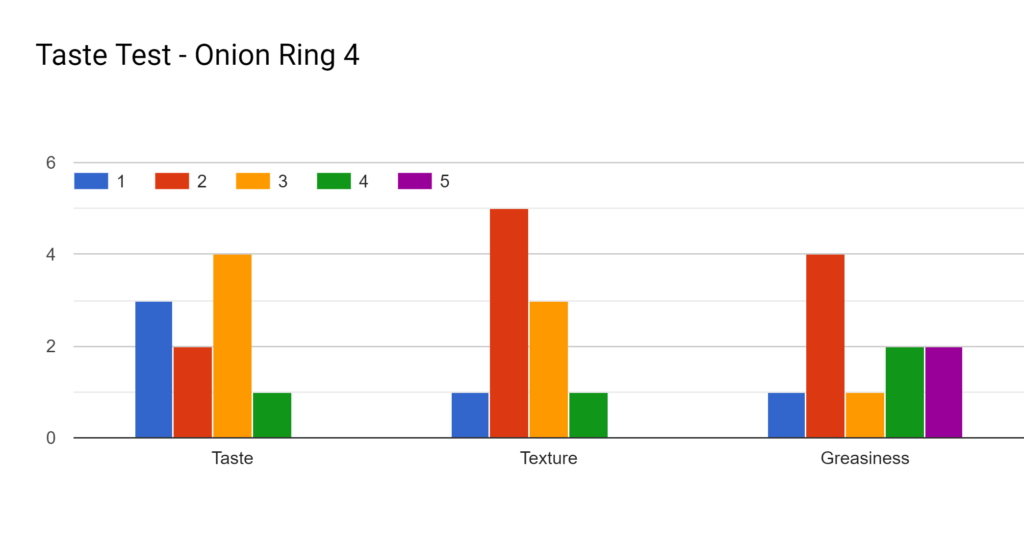 Key takeaway – The Co-op onion ring did not perform well for texture and had a high grease score.
Who is the king of the onion ring?
The clear winner of the onion ring round was the M&S onion ring which had good flavour, low grease and was the most realistic of the snacks.
This was also the smallest bag of snacks and came in at the same price as the largest so the question of quantity vs quality naturally arises.
Did you score any other snacks?
Onion rings were not the only snack we scored, we repeated the same analysis for:
Cheese Puffs
Corn Chips
Bacon Frazzles
Potato Snacks
Salt & Vinegar Sticks
Gluten Free Treats
Prosecco
That must be a lot of data, right?
Yes there is.
Please see below for a summary of our blind tasting averages.
| | |
| --- | --- |
| Snack | % Correct Answers |
| Onion Rings | 59.09% |
| Cheese Puffs | 20.45% |
| Corn Chips | 27.27% |
| Bacon Frazzles | 33.33% |
| Potato Snacks | 18.18% |
| Salt & Vinegar Sticks | 27.27% |
| Gluten Free Treats | 23.72% |
| Prosecco | 27.27% |
Conclusions
From conducting the inaugural Snack Olympics I found that brand perception plays a large part in people's preferences. There is a clear perception of quality around M&S products but Co-op brought up some surprises, particularly in the Gluten Free round.
Far more significant than the snack results was to prove just how easy it is to bring the office together and use marketing principles in a lighthearted way.
Full findings & useful links
There was too much data for one humble blog post so for a full breakdown of our findings click here.
Don't just take our word for it! Why not create your own Snack Olympics? For a scoring sheet, please click here.
When you've conducted your own analysis, why not share the results with us?
For sharing results email – [email protected]
Own your marketing data & simplify your tech stack.