Event
•
11 min read
Performance vs Brand: Where Should You Focus Your Spend Right Now?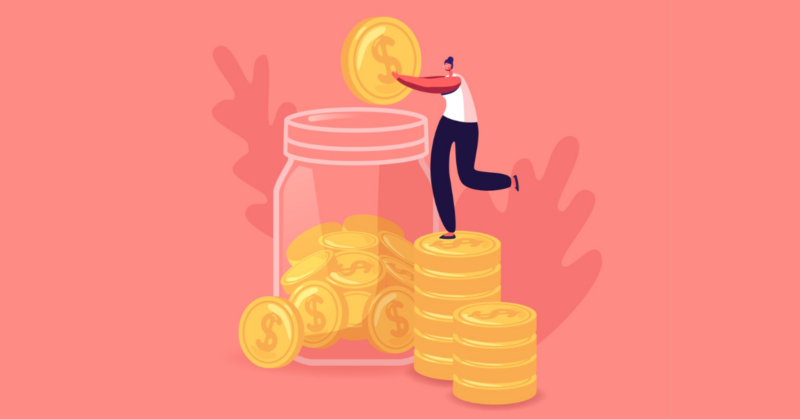 Performance and brand marketing are often understood as two distinct disciplines that focus upon short-term ROI and long-term gains respectively.
However, advances in digital marketing mean that the lines are increasingly becoming blurred between the two. And there is also more pressure than ever to justify budget spend on both sides of the fence.
Our CEO Chris Liversidge recently joined a panel discussion entitled 'Performance Versus Brand, or Performance and Brand?' at Performance Marketing UK to explore the topics above.
The full panel included:
The early stages of the discussion were around some of the differences and challenges around Performance and Brand Marketing – and how advances in measurement are increasingly driving them together (more on this on our blog here).
However, the discussion then turned to consider how you might focus you budget between the two areas when integrated measurement is increasingly difficult.
Here's what our panelists had to say on the topic.
Recent events have impacted spend allocation, particularly on brand
Robin opened up this section of the discussion by asking how much the recent highly volatile environment has impacted spend – as we lurch from the impacts of the pandemic into a new cost of living crisis.
Rumyana stressed that, at these uncertain times, brand loyalty and delivering more value for customers should be front of mind because investing in both performance marketing and brand together gives you the best results.
That means continuing to invest where you can create presence and stay top of mind in what is a highly competitive landscape.
She also highlighted instances where in some sectors, and the travel sector is a case in point, COVID had forced businesses to take rapid decisions to enable cost savings. This has included reductions in brand spend to create short term budget reductions. So, the current situation and views on short vs long-term returns can play a big role in how budgets are being flexed around. However, ideally brands should still be thinking about the future and properly estimating the impact if you do have to turn off some of your brand activity short term.
Manfredi picked up on the fact that in their case – and a bit like growth companies in the tech space who are dependent on fundraising – they aim to slightly increase their run rate and not be in a position where they run out of cash. This can create a situation where there is less appetite to create long term investment in terms of brand equity.
Although, because the cost of media might be lowering in certain channels – providing cost-effective opportunities on YouTube or even Facebook – it might be possible to spend brand budget in those channels.
Improvements in measurement capability can help justify brand investment
So, how are improvements in measurement helping brand spend allocation?
Innovation in digital channels is helping brand measurement
Manfredi went on to point out that digital saturation is very high and so is consumption of digital channels like YouTube, Twitter and TikTok.
The benefit of these type of channels is that they can potentially give you a lot of data back. It might not be conversion data, but it's consumption data with timestamps, accuracy, and locations which can really enrich your modelling in a way that econometric modelling can't.
In a world, with 5 million competitors, where we have seasonality, the advent of digital TV and constantly shifting internet channels econometrics simply can't keep up.
Go back 20 years and say you're John Lewis or Waitrose and you're competing against Sainsbury's and Tesco, then your econometric modelling might have given you something. But not today.
So, using digital data coming from your channels, it is possible to now test advertising to make more accurate decisions between brand and acquisition and make leaps of faith on what your data tells you.
Manfredi thinks that, ultimately, it might not be the companies with the most sophisticated data or absolute right answer that are successful in their marketing. But the ones who are comfortable dealing with uncertainty and probabilistic information.
Brand and TOF activity is cheap if you can prove it works
Chris then added that it was undeniable that brand activity fills the top of the funnel.
And when you have accuracy and measurement – and at least buy in from the business to spend in the top of funnel – that is actually where you will get the cheapest customer acquisition. Chris then highlighted a client case study on paid search which showed that top of funnel is actually 87.5% cheaper on a CPA basis.
This means making the case for re-allocating spend from very high auction frequency areas of performance marketing spend – like paid search on some generic search terms which are expensive – becomes easy. And moving spend out of programmatic into brand is one of the biggest opportunities he sees.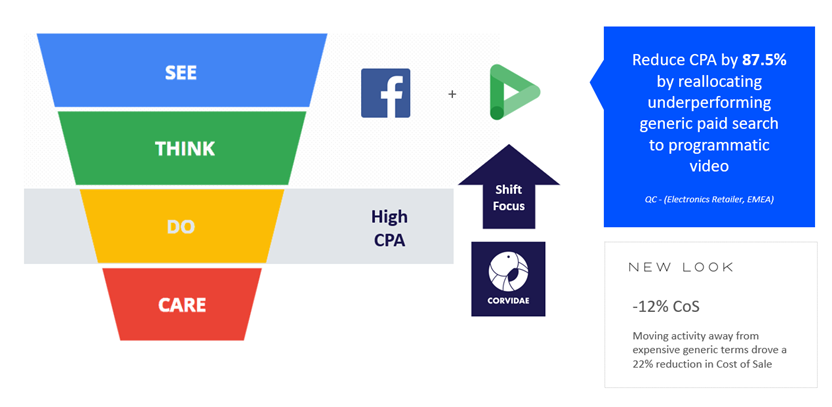 Chris explained that clients increasingly take advantage of 'over the top' or digital TV, where the CPM is about half the price compared to traditional placements. So, immediately you know there's efficiencies there. If you have things like really accurate attribution, you can also cut out a lot of the cost associated with programmatic activities.
The final area that Chris sees significant opportunity in is accurate investment in brand activity.
The key pre-requisite here is that you need metrics and analytics for brand that are similar to performance marketing metrics and measurement. And once you have those metrics you can then take, for example, spend from performance marketing campaigns that are going to be difficult to optimise and deliver a brand message through the channel that is also measurable.
Like the example below for a UK retailer where QueryClick was able to increase ROAS by 14X by re-allocating inefficient spend.
AI enables you to allocate spend across the funnel accurately
Chris also picked up on the more traditional notion that performance marketing is siloed into the BAU space – and everything else, and all the fun stuff is bracketed into brand.
Chris explained that in a lot of ways this type of categorisation wasn't relevant for a cookieless world. He added that what QueryClick had done with their own attribution platform was to pioneer AI resolution and measurement. Effectively taking a very, very broken measurement system and make it effective.
So, a lot of the old conversations that it felt like could never be solved are solvable – for example, intelligent measurement takes into account the entirety of the funnel, not just measurement on a last click basis.
What that means is that you are able to deliver genuine measurement across the funnel with accuracy and bring a stronger case to your board for investment.
Accurately comparing brand vs performance marketing on a like for like basis – which makes creating the case for investing more in content creation that supports your brand messaging easier. And the data you are able to generate from this AI-driven approach means you can deliver proper optimisation even down to an individual ad level or creative level. For either brand or performance activity which are being assessed on a level playing field.
The big benefit? This allows you to move forward and start optimising without this tension between brand and performance.
Rumyana went on to say she also feels brands can be more sophisticated about the way they share resources like creative assets which are being used by both brand and performance teams including sharing data on how they are performing against their planned objectives.
So, the lines between performance marketing and brand are definitely becoming less clear. With AI-driven attribution opening up the possibility of being able to compare both on a like-for-like basis for the first time.
If you would like to explore the topic in more detail then, why not download a copy of our eBook – Is Cookie-free Attribution a Myth? – below.
Is Cookie-Free Attribution a Myth?
Own your marketing data & simplify your tech stack.