•
8 min read
Identifying Gaps & Opportunities As Part Of Your Content Strategy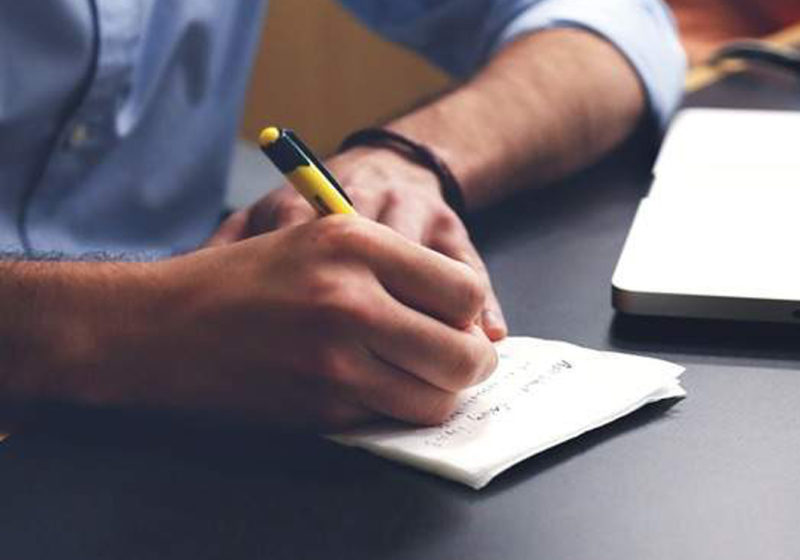 Part of my role here at QueryClick is to identify content gaps and opportunities across our clients' sites. So what does that mean, exactly? Well, clients very often come to us because they are under-performing online. Our job is to figure out why.
Of course, there may be any number of reasons why a site isn't performing well in organic search; it could have mass duplication issues, a spammy backlink profile, or a sprawl of thin, low-value pages. Whilst the technical and link-building teams get to work on their side of things, we in the copy team like to sink our teeth into the content; developing a plan to fill any gaps and tap into any missed opportunities.
There are various methods we use to do this:
A Site-Wide Content Audit
More often than not, the best place to start is with a content audit of the site, recording all of the content details in a spreadsheet, along with any issues and actions. In doing so, you should start to see common patterns emerge; whether that be a lack of content on category pages, duplicate content on product pages, or poor keyword targeting across the site. These issues are then prioritised and should, in turn, guide the direction of the overall content strategy.
Competitor Content Analysis
One of the quickest (and easiest) ways to identify gaps and opportunities is to discover what your competitors are doing that you aren't. This very often helps to breed new ideas and also gives the content team a much better idea of the content landscape within which the client is operating, i.e. the types of content that competitors are using and what is working well and/or not so well for them.
Keyword Research
Next up comes the keyword research. This stage of the SEO campaign is one of the most important as we compile all relevant industry keyphrases that our client should be ranking for and break these down into exhaustive sets. The next stage is to match these keyphrase sets with content on the site, and to pinpoint any gaps that are not being covered in the content.
Monthly Content Gap Reports
At QueryClick, we also run monthly reports to help us identify content gaps and opportunities. One such report helps us to identify individual pages with a lower than expected click-through rate. Refreshing the page title and meta description of these pages very often helps to improve the click-through rate of these pages.
Another report looks more closely at keyphrase gaps, taking a broader look at the marketplace as a whole to identify which areas, or more specifically, keyphrases, our competitors are out-performing us on. The next step is then to do something about it, i.e. create more content targeting that keyphrase.
Now that we know the methods used to find gaps, let's now look at the types of gaps that we are trying to find.
Example Of A Content Gap Specific To Fashion
Let's say we have been tasked with finding some gaps and opportunities around the keyphrase 'women's dresses'.
If we search for this competitive keyphrase in Google, this is what we are presented with on the SERPs: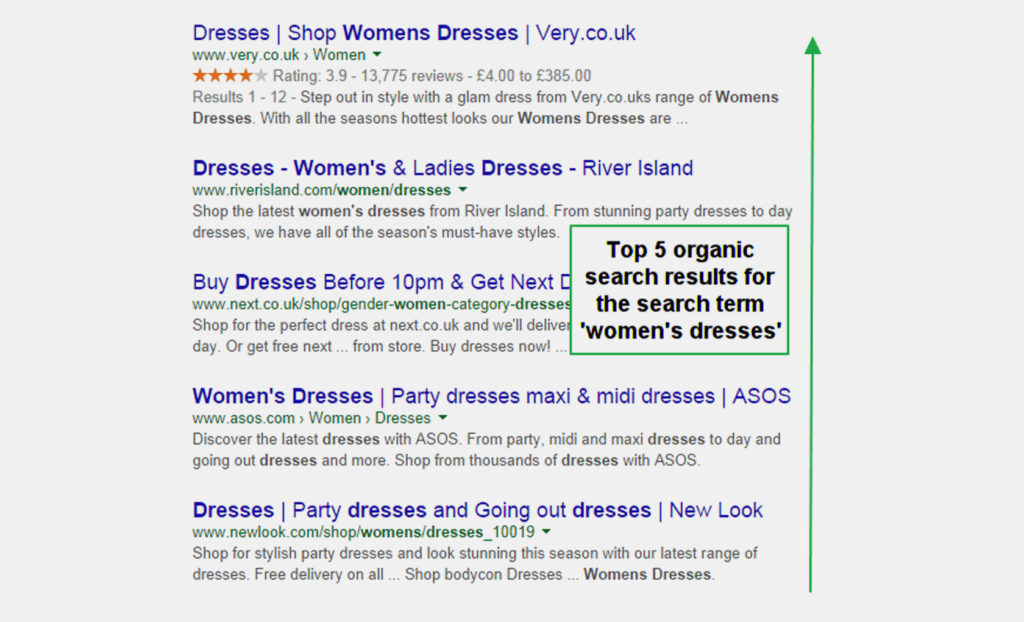 Interestingly, [Very])https://www.very.co.uk/ are in position one of organic results for this search query and are the only brand using rich snippetshere, helping to set them apart from their competitors. ASOS, who are normally not too far off the top spot for fashion-related terms, are in position four, whilst some well-known British high street brands, River Island, Nextand New Lookare currently holding the other top positions.
However, if we dig a little further into our keyword research around 'women's dresses' we see a strong trend towards 'wedding guest dresses' and 'dresses for weddings'. So, what happens when we search for the longer-tail, less-competitive search term 'women's wedding guest dresses'?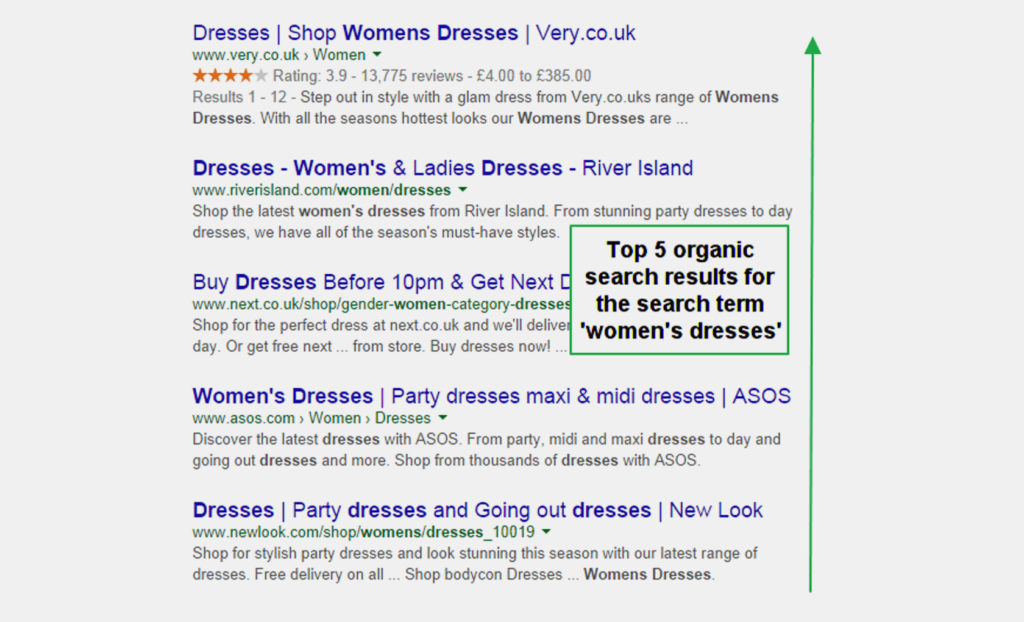 This time, we see ASOS shoot up into position one and four new brands enter the top results. Interestingly, apart from ASOS, none of the other high street brands (River Island, Next, New Look) that appeared high in the search results for 'women's dresses' even appear on the first page for this search query. And it's not because they don't have dresses that would fit this search query; it is due to the fact that they are not actively targeting this keyphrase on their sites, i.e. it is a content gap, and an important one at that.
The search query 'wedding guest dresses' has a huge average monthly search volume of 40,500 in the UK, with searches peaking around summer time. What's more, it's a rising trend, with dresses now seemingly being one of the most popular outfits for women to wear to a wedding.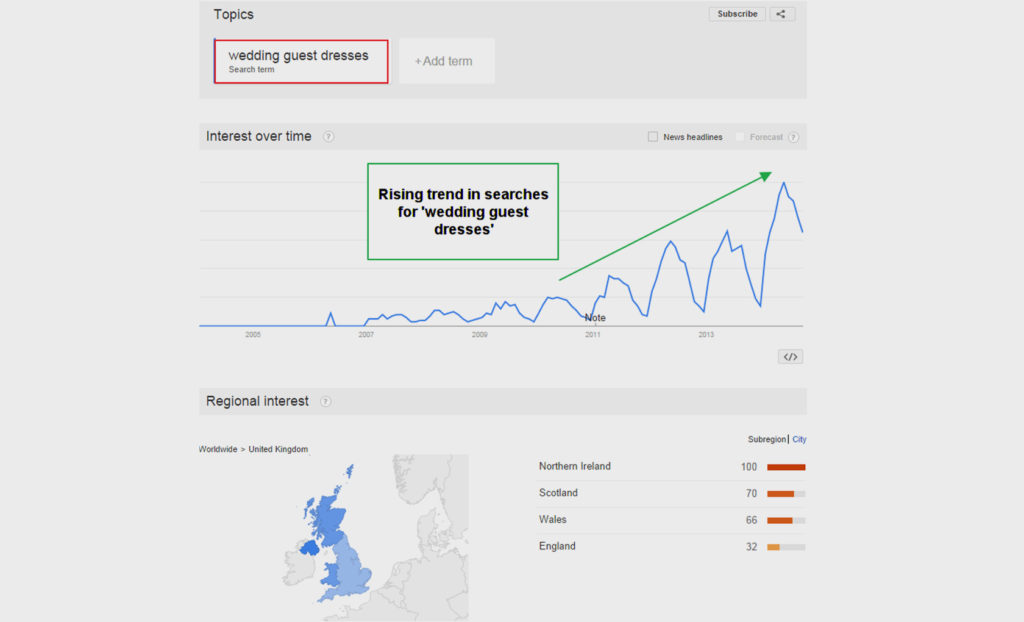 Thanks to ASOS having a dedicated landing page with an optimised page title, meta description, h1 heading and body copy, all targeting "wedding guest dresses" or variations thereof, they are likely to be scooping up the lion's share of this search traffic, leaving many high street brands trailing in its wake: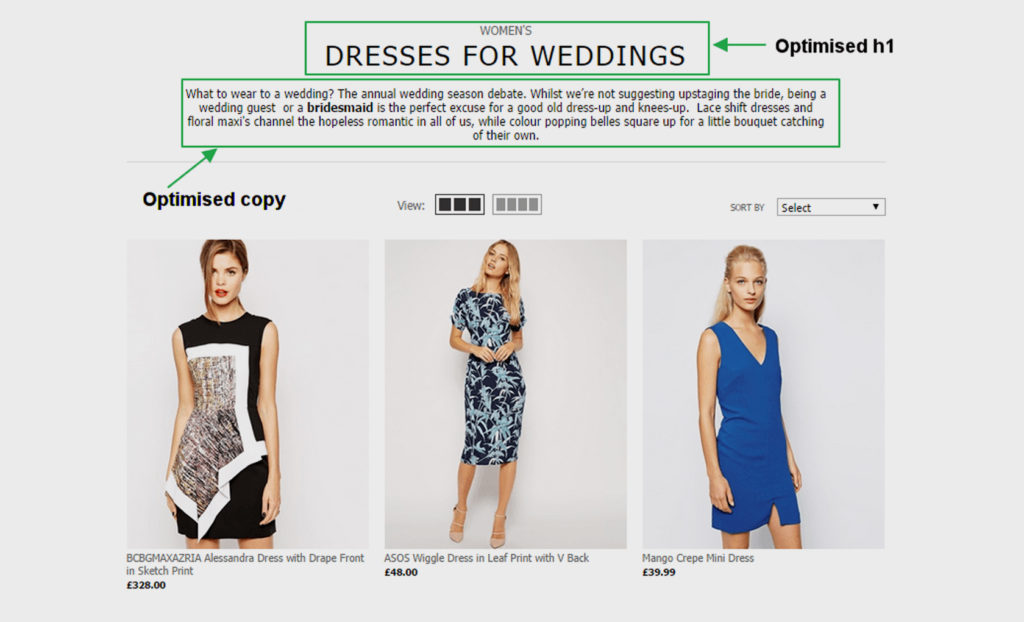 So what would our recommendation be for those high street stores who are doing well on the generic, but not so well on the longer-tail keyphrases? Dig through your keyword research and pick out these opportunity terms that you are not currently targeting in your content. In this case, simply creating a dedicated landing page around 'wedding guest dresses' and optimising that page for search would go a long way to helping them tap into this high volume of search traffic.
Although this example is specific to fashion brands, content teams across all industries should be applying this type of gap analysis to all of the work that they do. Running monthly reports using ranking tools like SearchLens will help to pull out any areas in which you are under-performing and will also help to ensure that you stay on top of constantly evolving search behaviour. What's more, using these methods to guide your content creation will ensure that you plug any gaps whilst also creating content that users want and are actively searching for.
Own your marketing data & simplify your tech stack.