•
4 min read
Google PPC announcements 2016
The Google Summit aired last night, and our PPC, Analytics and CRO experts were watching it live. In this post, we'll round up the latest PPC and AdWords news from the announcement.

The Facts
Google started the summit with some pretty impressive facts, and the running theme throughout the presentation was mobile. We're not waiting for the move to mobile -it has already happened.
Over half of the trillion searches that happened on Google last year are from mobile devices, and smartphones have opened the door to micro-moments: those I-want-to-know, I-want-to-go, I-want-to-do, and I-want-to-buy instants are big news for marketers. And with that, location-related mobile searches are growing 50% faster than searches on mobile, providing a valuable link between the online and offline.
So, how does this relate to some of the new features?

Device Type Bid Adjustments
Hallelujah! This announcement will not only enable advertisers to optimise campaigns, but shows that AdWords listens to what we have to say.
Advertisers will be able to set a base bid and then set bid adjustments for one or all device types. What's more, the bid range will be from -100 percent to +900 percent, meaning that campaigns targeting solely mobile and tablet devices, and excluding desktop devices, are possible.
More Characters For Text Search Ads
Google removed text ads from the right side of the search results as a way to make user experience consistent across mobile, tablet and desktop devices. Now they have announcement a complete redesign of how text search ads appear, leaving previous best practices null and void.
The full changes can be seen on the table below:
---
New Local Search
For Google Maps, promoted pins for local businesses will be introduced, and take the form of branded pins along or nearby their location. In order to use this feature, marketers will need to use location extensions, and as this is a brand new feature it's likely that this type of advertisement will evolve over time.
New local pages will offer new features and customisation, with businesses able to include a range of content taken from their local inventory to highlight specific offers and promotions in a nearby store.
AdWords Redesign: First Peek
The new design has all the metrics you need at your fingertips. A complete overhaul, it has been designed from the ground up with a new workflow and measurements. This includes seeing clicks, impressions, etc. visually by day, day and hour, or by hour, as well as seeing the proportion of cost, clicks, conversions and other metrics across your devices.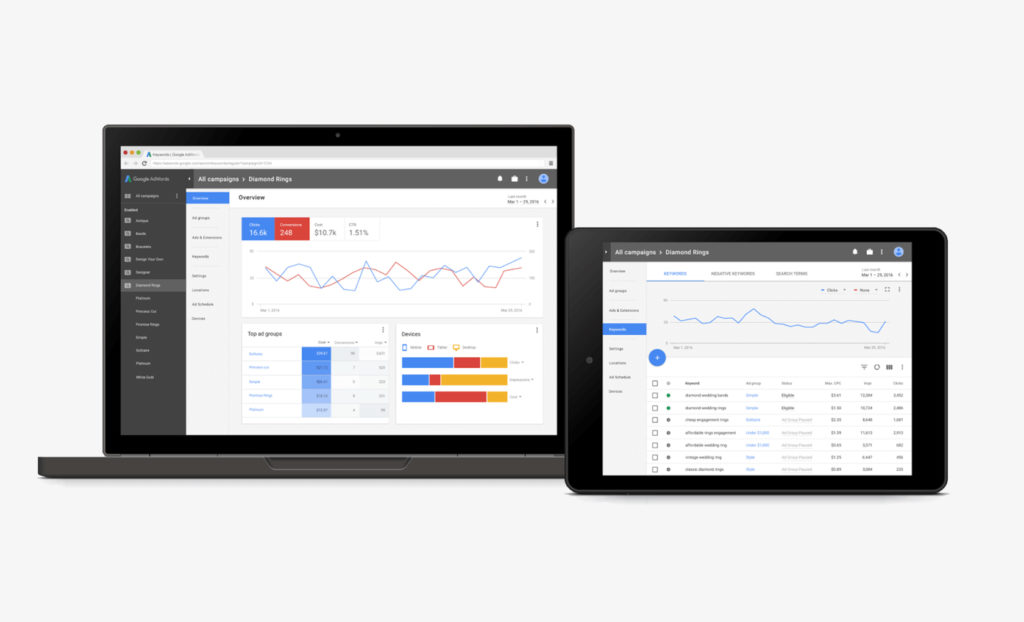 ---
Unfortunately, we'll have to wait until the end of this year, or possibly even the beginning of next year, until this gets rolled out to all advertisers.
All these announcements will be rolled out over the next few months, but it looks to be an exciting time ahead for search engine marketers.
Own your marketing data & simplify your tech stack.