•
7 min read
Is blogging really dead?
You may have heard that blogging is old news, or worse – dead. There has been no shortage of debate around the topic, with countless articles written about how blogging is no longer relevant. But, is it true that blogging is really dead?
In a word, no.
Blogging is – or should be – an integral part of your online marketing strategy. Unlike personal blogs like Tumblr, for instance, your blog has the sole purpose of helping your business grow. But how does it do that?
It Drives Traffic To Your Website
Every time you create a new blog post, it provides an opportunity to drive new streams of traffic to your website through organic search results and inbound links. Blog posts provide the perfect opportunity to target long-tail keyphrases that your customers are searching for, which may be difficult to include on category pages without looking contrived. Posts like this offer fresh opportunities to get another page ranking in the sought-after SERPs and get more visitors to your site.
To do this, you should be writing about what your customers want to read about. It sounds simple, but knowing who your target audience is and what their interests are is crucial for creating a blog that will actually entice customers to your site. This means business blogging isn't just about creating product post after product post – you should mix it up with posts that aren't purely sales-driven.
Take a look at fashion juggernaut Topshop's blog, for example, which has the ideal mix of style and beauty posts alongside music and culture news. They know exactly who their target audience is and write posts that speak to them, like a piece on Beyoncé's new album Lemonade.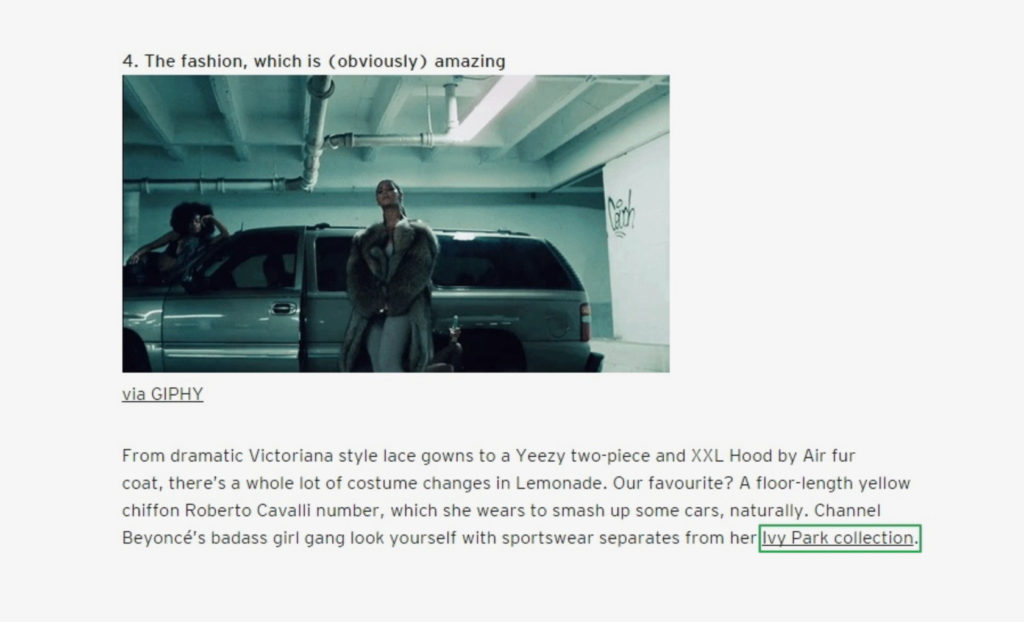 Of course, each post should contain a link back to your website in some way – that's the point of creating them in the first place, after all. However, it's about making these links as natural as possible and not bombarding your customers with products. Topshop's post has discreetly included a link back to their Beyoncé range, which ties in smoothly with the text.
You should also share your blog posts on all your social media platforms – Facebook, Twitter, Google+, Pinterest – to maximise exposure and, you guessed it, drive more traffic to your site! This is one of the best ways to ensure your content is discovered quickly not only by customers, but by Google too.

It Will Increase Your Visibility In SERPs
Optimised blog posts will help to increase your visibility in the SERPs by targeting keyphrases your customers are searching for. This comes back to knowing what your customers want and catering to this, with an end goal of driving them to your website.
Include relevant keywords in the blog post's title and H1 header, break up the text with supportive H2 headers, and be sure to pepper relevant words and phrases naturally throughout your post to emphasise what it is about. Of course, there's a knack to this, and you shouldn't go overboard or Google may well think your page is pure spam. However, regardless of whether you nail this optimisation or not, blogging regularly will naturally increase your visibility for keywords you include – and optimising these will only improve these results further.

It Will Help Establish Your Authority
Creating great, informative content that your customers want to read will help establish your business as an authoritative figure in their eyes. They will look to you to answer any burning questions they may have or for the latest news and gossip in the celebrity world, for instance. Sharing knowledge in your field of expertise will also illustrate your skills to potential customers and clients, helping to build rapport and trust.
Blogs are a great way of building relationships with your customers and strengthening your brand recognition. Your blog should have a voice and speak to your audience in a way they understand, helping them get to know your business better. If your customers like you, they're much more likely to choose you over competitors and remain loyal.
ASOS do a great job of connecting with their audience on social media and through their blog, ASOS Likes. Catering to a young, female-orientated fan base, their content has a good mix of tongue-in-cheek humour, serious topics, fashion news and celebrity gossip. Posts like the one above show how their audience can rely on them for up-to-date news, both industry and worldwide, which gives them a strong authoritative voice, while maintaining their brand image.
So, before you write off blogging as an archaic pastime, consider the benefits a good blog could bring to your business. Whether it's increasing traffic, improving visibility or establishing authority, blogging is a crucial part of online marketing that should not be overlooked.
Own your marketing data & simplify your tech stack.