Attribution
•
14 min read
Is Matomo an Alternative to Google Analytics?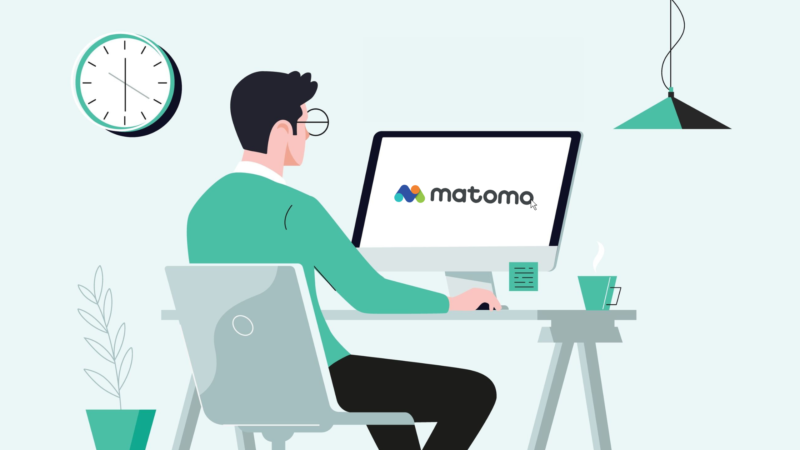 As Google prepares to sunset its Universal Analytics package in favour of GA4 – due in part to concerns around the illegality of its current solutions – it is clear that marketers need to be considering potential alternatives.
But where can marketers turn – and what alternatives should we consider?
In a recent webinar, I took a bit of time out to explore just some of the options available.
One of which was Matomo, a very widely adopted package which is used by over 1 million sites.
It is a fairly robust product with the ability to access increasing amounts of enterprise features and support (which are paid for and can start to mount up quite quickly as you add them into the mix).
It's also hit-based only – so, it's not really trying to do anything clever with cookies – focusing instead on the accuracy of the data that it can provide to you.
So, how does it match up to the requirements that you are likely to have around your analytics package? Both in terms of access to accurate underlying data and also delivering marketing optimisation through effective attribution.
In this blog, I'll take you on a deep dive into Matomo to find out.
Related: What Are The Alternatives to GA4?
Matomo – the deep dive
On first login in Matomo, you are going to get quite a rich feature set as shown below: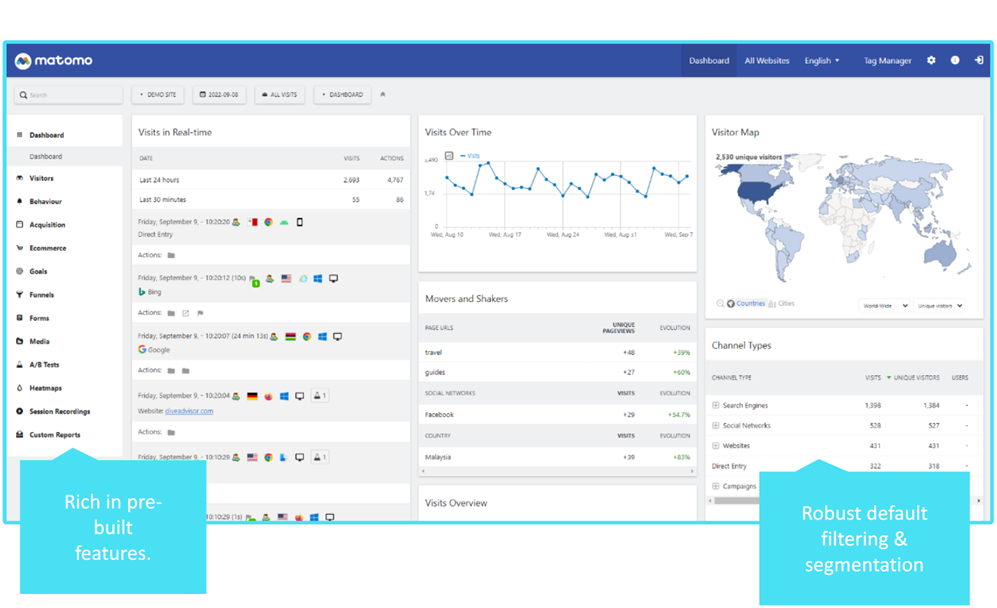 All of the sort of standard analytics segmentation you would expect to see is available to you here.
This includes geographic and channel segmentation for visitors with access to real-time data – because it's able to use event-level processing which modern systems (like our own attribution tool) use as well.
You will also recognise relatively familiar things like the dashboard listings on the left-hand side, the various different types of segmentation and some nice features like ecommerce – which clearly has a special use case for its reporting.
You can configure goals, create funnels and do quite fine-grained event management in forms. However, it's important to note that some of these are 'paid for' features. So, you do have to start paying a relatively large amount of money quite quickly if you want to have access to all of these rich feature sets. But they are there and available to you.
Insight into ad-based activity is limited
On the flip side, because of the use of events – and the use of hit based data including a real tight restriction to that – you really don't get much insight into ad-based activity.
Take the example of the Social Network report which is shown below.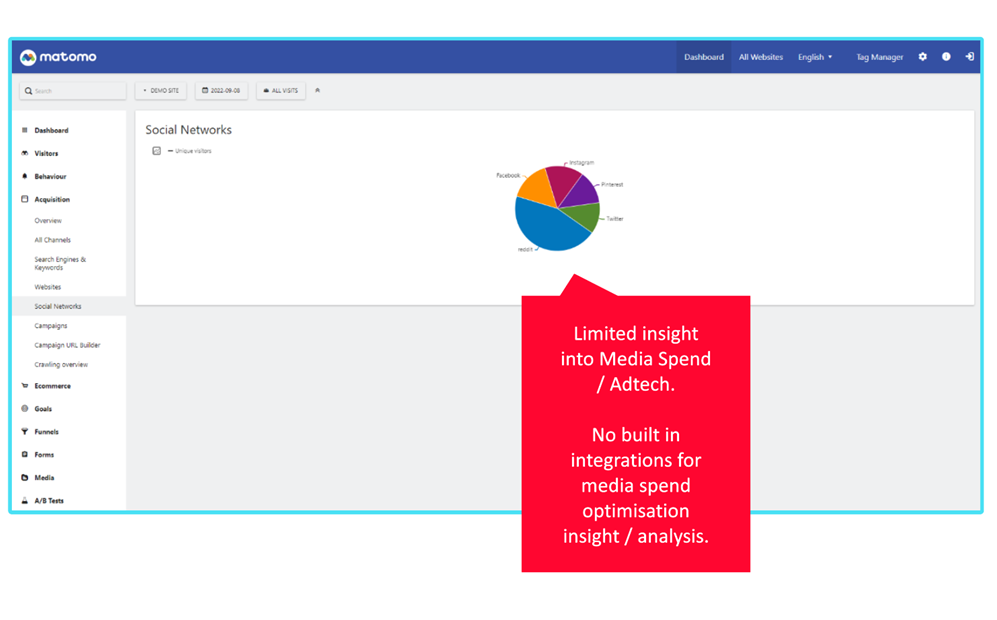 There isn't really much else available beyond this which means you're getting pretty limited insight in terms of what's actually going on there.
For example, there are no connectors pulling in what your spend is, at the very least, or even some impression volumes. And at least what those sites think about contribution to your revenue (even if that may be incorrect because of poor quality attribution).
Campaigns analysis is light
When you do try and drill into the campaigns a little bit more (bear in mind this is from a Matomo demo account which means the volumes are slightly limited), you can see it's quite light in terms of the information it's bringing back.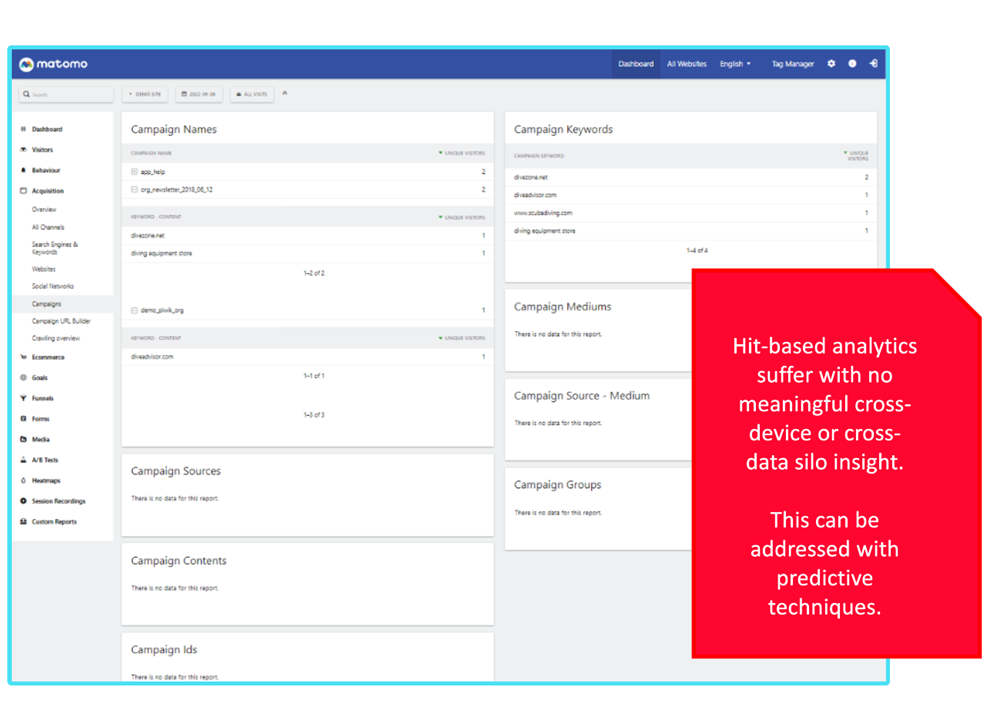 It's really only trying to provide you with the volume of hits – so how many pixel 'fires' that have actually been driven by specific campaigns.
It is possible to assign transaction values to those and drill into that a little bit more through your ecommerce reporting. But you're not getting anything here that allows you to optimise your campaign.
You can connect external search data but not join it to hit-based data
If you look into the Search side of things. For most of us, when you look across Paid Social and Paid Search it is going to be probably 80% of media spend – and if you add in Display you're probably getting up to 98-99%.
You can see here in Search, we are getting data brought in from Google's Search Console API which is useful.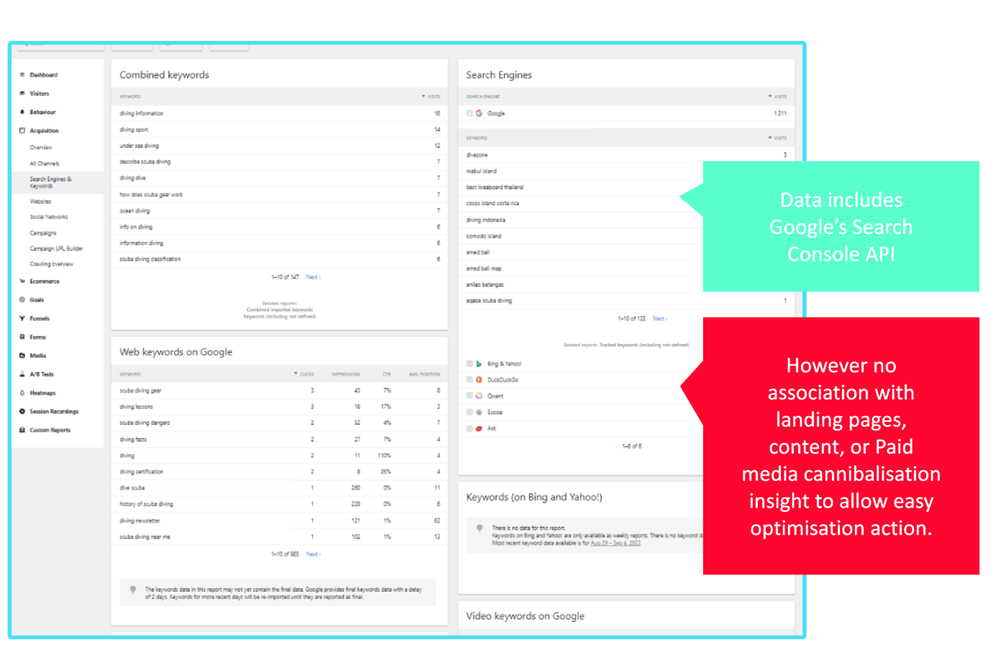 There's also the equivalent for Bing or Microsoft Ads.
But there's no joining of that to the hit-based data that is being collected by Matomo.
Advanced reporting
So, it's slightly siloed in terms of the data that you're being provided back. And there is a pretty similar picture in some of the more advanced reports.
Take the funnel analysis reports, an example of which is shown below. This is when you're looking at where people are dropping off in their conversion paths as they move through the later stages of a conversion.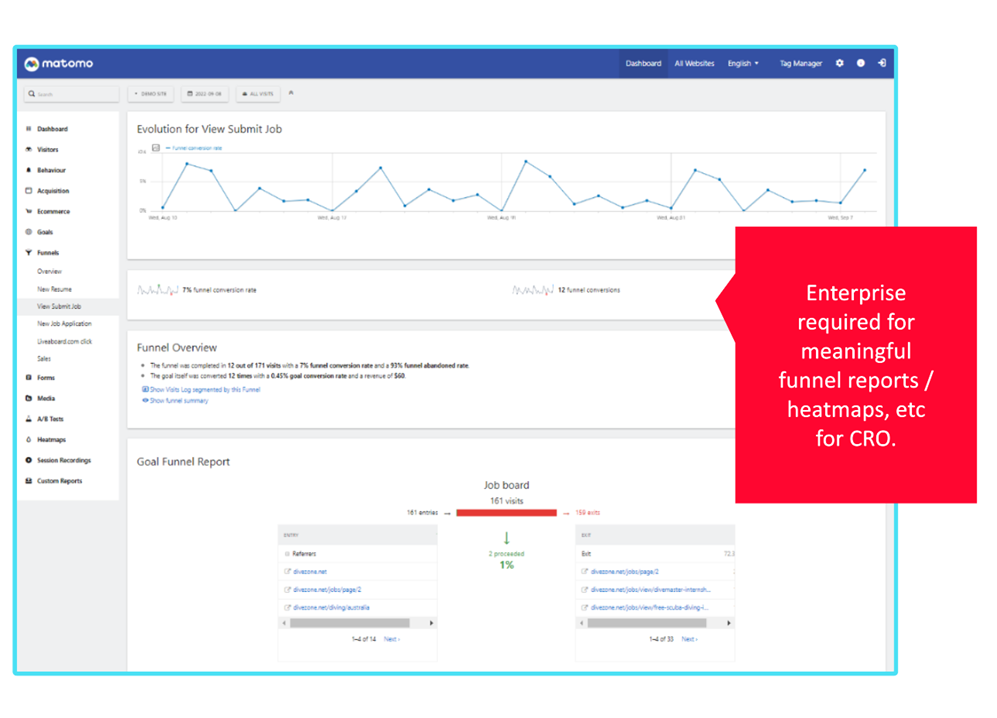 Again, this is really quite limited.
You're essentially just being told:
the volumes that are coming through
the volumes that are exiting
With no rich information about where those hits might have come from previously, what sources that drove them initially and so on.
However, there is rich 'hit-level' data available
The positive side, though, is if you want to have complete confidence in your analytics platform – and that hit-level data – there is rich data available across the board in the Matomo platform.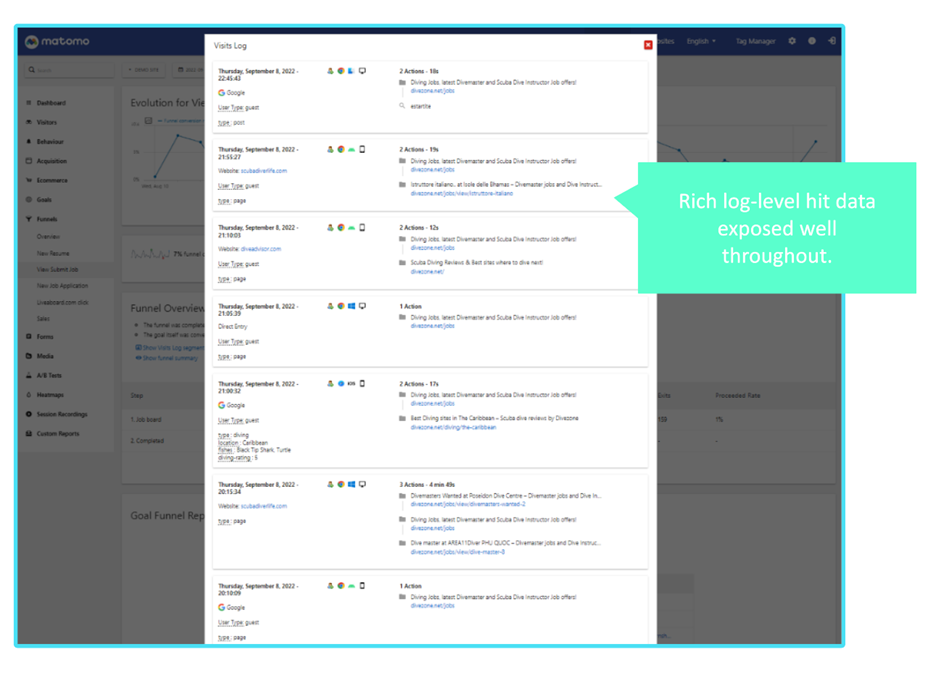 And that's what we think you really should be looking for in any analytics platform, as it gives you a degree of confidence about the validity and accuracy of your data. So, at the very least, you can have hit volumes and be confident that they will stand up to close scrutiny.
Attribution in Matomo – as with all of the analytics platforms we looked at in our webinar – is limited.
Related: Exploring GA4: What are the alternatives? [webinar]
In this instance, it's limited because, with only hit-level data you're getting no real view of a longer conversion path. Other than the single device touchpoint which might only have one or two interactions on it.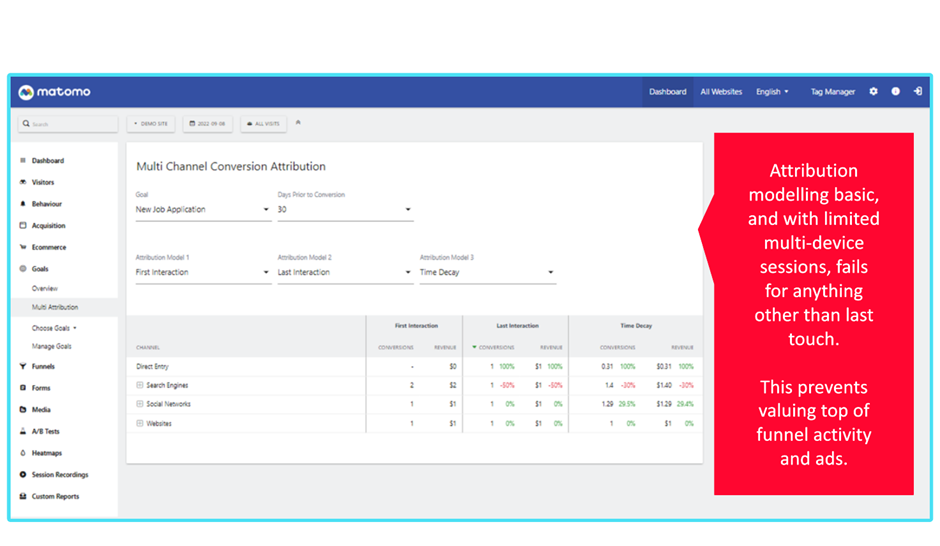 Here at QueryClick, we are pretty familiar with the fact that the average conversion path still has around 12 to 15 touch points. And often you'll have some with 50 or more, so you're not getting any of that richness in the analysis above.
Therefore, whilst there are a few pre-built attribution models available in Matomo, they are pretty ineffective. They don't really tell you anything of use when it comes to optimising your media spends.
Screen recording is built-in
However, there are some rich features that we think are very valuable. For example, screen recording is built-in.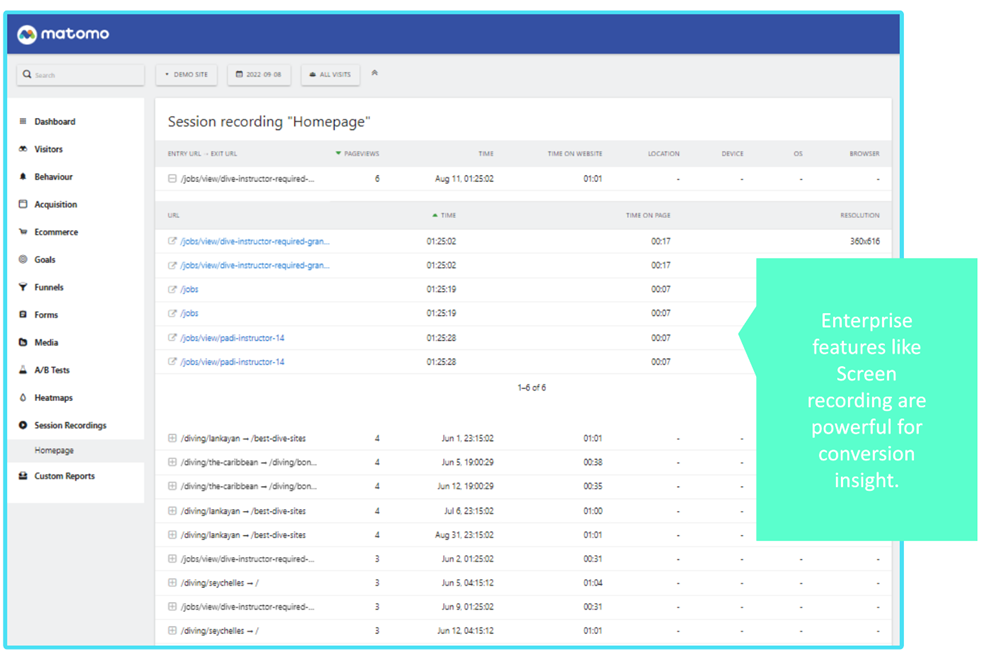 This means when you're looking at doing A/B testing, or you're trying to create some hypothesis for conversion optimisation (some of the classic use cases for analytics), you will be well served by Matomo.
Cookie based measurement isn't going to provide high quality attribution
So where does this analysis leave us?
It is clear that Matomo is a solid analytics package that has some good features to recommend it. Just as other packages do.
But where it isn't going to be effective for you is in the area of marketing optimisation, which is pretty much absent from all of the analytics platforms. And that fundamentally comes down to the issue that cookie-based measurement systems aren't going to provide you with good quality attribution.
And we feel we can talk about that with some confidence, given that that's been an area of focus here at QueryClick for a number of years.
The very simple demo shown below – which is where Corvidae (our own attribution platform) is using AI and not cookies for attribution – can put this in context for us. When you have AI to stitch together multiple hit points, so you are not relying on cookies, you are able to get those longer conversion paths. And you'll find that you do end up with significantly more meaningful differences between what you're being told by your analytics package.
So, in the instance below, it's showing GA attributed data in orange and the Corvidae attributed data in dark blue.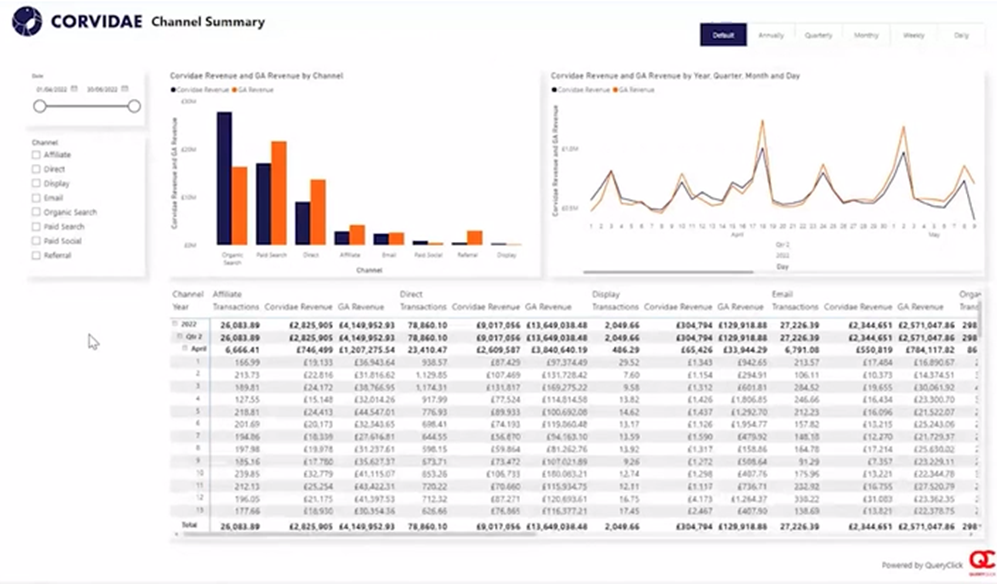 If we were to look at some of the revenue being reported by Facebook, which you can see in the sort of teal colour in the example below, and compare that to the actual revenue being reported by Corvidae (which provides beyond 95% accuracy using AI instead of cookies), you get quite a different story.
And obviously, if you're able to then take that story and apply it across different campaigns and see which ones have been performing differently over time. You can understand different conversion rates and different conversion behaviours that allow you to genuinely make a difference in terms of spending money. And in terms of applying it where it's actually driving new customers.
A side-saddle approach is the best answer
So, a compliant solution for analytics and attribution involves riding platforms side-saddle for what are two different use cases:
Marketing optimisation – on one hand, the Corvidae platform that we've built is entirely focused on marketing performance optimisation, to help you get much better conversion, and much more accurate ads in front of the right people. And using smart AI to do that.
Analytics use cases – and then an analytics package like Matomo (or Fathom or Piwik Pro which we touched on in our recent webinar) suffer from reliance on cookies but would be effective for the analytics use cases we covered above. For example, where you are looking at where site performance might be blocking people from normal conversion behaviours.
If, as a result of the current shake out around the legal side of GA and some of the wider changes taking place in the market (like the removal of 3rd party cookies) you are reviewing your analytics – our advice would be to find an analytics package that gives you what you need for analysis of your site and sales itemisation.
And then consider riding it alongside a platform like Corvidae. Which can use AI to replace the cookie side of that measurement and allow you to do the actual marketing optimisation.
Can we help?
If you would like to get a feel for what Corvidae can do you for you, don't hesitate to contact us and we would be pleased to share more.
Or, download our eBook below to find out more about achieving true cookieless attribution.
Is Cookie-Free Attribution a Myth?
Own your marketing data & simplify your tech stack.