Attribution
•
8 min read
6 Reasons Why Attribution Matters – More Than Ever Before

At a purely intuitive level, connecting marketing activity with marketing outcomes has always been high on any good marketers' agenda. In a world of increasing marketing complexity with sophisticated customer journeys across a multitude of devices and increasing pressure to justify every marketing move, effective attribution is critical.
We've identified 6 key reasons for a heightened importance of attribution.
The sheer scale of media spend demands it
At the most fundamental level, the sheer scale of current investment in marketing underlines the importance of attribution. In the UK alone marketing spend will top £21.3bn in 2020 and digital is a growing part of the mix. By 2021 the volume of data in silos involved in delivering just digital marketing will have increased in complexity 32-fold compared to a decade previously.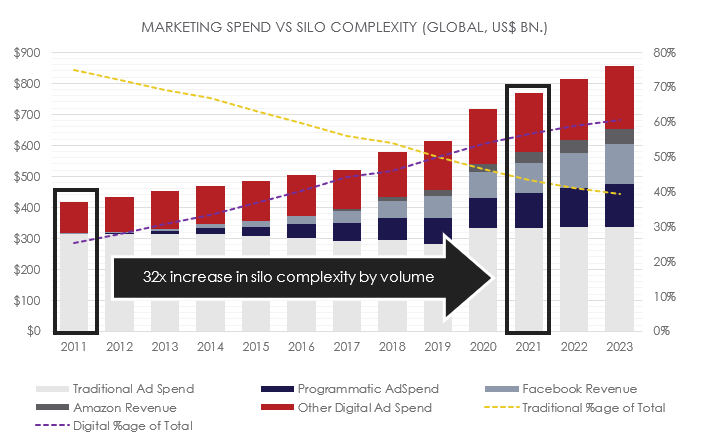 The figures are staggering and, as a result, many businesses are struggling to sustain growth while maintaining or reducing media spend. Which makes solving attribution the largest opportunity any marketer can engage with today.
The need to link marketing spend directly to growth and revenue
This is non-negotiable now. The pressure for marketers to spend accurately, efficiently and to prove marketing effectiveness in driving growth is greater than ever.
Marketing is a significant, and often growing expense, resulting in brands and leaders quite rightly asking what they are getting for every element of their investment. There is a requirement to tie that back to the profitability of the overall business as much as possible. As much of this spend moves to digital, the proliferation of widely available marketing automation tools, digital media opportunities and analytics packages is also creating an increased expectation around more accurate measurement of marketing impact.
This is only going to intensify, so directly tying activity to revenue is no longer a "nice to have". It's essential.
Ensuring you keep full control over the nature of marketing spend
Marketing in a business doesn't operate in a vacuum. It typically operates with the support and trust of a group of stakeholders that includes the boardroom, finance and, perhaps most importantly, sales.
Providing accountability for the investments you are making in marketing is key to proving your value to the business and building stakeholder trust. It also essential for securing the buy-in needed to support your marketing vision and keep control of the nature of marketing spend.
This is proving challenging for many businesses. Not only is there broad evidence that internal stakeholder pressure on spend – from outside of marketing – is increasing, but there are also worrying signs that it is directly influencing the nature of spend.
In fact, research carried out by QueryClick points to the fact that 67.5% of Marketing Directors report that internal stakeholder pressure actively restricts the option to employ marketing activity with longer term payback.
This is why attribution matters – accurate data provides the means to push back. Therefore, there is a direct impact on many of the practical aspects of marketing like media choices, ringfencing budgets etc.
Reduce reliance on perceived short-term media 'fixes'
The pressure outlined above is very often driving a short-term view in marketing.
For example, in many businesses, media like Pay-Per Click is the online channel that gets the largest portion of the budget. In fact, everyone loves it because it provides immediate results. Switch it on and revenue flows when you spend. So, what's not to like?
However, it is no longer the panacea it once was. High spending competitors are not only eroding market share but also driving up CPAs. So, ROI is being driven downwards. This highlights the importance of attribution. More effective attribution opens the door to wider media opportunities, with longer payback cycles, allowing you to pinpoint the data you need to make the business case for it more effectively. Subsequently, this helps secure the buy-in you need to invest in it.
Improve your marketing ROI
If you don't have effective marketing attribution in place, then it's a safe bet you don't know what is – and just as importantly, what isn't – working across your marketing mix. So accurately assessing and improving "true" marketing performance isn't really possible for you.
Marketing pioneer John Wanamaker is widely credited with the following quote:
Today, many marketers who are wrapped up in a world of multiple devices, on and offline media and sophisticated customer journeys must marvel as this. And say, "only half!!"
Again, the evidence is that marketers are struggling to do this in practice. In fact, according to research by QueryClick, over 90% if those responsible for improving marketing ROI in the UK are unable to get sophisticated attribution models that meet their specific marketing needs.
Delivering effective attribution can be challenging. There is a wide array of types of attribution models to choose from and very often real challenges around the quality and complexity of data that is available to you. However, advances in data modelling, machine learning and the emergence of leading attribution platforms mean you can access the type of sophisticated attribution data that your marketing demands – at the level of channel, campaign and even individual impressions.
This data can, and should, be used to accurately assess and target incremental growth activity that drives your marketing ROI.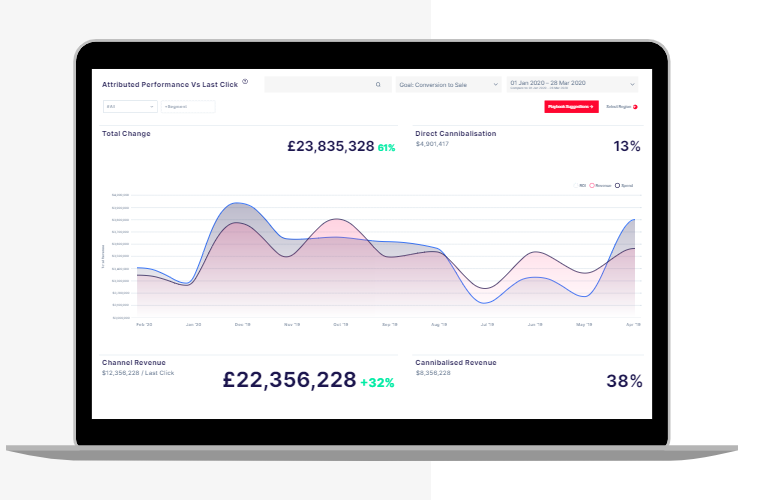 Take control of marketing complexity
Finally, better attribution enables you to take control of what is ultimately a more challenging and complex media environment.
Today most customer journeys combine on and offline interactions with brands, and research can be done across a multitude of devices including smartphones, tablets, work and home PCs as well as other offline marketing touchpoints along the way.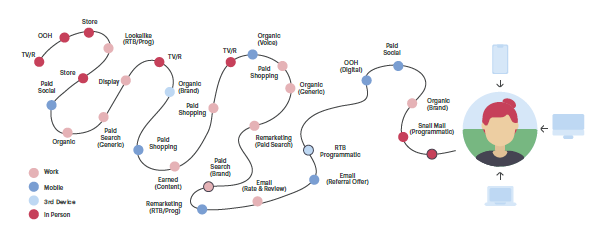 Effective attribution enables you to bring together the data – from across these typically disconnected silos – and complex environment to define a single, data-driven view of the customer journey. This allows marketers to make confident decisions based on accurate, reliable data.
Talk to us
If marketing attribution is an issue for you, talk to us about our Corvidae platform.
---
Own your marketing data & simplify your tech stack.